9 Reasons You Should Book a Gatlinburg Cabin for Your Next Gatlinburg Vacation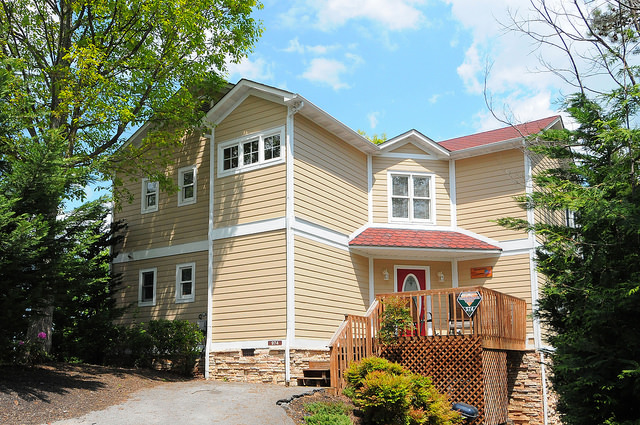 Host a Family Reunion in a Spacious Gatlinburg Cabin
Get close with distant loved ones and host a family reunion to remember! Diamond Mountain Rentals offers cabins ranging from 1-6 bedrooms. Our Luxurious Black Beary Lodge is the perfect example of an outstanding choice for a large family retreat. Black Beary Lodge sleeps up to 16 people and offers over 3,500 square feet with plenty of room for gathered family fun!
Reconnect with Your Spouse in a Romantic Gatlinburg Cabin
Romance your sweetheart in the heart of the Smokies in a quaint  cabin in Gatlinburg. Snuggle closely by the fire together with a nice bottle of wine. Take in the stars of the Smoky Mountain sky together from the deck in a warm jetted hot tub with breathtaking views. A weekend away in a cabin in the woods perfectly fit for just the two of you!
Find Solitude in a Quiet Gatlinburg Cabin
Disconnect from the daily hustle and bustle of your lives and escape to a memorable retreat in the Smoky Mountains. Turn off your noisy cell phones and leave the laptops behind. Find pure solitude in a cabin in Gatlinburg and get aVacation is a necessary way of life in order to disconnect from distractions and to reconnect with what matters most to you. Plan your next vacation in the nurturing Smoky Mountains and stay in a Gatlinburg cabin fully stocked with all the bells and whistles. There is a plethora of reasons as to why the Smokies make the ideal vacation destination for many. We've narrowed it down to 9 striking reasons you should book a Gatlinburg cabin and lap up the luxury for your next Smoky Mountain vacation.
Stay in a Gatlinburg Cabin Minutes from Downtown
Why Gatlinburg you ask?  Why not! Stay amongst the trees and skylines of the Smoky Mountains in your Gatlinburg cabin and feel utter seclusion while only being a short drive to all the action and play of downtown Gatlinburg. Staying at acabin in Gatlinburg means total relaxation and adventure. Downtown Gatlinburg has so much to offer families and couples alike. From Ziplining to wildlife viewing to dinner, and shows. There's more than plenty of play time for the young at heart.
After a fun-filled day of adventure and sightseeing, you're just a quick drive away from being back to the comforts of your Gatlinburg cabin. Kick up your heels and relax by the fire or soak your tired hiking muscles in the jetted hot tub and take in the view. Gatlinburg cabin rentalsare unlike any other rentals out there because they are an attraction all their own and are perfect for any weather forecast.
Turn Your Gatlinburg Cabin Into a Personal Day Spa
Bring a day at the spa right to the doorstep of your Gatlinburg cabin! Turn a weekend with a few close gal pals into an unforgettable Smoky Mountain oasis. Relax with a hot stone massage on the privacy of your secluded deck. Melt away with an aromatherapy inspired facial or mud wrap next to a roaring fireplace. The relaxing possibilities are endless!
Create Gourmet Inspired Meals in a Spacious Kitchen of a Gatlinburg Cabin
Bring your delicious Pinterest inspired dishes to life in a beautifully stocked cabin in Gatlinburg. Our Gatlinburg cabinsinclude an exceptional array of kitchen equipment to assist you in your quest to create the perfect meal. Stock up at the local grocery on your way to your home away from home and enjoy a homemade meal with a view or dine by candlelight on the deck beneath the star filled sky. If you find that you are unable to squeeze in a trip to the grocery store, no worries! There is a licensed local grocery delivery service known as Smoky Mountain Grocery available to you at any time you need a pre-stock or a re-stock.
Watch Wildlife From the Deck of Your Gatlinburg Cabin
Being cozied up in a Tennessee cabin rental has its perks. Skip the zoo and step outside! The Great Smoky Mountains National Park is a flourishing rainforest filled with countless types of flora and fauna. It isn't every day you can say you played in a rain forest! You are bound to see wildflowers that are quite "wild" indeed and different species of animals such as bears, raccoons, deer, fox, turkeys, birds, tree frogs, turtles and even flying squirrels.
Take Your Pets on Vacation With You
Your furry friends deserve a Gatlinburg vacation too! Bring your pet along with you to the Smokies and let them enjoy the beauty and fun with you and your family. There are several pet-friendly activities to embark on together in the Smokies. Let your pup experience paved walking trails and picnics with the family and play in the river together. You can even drive through the loop of Cades Cove and let Fido poke his head from the window and catch a mountain breeze. Take your pet on the Gatlinburg Sky Lift where they will be all paws about it! If you are looking to stay in town, there are a few pet-friendly restaurants and shops. If you need to partake in a few human activities, Gatlinburg offers a select group of doggy daycare businesses where your fur-baby can enjoy a day retreat or sleep over.
Kick Back, Relax, and Watch Televised Sporting Events at Your Gatlinburg Cabin
Sometimes it is more ideal to kick back and relax in your cabin in Gatlinburg with the big game on the flat screen. Skip the local bar and grill and whip up a few scrumptious appetizers in the kitchen or toss fresh burgers on the grill. Finger foods and your favorite cocktail paired with a high-stakes game on the big screen is sure to please the whole gang. The lot of our Gatlinburg cabin rentals offer high-speed internet and cable television. Turn your Tennessee cabin rental into a one stop shop for food, family, and outstanding entertainment.
Book your cabin in Gatlinburg with Diamond Mountain Rentals today and find your home away from home. Bring the whole family or enjoy a quiet getaway and find solace in the Smoky Mountains.