Equipped Kitchens Make These Gatlinburg Cabin Rentals Special
Do you like to cook? For many people, cooking is a favorite pastime. While it does feed the family, it's also an activity that brings them pleasure. Sometimes it's a comforting feeling, serving up an old family recipe. Maybe it's your mother's homemade chocolate chip oatmeal cookies, the ones you got caught stealing out of the cookie jar when you were a kid. Or maybe it's your grandmother's Hungarian goulash, served up on special occasions. Regardless of the recipe, for those who like to cook, it's a pleasure, not a chore.
It's often fun to have the option of cooking while you're on vacation. Pancakes seem to taste better when they're cooked in a mountain cabin. Diamond Mountain Rentals offers Gatlinburg cabin rentals with fully equipped kitchens, so you can whip up your favorite recipe and enjoy a little taste of home while you're away.
Here are a couple of our favorite cabins ready for your culinary magic. See if they inspire any cooking creativity in you.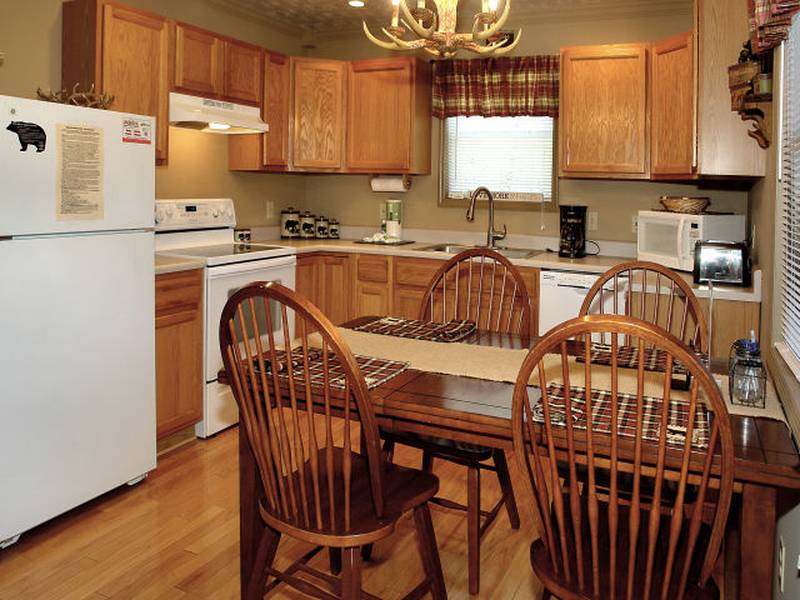 A Little Taste of Home
Lazy Bear Den: Lazy Bear Den is a 2 BR, 2 BA cabin with spacious, modern living spaces. A combination kitchen/dining area will inspire creativity, whether you're contemplating your dinner options or your next day's adventures in Gatlinburg. Whip up a spaghetti dinner, or cook steaks on the charcoal grill, whichever suits your mood. You'll find options for culinary creativity here.
Reclining leather sofas and a gas fireplace in the living area make this place feel like home from the moment you walk in. Both bedrooms in this cabin have king-sized beds and private baths. Cable service and TVs throughout give you TV-viewing options. And the game room with pool table and foosball give you fun entertainment after your day of exploring Gatlinburg. Don't forget to save time for a dip in the outdoor hot tub after dinner! Lazy Bear Den is the perfect hideaway for your fall vacation.
Seize the Day
Spirit of the Mountains: Located less than 5 minutes from the Gatlinburg Strip, Spirit of the Mountains is one of the nicest Gatlinburg cabin rentals. A large fully equipped kitchen with breakfast bar gives you a great place to have coffee in the morning as you plan your day. Or gather around the table in the cozy dining area and enjoy the mountain views as you have breakfast. Tall ceilings, wood paneling throughout, and a gas fireplace make this cabin feel warm and toasty. With 2 BR and 2 BA, you'll have enough space for the whole group. Cable TV, Internet, a pool table...there are lots of amenities here to make your stay comfortable and entertaining.
In the mornings, take your coffee (and maybe a blanket) out to the deck to enjoy the views. You have lots of scenery-viewing options; there are decks on the front and the side of this cabin, and they're stocked with rocking chairs and a porch swing. The hot tub is also located on the deck, so you can relax and soak sore muscles if you've hiked too far that day. This cabin is so inviting, you may not want to leave!
Diamond Mountain Rentals offers great Gatlinburg cabin rentals for your next fall vacation. Make plans now to stay in one of these cabins in Gatlinburg, or any of the others available from Diamond Mountain Rentals. And bring a few recipes along with you, just in case you need them!