Ever Wish You Could Chase Moonbeams?
You Can in This Chalet!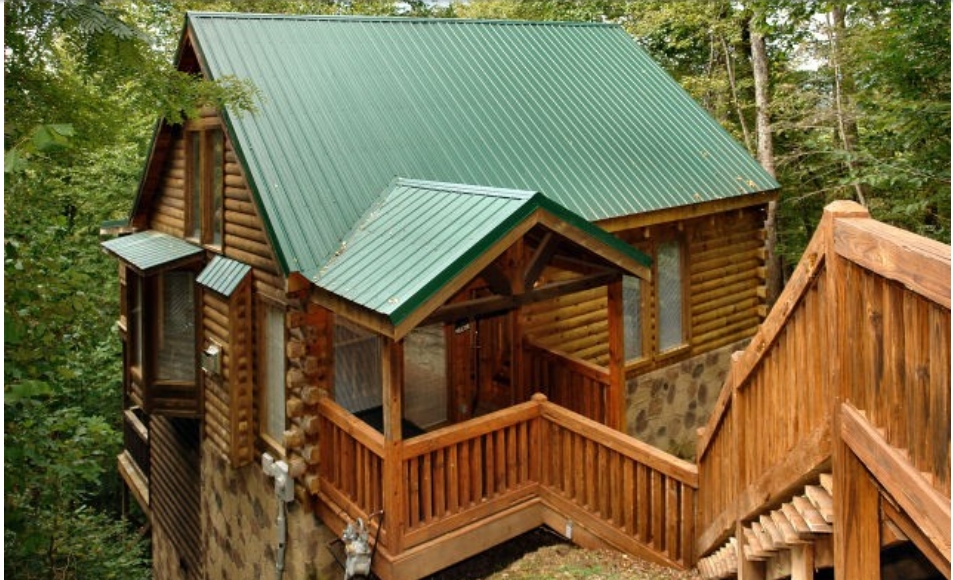 Exclusively from Diamond Mountain Rentals -- Discover the perfect Smoky Mountains getaway in our beautiful 1 bedroom Gatlinburg chalet, Chasing Moonbeams! This is one of the most striking chalets you'll find anywhere in this area. A winding wooden walkway leads to the front door and once you step inside you'll love the amazing knotty pine interior. This pine decor adds an elegant yet rustic touch to each room, starting with the great room with wood burning fireplace. In this room you'll also find a dining area that looks out on the private landscape.
If you find yourself yawning after a big day enjoying the attractions in Gatlinburg (this chalet is located only 1.3 miles from downtown) you can retire early to the loft bedroom. This suite features a king size bed and bath with Jacuzzi.
Wake up with the sun and greet the day on the back deck. Sit back in the hot tub and forget your cares, or sink into a rocking chair and turn on the gas fireplace. Or you can step in to your fully equipped kitchen to prepare a delicious breakfast.
So many conveniences are included in your chalet rental, including washer and dryer, central heat and air, pool table, two full baths, dishwasher, wireless Internet access, Charter Cable TV, DVD player, microwave, toaster and coffee maker.
And that's not all...this chalet is pet-friendly! Bring your dog along and enjoy a vacation together. Please see our pet-friendly rental information listed in our rental policies to plan your stay with your pet.
This 1080 sq. ft. chalet is a truly unique place to enjoy a honeymoon, anniversary or a fun getaway. Why not drop everything and create memories to last forever in this one-of-a-kind Gatlinburg chalet? Get ready for a memorable Gatlinburg vacation! Start Chasing Moonbeams with Diamond Mountain Rentals!