Featured Cabin: A Walk in the Clouds
When you have a large group traveling together, it can be difficult to find a Gatlinburg cabin that will accommodate everyone without feeling cramped. When there are a lot of people with you, you want a cabin that not only has enough sleeping space, but also plenty of amenities to keep everyone entertained. The cabin needs to have lots of seating and it should be spacious enough for everyone to spread out.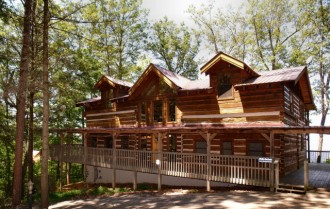 A Walk in the Clouds is one such cabin. This 3300-square foot cabin is situated high atop a mountain and surrounded by trees, trees, and more trees. You'll marvel at the wooded splendor which surrounds you at A Walk in the Clouds
When evening comes and you're ready to relax with a movie, spread out on two levels with two different shows playing. The game room TV plays DVDs only so make sure you visit a nearby Redbox; the downstairs TV is hooked up to Direct TV and a DVD player.
Activities Abound
If you are visiting in the warmer months, spread out on the spacious rocking chair deck and take in the timeless view that goes on for miles. At night, the lights from Knoxville can even be seen! And don't forget the hot tub that can be found out there; it's the perfect way to end a day.
This cabin in Gatlinburg offers entertainment options that will please everyone in your group. Let mom enjoy her Jacuzzi tub in the master bath while dad and kids head to the game room where they will find a pool table, an air hockey table, and a foosball table. If you are traveling with friends, some friendly competition tournaments might be just what you need after a long day enjoying the local attractions.
Because of this cabin's location it is recommended that visitors have a 4-wheel drive vehicle as the roads to and from the cabin are quite steep. If you prefer a cabin in a more accessible location,, Diamond Mountain Rentals offers plenty of other Gatlinburg cabins you can consider. But if you're the adventurous type, we can't wait to see you high above the clouds!