Featured Cabin: Summit View
Do you love natural light and breathtaking views of the Smoky Mountain range? Our featured cabin 'Summit View' provides natural light throughout the chalet with large, open windows throughout. Watch a movie in the living room with the mountains right outside your windows! If it's a nice summer day, open the windows and enjoy the fresh, crisp mountain air.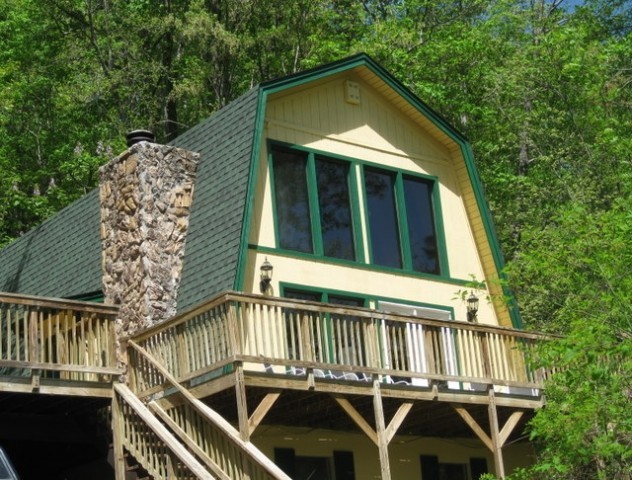 'Summit View' is a beautiful chalet located only 1.8 miles away from the main parkway and welcome center. Enjoy the seclusion and privacy of the cabin life and drive only minutes to local attractions if you choose. It's the perfect location! Whether you're planning a romantic getaway with your sweetheart or a family vacation this summer, 'Summit View' is your vacation destination.
'Summit View' is a  2 bedroom/2.5 bathroom with a fully equipped kitchen, washer/dryer, hot tub, foosball table, sleeper sofa and pool table. Enjoy amenities from the privacy of your mountain cabin! The views are so beautiful that you don't even have to hike a trail to see them! If you choose to hike, the National Park and local trails are only minutes away from your cabin. If you choose to partake in the attractions, dining and entertainment in Gatlinburg, you are only 5 minutes away.
Spend a day on the trails or exploring downtown Gatlinburg. The area has so much to offer you will want to plan your trip ahead of time! When you book a cabin with us, we offer a 'fun pass' which gives you FREE admission to local attractions including ziplines, dinner shows, aquariums and more!
At Diamond Mountain Rentals, we have luxurious, clean cabins for everybody! Spend your summer vacation secluded in the Smoky Mountains! Gatlinburg is right down the road with everything you could imagine! Book your cabin today and enjoy the view from your window! Don't forget to check our monthly specials!