Gatlinburg Corporate Retreat Planner
Not everyone is thrilled when they hear they have to attend a corporate retreat. Companies hold these gatherings ostensibly to build a rapport between colleagues and to develop new business strategies. While these are noble ambitions, there's usually one problem with corporate retreats:
They're boring. And boring won't get the job done. Bonding and business strategizing progress better if a retreat is held in a setting that energizes the participants. If people are going to invest their time in an away from home event, then it's up to the organizers to make it enjoyable.
If you happen to be the retreat organizer, take heart. Plan your corporate retreat in Gatlinburg and you'll look like a hero.
The first thing to do is book a top-notch cabin for your group. The word cabin might make you think of a small, rustic building. Not all cabins are like that; some are quite large, bordering on mansion size. You can find literally hundreds of different types of cabins to rent in Gatlinburg, many of them will work for a corporate retreat, depending on the size of your group. Diamond Mountain Rentals can help you plan your retreat as our variety of cabins (including 30 different pet-friendly cabins) offer you the amenities you want all within easy driving distance of the wealth of attractions Gatlinburg has to offer.
In this blog we'll take a look at two of Diamond Mountain Rentals' very special cabins that offer just the right characteristics to make them perfect for a corporate retreat. The best part about our cabins is you can have fun together, but they're set up for work too, as each cabin is wired for high speed Internet. Let's get the details on those cabins now: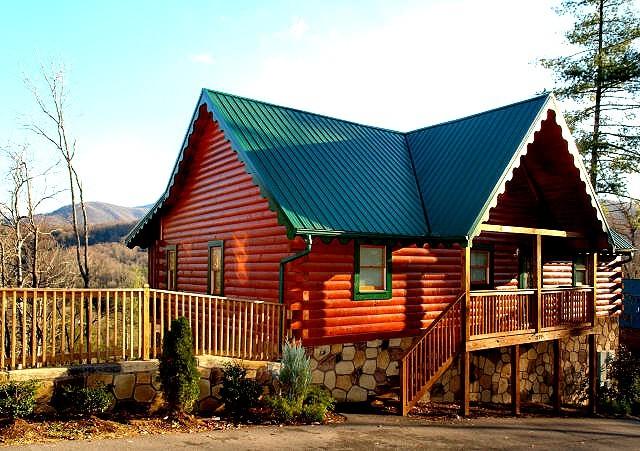 1) Point of View is a homey four bedroom cabin that features high speed Internet for work (and play) plus 4 king size beds, a sleeper sofa and 4 baths so there's room for several business colleagues with space to spare. This cabin features lots of space if people need some private time, and there are a variety of cozy areas too, where the group can sit comfortably, play board games or cards, and watch cable TV.
This cabin offers an indoor sauna, gas fireplaces inside and on the deck. The deck also features a hot tub and gorgeous views of the Smokies. The cabin is nicely designed with two of the bedrooms on the main level and two on the lower level. You'll find everything you need like a washer and dryer, flat screen TV and DVD player, microwave, dishwasher, coffee maker, equipped kitchen with pots and pans, towels and linens, and central heat and air.
Often team building occurs outside of work-related settings, and who can resist a friendly game of pool? You won't have to drive into town to challenge each other to a pool tournament as your cabin is equipped with its own pool table!
Are you looking forward to your corporate retreat yet? We thought so! Watch this video and see everything our 2250 sq. ft. Point of View cabin has to offer: https://www.diamondrentals.com/cabinrentals/221-point-of-view
Oh, did we mention that this cabin is pet friendly? If you and your compatriots want to bring your dogs, you can. Please note no more than two dogs are allowed per pet-friendly cabin.
---------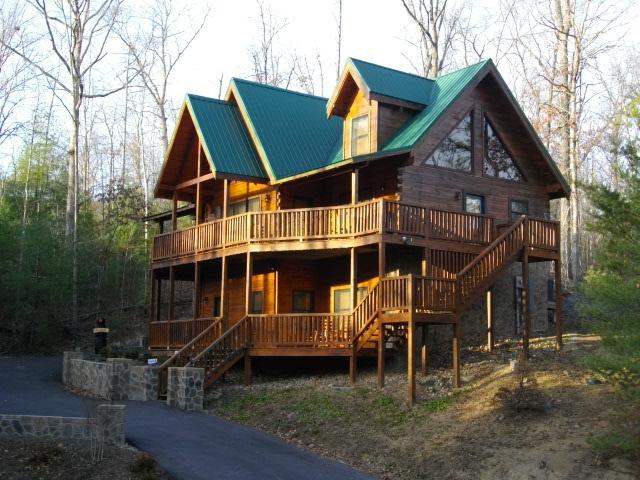 2) Smoky Mountain Getaway absolutely has it all! It starts with 5 bedrooms (each equipped with flat screen TV) and 4.5 baths to accommodate your group.  This 4800 sq. ft. cabin comfortably sleeps fourteen guests on its two king beds, three queen beds and two sleeper sofas. You'll find plenty of open space and you'll feel invigorated by the views.
The kitchen is well-equipped and offers plenty of room to cook a big dinner for the gang. You can then serve it in the dining area with its roomy dining table.
There's nothing like a little friendly competition to help build rapport. You'll have the chance to challenge each other to a game of pool in your cabin's game room. Set some mood music with the CD juke box as you contemplate your next amazing bank shot.
Yes, we know, corporate retreats are for getting work done, too. Strategize in your big living room, out on the upper or lower deck, or leave business for later on and decide to take it easy in the Jacuzzi or a whirlpool tub. When you're ready for work again, you'll be pleased to know that your cabin offers wireless Internet access.
The amenities list doesn't stop there. Enjoy a washer & dryer, dishwasher, microwave, coffee maker, gas fireplace, gas and charcoal grills, association swimming pool, cable TV, DVD player, towels and linens and much more.
Need more inspiration to help plan your corporate retreat? Take a look at our entire list of cabins here. Perhaps you would prefer renting one of our Gatlinburg condos. Either way you know your Gatlinburg corporate retreat will be a success when you stay with Diamond Mountain Rentals.