Get Away to Our Heavenly Gatlinburg Chalet
There are few things more heavenly than the Great Smoky Mountains. More than just majestic, these mountains seem to run deeper than mere beauty. Perhaps it's their Southern Appalachian heritage: The mountains have a long history of coal mining and logging. Or maybe it's the fog that hangs around them in wispy veils, giving them a slightly mysterious look. Whatever is it, these mountains are a unique sight to see, and a visit to Gatlinburg is definitely worth your time.
Heavenly Visions
Divine scenery demands an equally divine place to view it from. And what better place from which to view the Smoky Mountains than Heaven Sent? It's a charming 2 BR, 2 BA Gatlinburg chalet offered for rent by Diamond Mountain Rentals!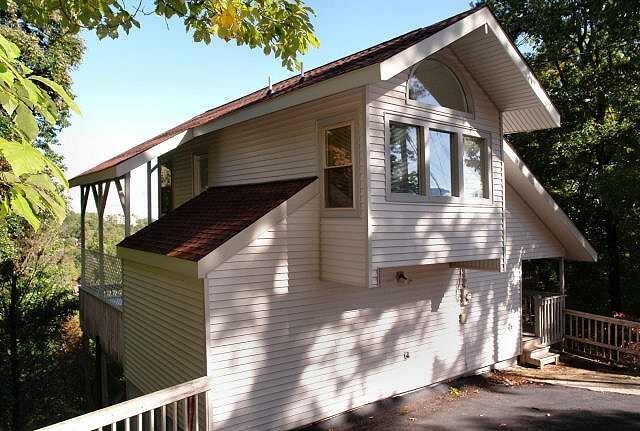 Heaven Sent is a perfect choice of accommodations for your trip to the Smokies. Cozy, but with space enough to spread out, this Gatlinburg chalet offers enough amenities that you'll be completely comfortable during your stay here. The master bedroom is located in the loft, and features a king-sized bed and whirlpool tub. Perfect for soaking sore muscles if you've hiked too far that day. This chalet is great for two couples traveling together. The second bedroom is located on the main level, so everyone will have a bit of privacy during the trip.
Speaking of privacy, there's also a private hot tub located on the deck of this mountain chalet. The warmth and the massaging effect of the hot tub works wonders on your mind and your body, and you'll soon feel relaxed and rejuvenated. And after all, isn't that what a vacation is all about?
Back to Basics
Heaven Sent also features a fully equipped kitchen. You have the option of fixing your own meals if you don't feel like driving into Gatlinburg to eat at one of the many restaurants in town. Or just put on a pot of coffee in the morning, and enjoy a cup as you plan your day's activities.
Other touches here include a gas fireplace, cable TV, and DVD and VCR players. And of course, you can enjoy amazing views of the Great Smoky Mountains from the deck of this Gatlinburg chalet. Pull up a chair and sit awhile. Let the mountains tell you their stories.
Natural Wonders
While you're here, you'll want to take time to visit Great Smoky Mountains National Park. It's a popular tourist destination and for good reason. Hiking trails, mountain streams, waterfalls, wildlife, and gorgeous scenery everywhere you turn make this a terrific place to get some fresh air and recuperate from life's everyday stress. Nature is a soothing balm and you'll return to your chalet in the evenings pleasantly tired but surprisingly refreshed.
Heaven Can't Wait
If you're planning a vacation this fall to Gatlinburg, TN, make sure you call or visit Diamond Mountain Rentals online to check availability on Heaven Sent. Or ask about their other chalets and cabins in Gatlinburg - you're bound to find one that's perfect for your vacation needs.