Get Away with Fido and Enjoy Late Autumn's Colors in Gatlinburg Cabins and Pet-Friendly Gatlinburg Cabin Rentals
What's the worst part of going on a vacation? If you said, "There is no worst part!" take a second and reconsider. Those of us with dogs often feel remarkably sad and guilty about leaving them behind, and it is why Gatlinburg cabins (especially the many pet-friendly Gatlinburg cabin rentals) should become your go-to holiday solution.
Whether it is to enjoy early springtime in the Smokies, do some summertime shopping and sightseeing, a bunch of leaf-peeping, or some winter skiing, it is all possible in the Smokies. Gatlinburg cabins serve as the ideal base from which to enjoy all of the area's best experiences and sights, and with the option of pet-friendly Gatlinburg cabin rentals, it means that your furry family member can come along for some fun.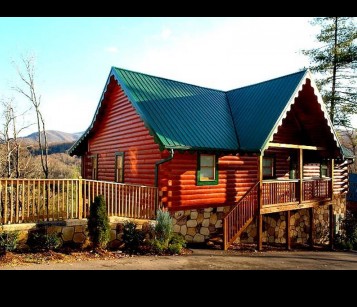 Autumn Activities When Visiting Pet-Friendly Gatlinburg Cabin Rentals
And just what can a dog do when their family is staying in one of the many options for Gatlinburg cabins? First and foremost, the pet-friendly Gatlinburg cabin rentals are designed with a dog's needs in mind. That means just hanging out with the humans on an oversized deck with day and nighttime views (and lots of amazing scents lingering on the breezes), is always an option. There are fireplaces to cozy up to, game rooms to lounge in, huge bedrooms to enjoy with the family, and of course a wonderful kitchen where the stray scrap or two is likely to "accidentally" hit the floor.
And because pet-friendly Gatlinburg cabin rentals are so often within just minutes of major destinations, and many pet-friendly options, it means days out and about are a possibility. There are a few dog-friendly trails inside the Great Smoky Mountains National Park and a long list of businesses and attractions that are happy to welcome families and their pets. This includes restaurants and shopping areas, but also sites like Dollywood, with its special dog daycare!
There are lots of roads to explore, with little stops here and there for snacks, and so any dog is likely to love that part of a plan to enjoy Gatlinburg cabins, too.
Gatlinburg Cabins Available in the Autumn Season
If the idea of Gatlinburg cabins that welcome pets appeal, there are quite a few options still available:
Point of View – This is one of the largest pet-friendly Gatlinburg cabin rentals and sleeps up to ten. It has four bedrooms and baths, a pool table, fireplace, hot tub and even access to seasonal swimming facilities.
Lazy Bear Den – Choose this if you have from six to four in the party and yearn for all of the luxury amenities and scenery. Two floors of outdoor living space, a fireplace, a game room with a pool table, hot tub and more are part of the experience.
Diamond Mountain Rentals has many other options for dog-friendly visits throughout the year and should be a trusted resource for truly family-friendly getaways in the Smokies.