Get Cozy in This One Bedroom Gatlinburg Cabin
Secluded in The Great Smoky Mountains, Bearly Workin' is the perfect cabin in the Smokies for you and your sweetheart. The cozy interior, wood paneled walls, and charming stone fireplace makes this cabin in the Smokies a dream vacation destination.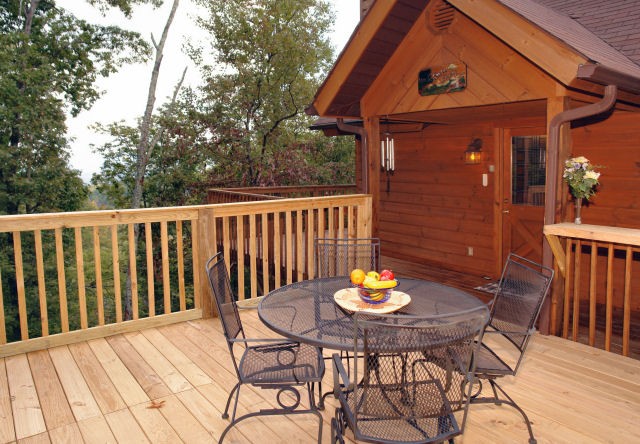 This one-bedroom Gatlinburg cabin is only five minutes from Downtown Gatlinburg and many other Smoky Mountain attractions. Hit the town for a romantic dinner, or challenge each other to a fun game of minigolf, or (if you are adventurous) hold on tight as you zoom through the Smokies on the Gatlinburg Mountain Coaster. Make sure to plan a day out to enjoy all the fun the city has to offer and then come back to your private escape in the mountains. There is no reason not to when you are so close!
When you arrive home, lounge around in the luxurious master suite. A king size bed and jacuzzi tub make this an ideal cabin in the Smokies. Or, head  the living room you can snuggle up by the fireplace and pop in your favorite movie to enjoy together.
Head outside and enjoy an evening relaxing on the expansive wrap-around porch. Soak the day away in your very own private hot tub. Or, perhaps, have a candlelit dinner on the Smoky Mountain porch. However you choose to spend your day at the Smoky Mountain cabin is up to you!
Call us today to book your cozy Smoky Mountain cabin!