Honey Bear Hideaway is a Gatlinburg Paradise for You and Your Pet!
If you ever wanted to get the gang together for a fun holiday time vacation in Gatlinburg, you'll definitely need a cabin that can accommodate all of you - even your pets! Diamond Rentals has the answer with Honey Bear Hideaway. This chalet's beauty is only eclipsed by its size; you'll just adore the 4 bedrooms and 4 baths, plus the impressive 2250 sq.ft. of living space. While this is a magical, classic chalet, you won't want for modern amenities: Enjoy cable TV with DVD and VCR. You'll also be able to keep up with your online activities with the included wireless Internet access. 
But on to the many facets of this chalet -- we'll start with the equipped kichen. Prepare your own gourmet meal and then step out to the deck to view a sunset, the stars or even a Smoky Mountain sunrise.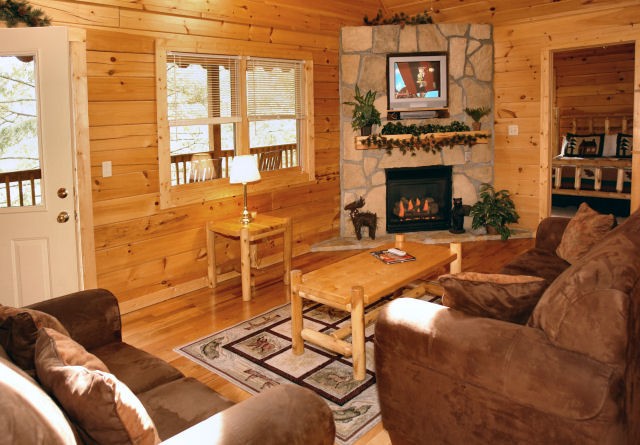 If you're chilled there's a gas fireplace on the outside deck plus another inside! Great for enjoying those romantic moments anywhere! 
The sleeping arrangements in this chalet are right out of a dream -- you'll luxuriate in 4 king bedrooms (plus a sleeper sofa for extra room); two bedrooms are located on the main level, and two are situated on the lower level. After a big time enjoying all that Gatlinburg has to offer, these king beds will be really inviting when it's time to retire! 
The baths are just as luxurious and each features a jetted bathtub. If you want to do some more soaking while viewing astounding views of the Smokies, then be sure to take a few moments to sit back in this chalet's hot tub. It will lift away your cares! 
Last but not least, this is a pet-friendly chalet so bring along your dog and share all the fun vacation moments. [Read pet policy here.] Make your Gatlinburg winter vacation dreams come true: Reserve Honey Bear Hideaway now and hide away for a weekend, a week or more!