Mid Fall Cabin Feature: Cornerstone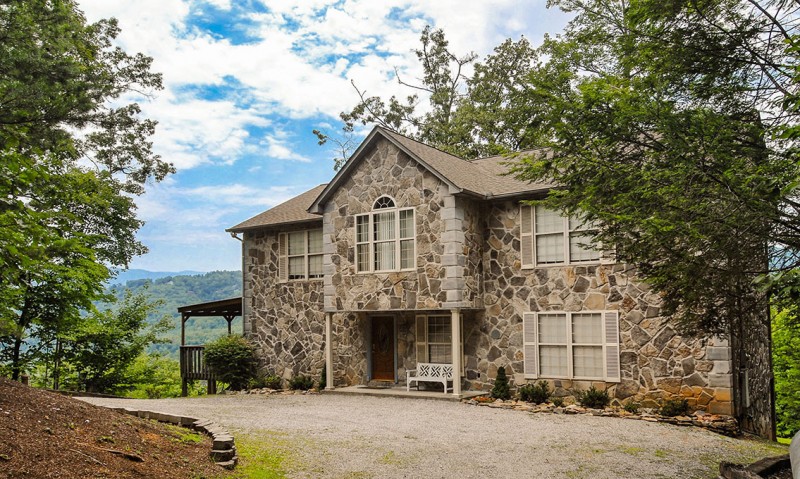 Isn't it about time to take the family on a vacation to the Smoky Mountains? And we mean the entire family! Book your next getaway with the whole gang at Cornerstone, a Gatlinburg cabin located just 4 miles from downtown Gatlinburg and only a 7-10 minute drive to the town of Pigeon Forge. With an abundance of room for loved ones to reside and sweeping views, what more could you ask for? Stay at Cornerstone with your entire family and have a wonderful Smoky Mountain vacation to remember!
Views Around Every Corner
The entire living room space suggests that everyone in your group should cozy up on the plush furniture and take it all in. The living area is surrounded with several windows which are perfect for seeing the surrounding mountain views. The living space also offers immediate deck access. Cuddle up with a warm cup of coffee or spiced tea, light a roaring fire and settle in for some much needed quality family time.
Gamer's Paradise
As you go upstairs you will find a full sized pool table and comfortable recliners. As you wait to take turns for the next game of pool, sit back and relax. Locate the spectacular mountain view as you wait to play the winner! Also, there's plenty of room at Cornerstone to play a fun game of charades, put together puzzles or play a fun game of Texas Holdem. Imagine a family game night in the spacious living room with a glowing fire and hot apple cider. It sounds picture perfect!
Cozy Bedrooms, and A Million Ways to Relax at Your Home Away From Home
When we said to bring the whole family, we weren't kidding! Cornerstone has two king sized beds, three queen sized beds, one full sized bed, one sleeper sofa and two daybeds. Each bed has lush comforters, soft billowing sheets, plush pillows and the recipe for the perfect night's sleep. A great night's sleep will keep you well rested for a full day of family activities! The deck features a warm jetted hot tub overlooking fabulous views of Mt. LeConte.
What are you waiting for! Book your next family getaway to the Smoky Mountains and stay at Cornerstone with Diamond Mountain Rentals. Diamond Mountain Rentals has a reservation assist ready to help you book your upcoming family stay in the Smoky Mountains.