Plan a Retreat or Family Reunion at a Large Gatlinburg Cabin
It has long been an Appalachian tradition to gather the family together for a reunion, but finding a space that can fit all the grandparents, cousins, siblings, and children can be tricky. Why not choose one of our large cabins in the Smokies and relax by a fireplace, soak in a hot tub, or have a family movie night? Our big Gatlinburg cabins can sleep up to 14 and offer plenty of space, putting you in close proximity to all the attractions in Gatlinburg and shopping in Pigeon Forge.
Go to the Spa Without Leaving Home
One of the advantages to selecting one of our large cabins in the Smokies is the extra luxuries included. ConsiderPoint of View, which has its own five-person sauna in addition to a jacuzzi and hot tub. Plan a getaway for up to 10 and enjoy staying for a few days or longer in your own mini-spa. The back porch overlooks the Smokies and is a great place to start the day with yoga or a cup of coffee. All four bedrooms are master suites with king beds, bathrooms, and televisions.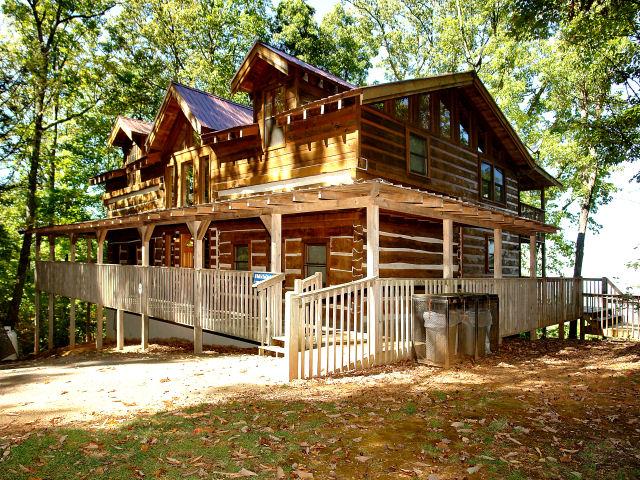 Another of our big Gatlinburg cabins with four bedrooms inHidden Springs, an elegant spot with beautiful hardwood panelling. It has front and back porches with rocking chairs and a hot tub so you can enjoy the quiet chirps and rustles of a Smoky Mountain vacation.
Inside, the inviting living room has a high ceiling with leather sofas and comfy armchairs in front of a stone fireplace with a hearth large enough to perch on. Downstairs, a game room comes with pool table, dart board, and one of several televisions in the cabin. With three stories, you and up-to-nine others will have plenty of space to enjoy your time together.
Scenic Big Gatlinburg Cabins
The stunning views fromA Walk in the Clouds are among the best of our large cabins in the Smokies and will add a memorable backdrop to your gathering. Head out to the back deck and drink in range after range of mountains with valleys beyond. You can even change into a bathing suit and take a dip in the hot tub, one of many places to relax on the wraparound porch.
Family Movie Night in Your Cabin
Another one of our big cabins in Gatlinburg with extra special amenities isMorning Glory, which has its own movie theater room. Watch the big game or plan a movie night together in the cinema. Great for large families, this cabin can sleep up to 14 in five bedrooms, with five bathrooms to offer plenty of space.
Four of the bedrooms feature king beds, while the other has a pair of bunk beds. Each room has a television and full bathroom. Meanwhile, the full kitchen has marble countertops and stainless-steel appliances, with plenty of space to enjoy dinner together. A gas fireplace, pool table, and hot tub complete the picture.
If you need a break from the delights of the great outdoors, head to the sizeable interior, which has floor-to-ceiling windows along one side of the house. Stretch out on one of the comfortable sofas or have a game night around the dining room table. There is also a game room with foosball, air hockey, and a pool table, one of a few large cabins in the Smokies with all three.