Relax, Unwind, and Spend Time With The Family in Splendor Pines
Plan your next family or friends' getaway in Splendor Pines, a beautiful, rustically decorated and spacious cabin. Come relax, unwind and spend time together in this one-of-a-kind cabin.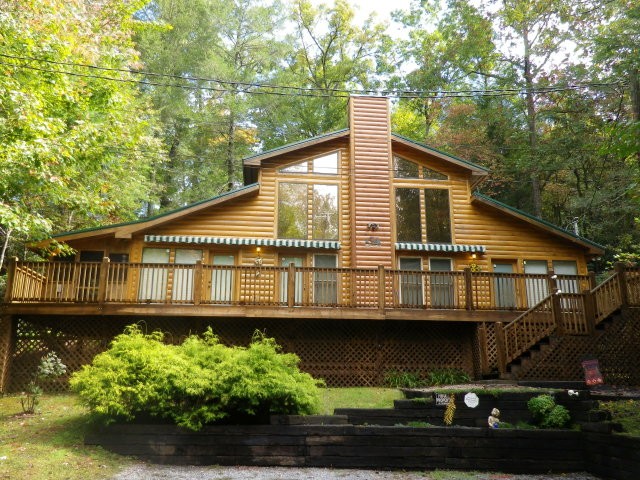 Splendor Pines sleeps six adults comfortably in the two large king-sized bedroom suites and on the upstairs futon. This spacious cabin is complimented not only with large sleeping areas, but also three full baths, a fully equipped kitchen and large dining area. The open living area with a 50" flatscreen TV and gas fireplace offers a great place to spend time together, unwind and discuss your adventures of the day.
Because of the privately secluded lot, you will forget how close you are to the thrilling adventures in Gatlinburg and Pigeon Forge. Enjoy the privacy by taking a dip in the outdoor hot tub and soaking in the wonderful nature surrounding you.
However, while just five minutes from downtown Gatlinburg, take advantage of the convenience to this exciting mountain town. Gatlinburg is home to many wonderful things to take part in during your visit to the Smokies.  Take a break from preparing delicious meals in your fully equipped kitchen and experience the delectable food that can be found at any of the area's fine dining establishments, or browse the unique and local selections at the area's shopping destinations.
Of course be sure to embark on some adventures at any of the many attractions in Gatlinburg and surrounding areas. Finally, the biggest draw is certainly the stunning mountains that will surround you during your entire visit. These spectacular views can be seen  from the comfort of your cabin's porch, but be sure experience these in another way as well by adventuring through the national park with a hike or horseback ride, on the Gatlinburg Sky Lift, from the Gatlinburg Space Needle, or soaring through the air on a zipline. The different adventures provide you with some of the same views, but from so many different angles and perspectives so give them all a try!
Give Diamond Mountain Rentals a call today and allow our staff to guide you to one of our Gatlinburg cabin rentals that is right for you! With more than 90 to choose from in the Gatlinburg area, we are sure to have the right one for you, including the spectacular Splendor Pines. Browse our full selection of Gatlinburg cabins and our current specials on our website. With great specials and affordable cabins, what are you waiting for? Plan your mountain escape today!