Relaxing Gatlinburg Cabins: Bearly Workin'
Do you remember the last time a vacation was truly relaxing? Between planning, travel, being kept up by noise, less than luxurious amenities, and other issues along the way, you may have come home more stressed than when you started. When you choose to stay in Gatlinburg, you want accommodations like Bearly Workin'; one of our most impressive Gatlinburg cabins.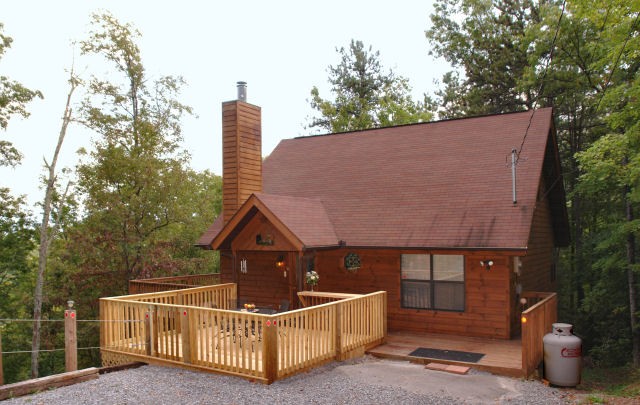 Mornings Start Slow and Calm in Our Gatlinburg Cabins
When you open your eyes after your first night of rest in the Bearly Workin' cabin, you'll have just a few steps to take to see the view of a lifetime. Watch the mountains come to life with the spectacular views from the deck. Start your morning off with a soak in your private hot tub, or enjoy your favorite breakfast in the spacious kitchen. You'll find all the pots, pans, and cooking utensils you need to whip up any kind of meal you want – just bring groceries! 
Many Options for Fun Days in Gatlinburg Cabins
Want to spend your day soaking in the mountain air with a book on the deck? Take a quick walk down to the association pool in the summer? Curl up by the fireplace with a movie in the winter? Any of these relaxing getaway options are available in the Bearly Workin' cabin. You can also take advantage of our Free Fun Pass to enjoy some of the fun attractions nearby! This cabin is just a five-minute drive from downtown Gatlinburg, where you can find tons of sights to entertain. From shopping and fine dining, to amusement parks and outdoor adventures, there is a little something for everyone nearby.
Sleep Like a Baby at Our Cabins in Gatlinburg
Forget those hotel sleepovers, where you couldn't get comfortable and the bar next door kept you up. At this Gatlinburg cabin, you'll drift away to the sounds of nature and quiet mountain nights. Despite being so close to Gatlinburg fun, Bearly Workin' is in a private area where the trees and the view are all that is likely to be around. The comfortable king master bedrooms (there are two of them!) are perfect for getting the best sleep you've had on any vacation yet! No matter what time of year you come, you'll find that the cabin is a cozy place to find true relaxation. 
Book Your Relaxing Gatlinburg Cabin Vacation Today
Our Gatlinburg cabins are the perfect way to get the best of all vacation worlds. Nearby fun, easy ways to save money, luxurious amenities, and a private space that is all yours for your entire trip. To book your stay in one of our cabins in Gatlinburg, simply scroll down to the calendar, and pick the dates you want to visit. Then reserve your stay! The Bearly Workin' cabin is ideal for families of six or under, groups of friends, or just the two of you if you prefer to spread out and give each other some space.