Romantic Cabins in Gatlinburg: Point of View
Taking a romantic vacation to get away from daily stress is an important part of keeping any relationship healthy. Just like people need to recharge from time to time, so does your relationship. But it can be difficult to focus on each other and truly recharge in a noisy hotel, surrounded by busy traffic and loud nightlife. Unfortunately, this is also where most of the luxury hotels and spa resorts are located. That's where our Gatlinburg cabins come in! Get the best of all worlds when you choose to stay in a romantic cabin getaway in the mountains, just minutes from entertainment, but still totally private.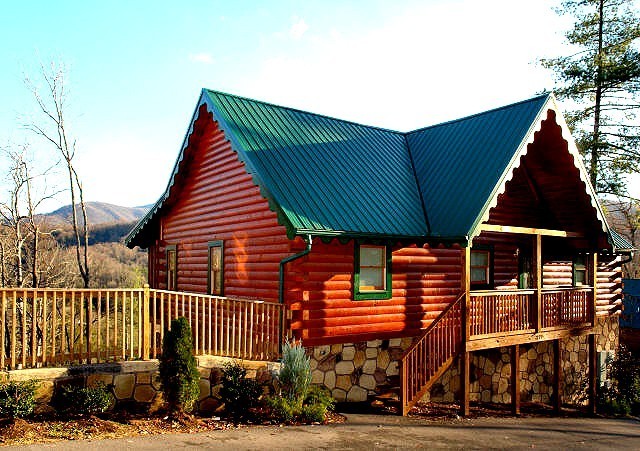 Reframe Your Point of View in this Gatlinburg Cabin
Our "Point of View" is one of our more spacious cabins in Gatlinburg with stunning views that will ease away all your cares. From your private deck, you'll see panoramic views of the mountains, letting you catch the sunrise and the sunset over the peaks if you wish. Inside the cabin, there are plenty of ways to keep yourself occupied and pampered if you truly want to leave the world behind for a while. Play a game of pool, soak in the private hot tub while you take in the view, or enjoy the whirlpool tub in your master suite. The cabin also includes cable TV and Internet, so that you can take in a few movies.
Romantic Gatlinburg Cabins that are Affordable
One problem that many romantic vacations present is the cost. Luxury spa packages aren't necessary when you stay in our cabins in Gatlinburg. You'll be able to get the same refreshing experience, no matter what time of year you come – and all without breaking your budget! Bring your own food to the fully equipped kitchen to enjoy your favorite meals in your home away from home. Cozy up in front of the fireplace in the winter, or head down to the association pool during the warmer months.
Get Out and Have a Blast in Gatlinburg
Once you've enjoyed some quiet time reconnecting, you can also head into Gatlinburg to enjoy a ton of fun! The Point of View cabin is just 3.5 miles away from the main strip of the city, where you can find nighttime street festivals in the summer, tons of great shopping and fine dining, and exciting attractions like the Gatlinburg Mountain Coaster. Take a stroll through the scenic Arts and Crafts Community, ride on the Gatlinburg trolley, or get your hearts racing with a zip line tour of the Smoky Mountains! Plan a picnic near a waterfall and hike through the National Park for an up-close and personal look at the stunning views you have from your cabin.
Our Cabins in Gatlinburg - Perfect for the Two of You!
The good news is that taking a romantic getaway together is even better when you do it more than once! Turn this Gatlinburg cabin into your annual home away from home, and enjoy the rejuvenating effects of pure mountain air anytime you want. Book your stay in any of our Gatlinburg cabins today by choosing the dates you want to stay on the calendar, and clicking reserve!