Take a Dip in the Pool When You Book One of Our Gatlinburg Condos
Summertime in Gatlinburg is a spirited time of year and perfect for fun with the family. The sunshine beams down from above; the trees blow in the wind; and the laughter flows through the streets of downtown. When you book one of our luxury Gatlinburg condo rentals, you become a pass holder to the cool, refreshing community swimming pool. When you're not spending your time hiking, shopping or exploring all that Gatlinburg has to offer, come back to relax one of our Gatlinburg condos. Conveniently located next to downtown, our Gatlinburg condo rentals are the perfect place to take a dip in the pool. Cool down and stave off the summer heat with us!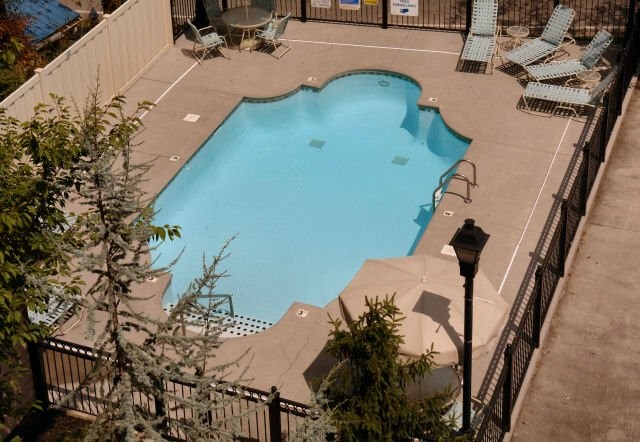 Beat the Summer Heat
Shopping, hiking and exploring downtown Gatlinburg can be tiresome in the dead heat of summer. Why not enjoy all that Gatlinburg has to offer by staying in one of our Gatlinburg condos! After a long day of fun in the mountains, come back to drop off the shopping bags and rest your heels poolside with the kids. Don't forget the sunscreen!
Make Memories Poolside
Swimming pools are an ideal way to escape the heat without forfeiting the beautiful Smoky Mountain sunshine. You can have a splash of a time floating, jumping, and diving for sinkers in the deep end. Play a fun game of Marco Polo or watch your little one brave the waters without their swimming floaties for the first time. The kids are sure to enjoy a Smoky Mountain getaway when there is splashing involved! Make mile marker memories with your family at the pool of Diamond Mountain Rentals' Gatlinburg condo rentals.
Enjoy a Leisurely Float
If ultimate relaxation is your thing, bring an inflatable pool lounger and float without a care in the glistening waters of the community pool. Let your worries slip away as you bask in the pleasures of the Smoky Mountains. It's a wonderful way to drift away from all your worries. Catch a sensational summer glow from the Gatlinburg sun this summer on your next vacation in the Smokies!
Don't miss the glow of the Smoky Mountain sun this summer! Book your next getaway to the mountains with Diamond Mountain Rentals and experience all our Gatlinburg condo rentals have to offer you. Splash play and stay in the Smokies with us!