The Top 5 Best Cabins in Gatlinburg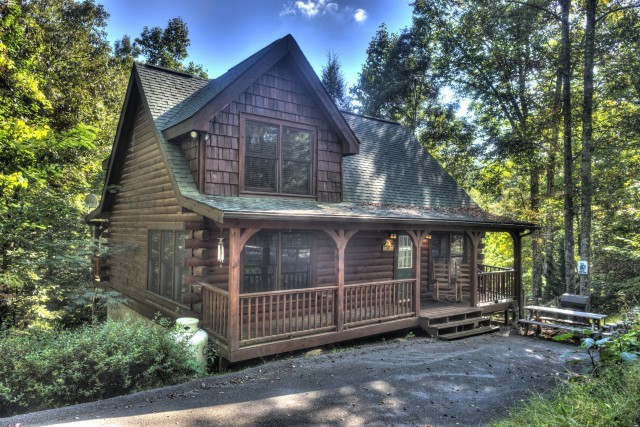 Looking at Gatlinburg cabin rentals for your next getaway? Diamond Mountain Rentals is here to help! We have narrowed down the 5 best cabins in Gatlinburg to make your vacation planning a little easier.
5. Alone at Last
Alone at last is a cozy and secluded chalet nestled in nature. A beautiful deck is home to a four-person hot tub, surrounded by beautiful views. This cabin is perfect for a family of four with two full baths, one king sized bed and a sleeper sofa. Its unique design features a wooden boardwalk that leads you to the front porch, and you will not want to miss the opportunity to relax in the Jacuzzi tub on the balcony. Additional amenities include a fully equipped kitchen, gas fireplace, and a pool table. You'll feel right at home!
4. Mountain Shades
Beautifully decorated and conveniently located, Mountain Shades offers all you need for a vacation in the Smokies. This two bedroom, two bath cabin is perfect for a family vacation or a getaway with friends. While just a short walk from downtown Gatlinburg, you can enjoy all the excitement! Curl up by a roaring fire in the winter or enjoy a BBQ on the grill in the summer. This cabin is a great place to escape your hectic schedule year round!
3. Cornerstone
Cornerstone boasts a striking stone exterior and a spacious interior. Just a short drive from both Gatlinburg and Pigeon Forge, this stunning cabin is loaded with amenities and sleeps 18 people comfortably by offering three king sized beds, one queen, and a set of bunk beds. So invite the whole family or plan your next corporate retreat and come admire the vast views of Mt. LeConte at Cornerstone! 
2. Night Lights
Looking at romantic Gatlinburg cabins? Then Night Lights is the cabin for you!  This lovely, little cabin is perfectly cozy for two people! The dark wood logs and secluded location gets you back to nature. Enjoy the views of the mountains and downtown while surrounded by the sights and smells of nature. Grab a glass of wine or a cup of hot cocoa and relax in this quaint spot!
1. Point of View
With outstanding panoramic views of both Mount LeConte and Pinnacle Vista, this true log cabin chalet is our top pick for a cabin getaway to the Smokies! Enjoy the large game room, indoor sauna, hot tub, and fully equipped kitchen. Point of View offers pool access during the summer months and sleeps 10 comfortably. Get a good night's sleep in one of the four king sized beds. With spectacular views, amenities, and convenient location, it's easy to see why Point of View is our top pick for the best cabin in Gatlinburg!
« Previous
Next »