Turn Your Cabin in Gatlinburg into Your Own Private Oasis
Vacationing in the Smoky Mountains is a sensational, relaxing experience. All the area attractions are located conveniently near our Gatlinburg cabin rentals. There is so much enjoyment to experience in downtown Gatlinburg, but it also happens to be just as enjoyable to stay tucked away in your cabin. Create your own private oasis in the mountains. Leave the hustle and bustle behind you, and immerse yourself in all the beauty of the mountains right from the comforts of your cabin. Book one of our premier cabins in Gatlinburg and get away from it all!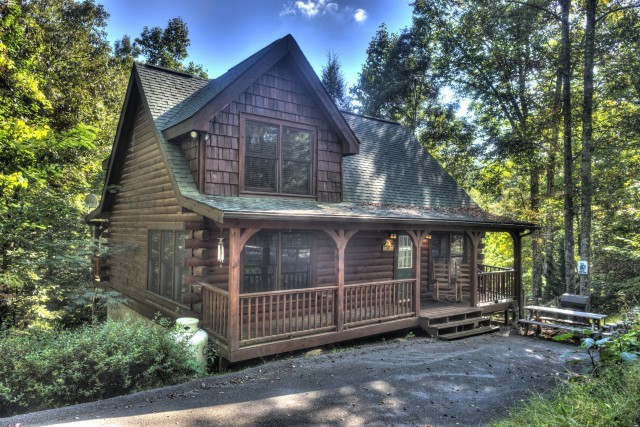 Turn a Relaxing Day at The Spa into a Relaxing Day at a Cabin in Gatlinburg
Vacationing in a rustic log cabin has its perks. Not only are you amidst the trees with sprawling mountain views, you have all the necessary amenities to turn your cabin into a Smoky Mountain day spa! Schedule an in-cabin massage and let the stresses of the world melt away. If you don't want to be inside, you don't have to! Ask to have your massage therapist perform your massage treatment on the deck and listen to the sounds of nature. Reserve one of our Gatlinburg cabins with a jetted hot tub so after your muscles are loosened you can enjoy a moment in the hot tub and soak up your newfound relaxed state of ah. Can you feel the zen yet?
Enjoy a Romantic Getaway in a Remote Cabin in Gatlinburg
Take your sweetheart on a romantic getaway and stay in a remote cabin in the woods. Enjoy a private setting; it's just you, your sweetheart, and nature at this point. Have your morning coffee in the hot tub and maybe even have breakfast in bed together. Create a fire and illuminate the cabin with a warming timber glow to set the mood for a relaxing night in with a bottle of wine fit for two. Diamond Mountain Cabin Rentals offers several honeymoon cabins in Gatlinburg with all the amenities you could ever need!
Instead of  Takeout, Turn a Cabin in Gatlinburg into Your Own Bistro in the Woods and Dine In!
Book a cabin in Gatlinburg with a kitchen to impress the chef at heart. Stock up on staple items at the local grocery and get creative in the kitchen. Who needs takeout?! Let your stomach do the talking and whip up a delicious, gourmet masterpiece for the whole family.
When you book a cabin with Diamond Mountain Rentals, the entertainment possibilities are endless. Click or call to book your next Smoky Mountain retreat with us!
« Previous
Next »