The View: The Perfect Cabin For Winter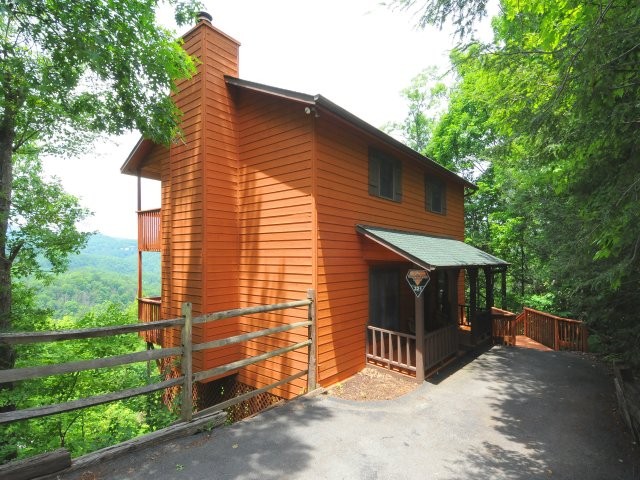 When it's cold outside you might find yourself dreaming of a cozy Smoky Mountain cabin. We don't blame you! The air is brisk and chilly, the skies turn grey, and all you want to do is snuggle up next to a fire in a Gatlinburg cabin with a Smoky Mountain view. If you can relate, then you might already be planning your winter escape to the Smokies. But, if you are still looking for that perfect Gatlinburg cabin to stay in this winter you might like The View.
The Best Views Without Stepping Outside
Sometimes the dilemma of visiting the Smoky Mountains in the winter is that you want to enjoy the incredible view, but it's too cold to sit outside. Well, at our Gatlinburg cabin, The View, you don't have to worry about missing out on a spectacular view because almost every room offers awesome views of the Smokies. So, sit back and relax next to the stone fireplace and take in the Smoky Mountain view from the warmth of the cabin.
Cozy Interior
If you visit the Smoky Mountains during the winter you are probably looking forward to a cozy cabin with wood paneled walls, a large stone fireplace, big comfy couches and warm beds - and that's exactly what you get when you stay at The View.
Plenty Of Things To Keep You Entertained
Compared to warmer months, you might spend a lot more time inside your Smoky Mountain cabin to avoid the cold. So, you want to stay in a cabin that offers plenty of things to do - right? Well, when you stay at The View you can play a game of air hockey, enjoy a movie in bed, cook up your favorite meal in the fully equipped kitchen, or escape the chill in the steaming hot tub.
Close To Downtown Gatlinburg
The View is located just one mile from the Gatlinburg Strip. No long wintry drive to all the area's best attractions because you are so close when you stay at our Smoky Mountain cabin. So, go ahead, plan those fun evenings out on the town enjoying dinner out, shopping, or playing a round of miniature golf and know that your cozy Gatlinburg cabin is just a minute away! 
Call us today to start planning your perfect Smoky Mountain vacation this winter!