A Walk Through Gatlinburg
A Walk Through Gatlinburg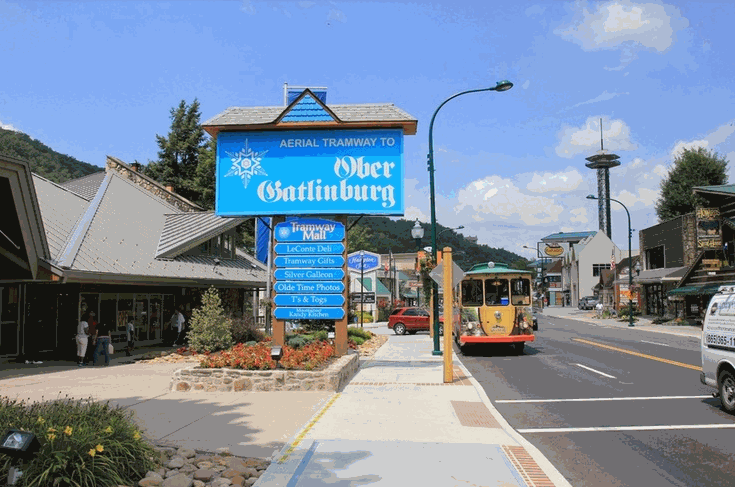 Walking through Gatlinburg in the fall is a visitor's paradise. The sights, sounds and smells tantalize with every step one takes. Let's look in on some of the fun and unique places that make Gatlinburg a great place to visit in the fall:
Mountain Mall is right downtown and offers dozens of unique 'only in Gatlinburg' shopping experiences. Here are three mall stores that provide a sample of the type of shopping you'll discover in the mall:
Many of the shops offer items that perfectly complement the fall season, such as old-fashioned candies from Aunt Mahalia's Candies. (They even offer another location on the strip for your convenience.) Celebrate fall with their caramel apples. Buy some delicious homemade candies or sample their honey, syrups or jams. This is a fun store! Don't forget to try their Heavenly Fudge! See them at 708 Parkway.
Stop in to Cowboy Way and satisfy your desire to fulfill your Western daydreams. You can dress like a country boy or girl with this store's boots, hats, buckles, shoes and full line of western wear and gear. Shop for wallets, moccasins, belts, hats and much more. They carry top brands including Resistor &Stetson, Josef Seibel, and Montanta Silver. Come see Cowboy Way at 616 Parkway.
Ramsey Whittaker Caricatures [611 Parkway # A1] offers a fun and unusual way to spend some time in the mall. Get a caricature created while you wait. Check out their Facebook page to see some of their work: https://www.facebook.com/pages/Ramsey-Whitaker-Caricatures/164599396964268 
Wouldn't it be fun to get a cartoon portrait of yourself or friends and family made? That would be a unique Gatlinburg keepsake!
Make a day of it on the Rocky Top Wine Trail.
Start at Sugarland Cellars and sample their dry, semi-sweet and sweet wines such as Cherry – Kee or Martha Jane Rose'. Keep going on the trail and find four more wineries, each with its own distinctive wines that you can sample for free. You can buy bottles of these delectable local wines to ship home for your own enjoyment or as gifts for your friends. All of the winery tours are open 7 days per week.
If you love jerky, you'll want to stop in to The Jerky Store. They make their jerky using all natural ingredients. No MSG and low salt make this jerky a great choice. You can learn more about their jerky and even buy some online before you come to Gatlinburg: http://bestdarnjerky.com/shop/. Visit The Jerky Store at 631 Parkway.
Eating and drinking are top activities along the Gatlinburg Strip, but shopping for awesome local crafts is a close second. One store that catches visitors' eyes is Myrick's Leather. Every type of leather good is sold here; from handbags and hats, to belts, wallets, leather jackets and much more. Find this store at 962 Parkway.
Hollywood Star Cars Museum is one of the most fun attractions on the Strip. See your favorite cars from TV series, like the Batmobile, the Love Bug and The General Lee from Dukes of Hazard. This is a must see attraction for anyone who loves TV, the movies and the cars that helped make those beloved shows famous. This museum is located at 914 Parkway and is open 9:00 am - 10 pm daily.
We hope this short guide will point the way to some interesting experiences. Come visit Gatlinburg in the fall and stop in to each of these unique shops and attractions!