Pet friendly 3 bedroom Gatlinburg cabin | Diamond Mountain Rentals
Pet Friendly! Great for a Gatlinburg Romantic or Family Getaway - 5 Minutes from Downtown Gatlinburg - 10 minutes from all the attractions in Pigeon Forge, including Tanger Mall
Take in the incredible panoramic mountain views in this 1750 sq ft beautifully decorated 3 bedroom/3 bath log chalet with all the amenities. All natural wood inside with large living/dining and kitchen area with flat screen. All king bedrooms have their own bath with satellite TV and outstanding views. Each bedroom has it's own entrance onto decks to take in the views and hot tub. One bedroom is on the main level, the other two are on the upper. Perfect for couples or family getaways. Kitchen comes fully equipped with all the amenities including granite countertops with under the counter sink, crock pot, and regular and Keurig coffeemakers. Pool Table and Hot Tub. Easy access in and out with ample parking. Located just 5 minutes from downtown Gatlinburg. This unit boasts the most breathtaking views in the Gatlinburg area.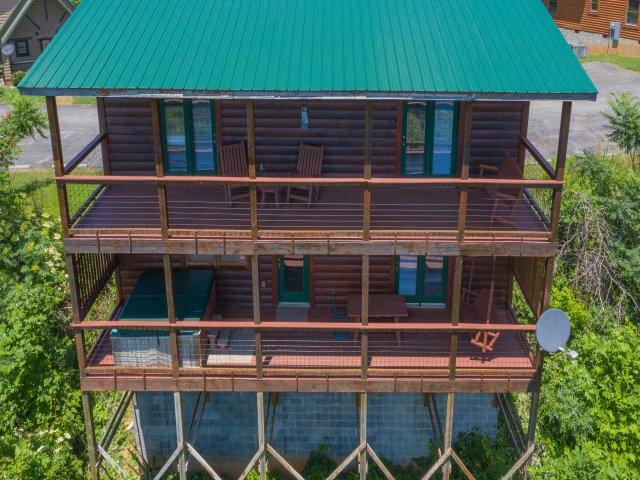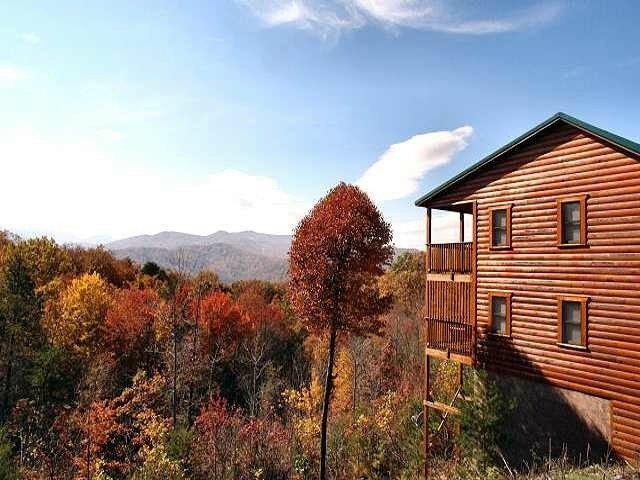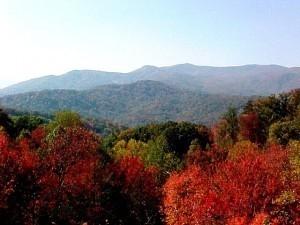 Amenities
Gas Fireplace (Inside) (1)
Washer/Dryer
Hot Tub
Charcoal Grill
Fireplace(s) (1)
Pet Friendly
Sleeper Sofa (1)
Pool Table
King Bed (3)
Full Bathrooms (3)
Square Foot (1750)
DVD Player
Internet Access Wireless
Coffee Maker
Toaster
Microwave
Central H/A
Cable/Satellite: Dish TV
Equipped kitchen w/basic pots & pans
Towels/Linens Provided
Dishwasher
Ice Maker
Flat Screen TV
Ironing Board/Iron
Kuerig Coffee Maker
Reviews
Kermit - 9/7/2020

Had a very relaxing time at this cabin with no issues. Enjoyed ourselves very much.

Jordan - 3/27/2021

The cabin was amazing for our family vacation. Clean, great amenities, spectacular views, and great location.

K. Dockery - 7/20/2019

Good location. Space to spread out. My husband , my self, daughter and son in law along with 2 kids had a perfect stay. Mornings started with my husband cooking a full scale breakfast. Kitchen was well stocked with wears. Beds were comfy. Views were nice and will be beautiful in the fall. We saw 3 bears during our visit. Nothing scary. But in the distance and the kids enjoyed that. If I can make 1 suggestion more towels are needed so laundry can be done every other day vs every night. Between 6 people showering from the heat or relaxing in the hot tub there were not enough towels at the residence. However overall I would book again.

Robin Levens - 8/4/2018

Great Views! 5 stars! We loved the cabin it was very clean and cozy. We absolutely loved the views of the mountains we would definitely stay here again.

Steve - 6/11/2021

A great place to stay

Sarah - 7/17/2021

This cabin was hands down everything as described and then more. It was so spacious and super clean. Complete privacy from the other cabins due to the foliage. Absolute peace and quiet. The hot tub and pool table were also great. Seems remote yet literally 10 min both ways to downtown Pigeon Forge and Gatlinburg. 100% recommend this cabin.

C. Graziani - 7/24/2020

Wonderful experience at this property. Adorable bear decorations and loved the cabin feel with wood everywhere. Everything was in great working order. Plenty of towels. The view is spectacular. Loved that it was dog friendly. Close to National Park, which was our focus. Kids liked having the upstairs. Great place overall.

T. Jones - 6/6/2020

Only issue was the brochure showed a bunk bed for kids and there wasnt one in the cabin so we had to restructure the sleeping arrangements, stairs was super loud for the person with the lower bed room However, it's a beautiful cabin

Brandi - 6/29/2020

It's nestled on a mountain with beautiful views and right in the middle of Gatlinburg and Pigeon Forge. We stayed a week and loved it! My only suggestion would be to have larger garbage bins outside and update the dishwasher. We had to wash some dishes by hand. I would definitely stay here again!

Ashe - 9/16/2021

Great time , great views

L. Roman - 9/29/2019

My husband and I came here for 5 nights with our two dogs and had a wonderful stay. The check in process could not have been simpler. We didn't have any issues while we were there so we didn't have to communicate at all with the owner/rental company but their numbers were listed in multiple places for availability. The checkout process was easy as well with instructions easily printed. The views from the back of the house were outstanding. We were able to watch some sunsets and enjoy our morning coffee . The hot tub was clean and easy to operate as well. Both the upper and lower deck are completely gated off which was very helpful for bringing the dogs. The cabin is about a 10min drive from downtown on a quiet street. There are about 6 other cabins on the street, each with grass out front and ample parking. It was still very quiet but nice to have others in the vicinity. Bedrooms were all good size with king beds and private en suite . Kitchen had all of the plates/ cookware you could need but there are no cooking essentials here (salt, pepper, oil, etc). If you plan on cooking, bring stuff from home or plan on purchasing. There was a grocery store about 10 min away. Freezer has ice maker which was helpful as well. Overall, this cabin was wonderful and would definitely stay again if we find ourselves back in Gatlinburg. Thank you for sharing your home!

Justin - 11/7/2020

The view out of both rear lookouts was amazing. Cabin is very nice with large separate rooms and bathrooms. Living room and pool table set up so everyone is included. Definitely hope to come back.

Rickey Spivey - 7/19/2018

Amazing. Can't wait to come back. This was a great cabin. The staff was phenomenal. There were crazy storms during our stay that caused power outages. The staff could not have been more attentive to our needs and made sure that we had everything we needed. They even came up to bring us water. If you are thinking about booking this place, do it... you will not be disappointed. Submitted: Aug 10, 2018 | Stayed: July 2018

John - 9/20/2021

The property was amazing. Great location, view from back decks was amazing. Lot's of space and clean. Each bedroom has it's own bath, very convenient. pool table got a lot of use.

Kelli - 10/22/2020

Renting through Vrbo was very simple and communication with the vacation rental group was easy - everything was handled electronically. The property its self was great; fairly clean and offered all the amenities our family needed/wanted. The lay out was perfect for us with three households vacationing together, although the stairs were slightly dangerous for my 2 year old due to the last 3 steps not having a rail. We had a great stay and the view could not be beat!

D. Funkhouser - 3/28/2019

I recently stayed at this cabin with my son and his family. The cabin had beautiful views! The house is decorated nicely and very homey. It has all the amenities you would want. It felt like being home but in a beautiful location. Highly recommend! I recently stayed at this cabin with my son and his family. The cabin had beautiful views! The house is decorated nicely and very homey. It has all the amenities you would want. It felt like being home but in a beautiful location. Highly recommend!

Diane - 11/22/2020

Excellent!

C. Shoemaker - 6/22/2019

Checkin was supper easy. Once we arrived and unloaded we realized. Wow this is beautiful. We did notice a few insects on the floor that night. Called the office and they were very helpful. After a big rain they come in. We had someone over within the hour and never saw a bug again. Totally recommend even saw a bear.

Leslie - 2/19/2021

Great trip with friends. We loved the pool table. Cabin was very clean. Had lights on and the tv when we arrived which was nice not to walk into a dark cabin late in the evening. Had a great experience. Scenery was spectacular!!

R. Sickafoose - 7/4/2019

The property was just what we needed. Plenty of room for the 7 of us. Beautiful views and an easy ride to both Gatlinburg and pigeon Forge. The cabin was warm and welcoming! We will definitely recommend and book again.