How to Plan Your Visit to the Smokies - Part 1
So you've decided to visit the Gatlinburg/Pigeon Forge area for your vacation! Fantastic! Now there's the planning to do -- but don't worry we have you covered with our Trip Planner Mini-Guide. In this two part series we'll help you get ready for a fun vacation that may very well turn into a yearly tradition.
Many travelers like to return to our area every year. The seasoned visitors know all the best places to stay and where the awesome attractions are. Even if you have been here before, there's always something new to discover. Here are some great highlights you can look forward to when you arrive:
1) Visiting during different seasons over the years can make your trip to the Smokies unique. While our area is known for fall's stunning display, every season offers something to enjoy and explore. Spring is no exception as Gatlinburg transforms itself during Smoky Mountain Springfest (continuing through early June). The entire town greets the season bedecked in flowers and songs that hearken back through the decades to the earliest settlers who homesteaded here in the 1800s.
2) The grandiose beauty of Great Smoky Mountains National Park offers a magnificent backdrop to any activity you undertake around town, and provides a whole new world for you to discover when you enter the park's trails and campgrounds. http://www.nps.gov/grsm/planyourvisit/things2do.htm
3) The Arts & Crafts Community beckons with its over 100 artisans who demonstrate their ability to weave, carve, create pottery, candles, soap and so much more. Visitors can literally spend an entire day watching and listening to the artists as they discuss how they learned their crafts. http://www.gatlinburgcrafts.com/
Enjoy the free parking! Meet the artists http://www.gatlinburgcrafts.com/meet_the_artists.html You can even browse and make purchases online here http://www.gatlinburgcrafts.com/shop-online.html.
4) Wildlife viewing really doesn't have to be planned when you visit Gatlinburg - you'll likely see black bears, deer, dozens of colorful birds, butterflies, salamanders and many more creatures who frequent the park area, especially in Cades Cove. http://www.gatlinburg.com/things-to-do/cades-cove/ Cades Cove is a 6800 acre natural area that offers so many opportunities to get close to nature. You can select one of the trails (there's one to match most anyone's fitness or skill level) or you can tour the loop road by car or on foot.
Now those highlights should whet your appetite for your trip, and there's so much more to see and do! We better start the trip planning so you can get here a.s.a.p. and enjoy everything that Gatlinburg and Pigeon Forge have to offer!
Easy Smokies Trip Planning
1) Book your stay at Diamond Mountain Cabin Rentals. Please call during business hours to book your reservation: (888) 430-4060 from 9:00 am – 6:00 pm Eastern Time. You can of course book online on our site, too.
2) Get the free Gatlinburg apps for your mobile devices: Visit this page to get them http://www.gatlinburg.com/app/ They're available for iPhone and Android. The cool part about the Visit Gatlinburg app is that you can search for all the best things to do from your location. We also recommend taking a look at the Gatlinburg blog to find out more about all the spring activities you can enjoy: blog.gatlinburg.com
3) Don't forget to check the National Park's website: http://www.nps.gov/grsm/planyourvisit/index.htm This site is a treasure trove of information on what you can see and do in the park. Get your free trip planning information and books, maps and guides from their online store.
Need a few tips on things to see in the park? Check out Clingmans Dome. http://www.nps.gov/grsm/planyourvisit/clingmansdome.htm Clingmans Dome is over 6600 feet high and is the highest point in the park. The observation tower is a very popular attraction and it's a good idea to go early in the day before it gets crowded. You might want to check the weather forecast before you go too, as it may be overcast in that area the day you visit. Visitors enjoy the walk up to the tower, which can be a bit strenuous but rewards you with some of the most amazing panoramic views of the Smokies you will ever see.
Roaring Fork Motor Nature Trail is a popular natural spot that the whole family can enjoy http://www.nps.gov/grsm/planyourvisit/roaringfork.htm. See old homesteads, Rainbow and Grotto Falls and some incredible scenery, such as old growth forests, wildflowers, and of course Roaring Fork mountain stream.
4) Discover the best places to eat: Gatlinburg makes it easy for people to enjoy terrific food anytime, as restaurants serve a great mix of local specialties and well-known favorites. Try some of the terrific trout caught locally. Visit a famous pancake restaurant that offers 25 types of pancakes. Go with steak, chicken or superb Italian food. Pair these dinners with amazing locally made wine and micro-brewed beer and you have a meal made in heaven. Here's a super restaurant guide to get you started on your search for dining bliss: http://www.gatlinburg.com/dine/
Wow! We bet you can't wait to get to the Smokies! What's great about a visit here is you can have an awesome time regardless of how long you stay; whether you're getting away for a weekend or spending a week or more.
One last tip: Keep this Events page bookmarked so you'll always know what events are on tap during the time you're planning to come: http://www.gatlinburg.com/events/
Check back for our next installment of this mini-guide as we'll discuss some of the most amazing Gatlinburg attractions that you can experience up close and personal.
How to Plan Your Visit to the Smokies – Part 2
In our last mini-guide installment we got you ready to visit the Smokies with some trip planning advice and a list of some of the amazing attractions you can enjoy while you're here.
We promised this time to introduce you to some fun activities that will provide you with 'up close and personal' experiences, and wow, we have some great attractions to tell you about that you're sure to love. Let's get started!
1) Ripley's Aquarium of the Smokies: While this company owns aquariums in many cities (you likely have heard of them) there are so many things that the aquarium offers that are really remarkable. They offer many great ways to spend special occasions or just a fun day out with the family.
a. Live Show Schedule
You'll definitely want to check this page out because it contains the aquarium's live show schedule. There are several great shows to choose from. Two popular ones are the family-friendly and interactive Live Mermaid Show, (where the aquarium's mermaids swim with many awesome sea creatures), and the Marine Science show (a perfect family show which shares a variety of facts about aquatic life and the oceans). The live show schedule runs from 9:30 a.m. to 11:00 p.m. Please check the aquarium's website or call them at 865 430-8808 for hours and days of operation, as they do vary by season.
b. Weddings at the Aquarium: There are such a variety of wedding venues in the Gatlinburg and Pigeon Forge areas. A really spectacular one is the aquarium. Not only will couples and their guests be able to surround themselves with aquatic life at the wedding, Ripley's will plan the entire affair; from the rehearsal dinner, to the wedding, to the reception! Here's a great way to find out more about weddings at the aquarium. Visit this wedding package page where you can select a package and then contact one of the aquarium's partners to help finalize all the details. You can even enjoy a special experience with some of the aquarium's African Penguins, which is sure to thrill you and all of your guests!
2) Ober Gatlinburg: Visit this family-friendly attraction which offers several entertaining activities at one location. Take the aerial tram from downtown Gatlinburg up to Ober Gatlinburg and get an all-day Outdoor Activity Wristband. Kids 4 and under are free. The aerial tram ride is a fun beginning to your day at Ober. You can then spend the day on the many rides and activities that Ober Gatlinburg has to offer, like the Amaze 'N Maze, Mini Golf, Kiddie Land & Rides, Ober's Lightnin' Water Ride, Shoot-the-Shoot Water Ride, & Blue Cyclone Rapids.
Don't forget the indoor skating rink and the famous alpine slide. You may wish to purchase the All Activity Wristband which includes admission to the Wildlife Encounter and one session of ice skating. Visitors of all ages, and especially children, love the Wildlife Encounter and can enjoy a fun and educational day learning about and enjoying the antics and behaviors of black bears, otters (these are great to see in the underwater viewing area), birds of prey, nocturnal animals and more. See this page for more information on 2014 summer wristband rates. This video will show you everything you'll get to see when you visit Ober Gatlinburg in the summer.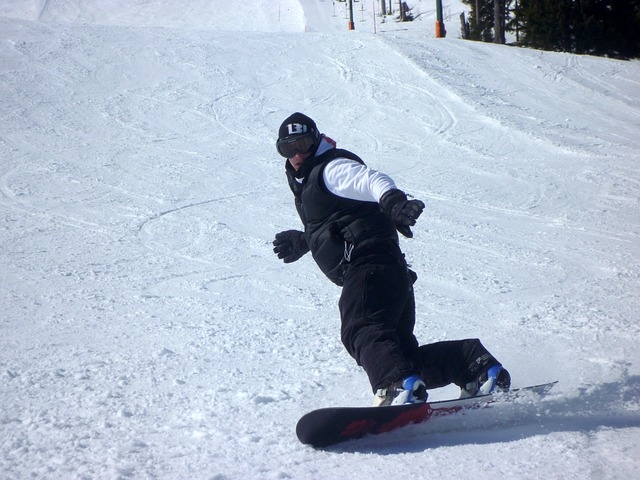 Photo by
CSG Snow Goggles
Winter at Ober Gatlinburg is a whole different experience. Ober is the only ski resort in Tennessee and their ski slopes, snowboarding and snow tubing areas provide winter sports enthusiasts of all ages plenty of ways to have fun in the snow. To find out more about equipment rentals, hours and complete FAQs, you can visit this page. They offer group rates and a variety of passes and rental information on this page.
Here is the perfect way to plan your Ober Gatlinburg visit. View this Operating hours schedule to plan your day then get ready for some amazing fun! If you are coming to ski, they offer a handy slope report and information on skiing and snowboarding lessons.
Another great reason to visit Ober Gatlinburg is to dine at their Seasons of Ober restaurant. The atmosphere is very beautiful and you can enjoy your food while looking out over the slopes. The menu features steaks, pasta, chicken, salads, sandwiches and delectable desserts.
3) Brewery,Winery and Distillery Tours: Sometimes people are looking for a different type of 'up close and personal' activity, and a great alternative is a winery, distillery or brewery tour. Fortunately our area is home to several noteworthy breweries and wineries and a distillery that has built a name for itself on the national stage.
a. Ole Smoky Moonshine: Start your tour at this Gatlinburg distillery and discover 'The Holler'. There's so much to see – from authentic moonshine stills to the people and processes responsible for creation of real Tennessee moonshine. This tour is very pleasurable and you can ask questions and try some samples of their terrific moonshine flavors, like Original Unaged Corn Whiskey, White Lightnin', Moonshine Cherries, Blackberry, Our World famous "Apple Pie", Strawberry, Peach and Lemon Drop. Depending on when you visit you might get to taste special seasonal flavors, too. If you stop by the Ole Smoky store you can buy moonshine and moonshine-themed items, like coolers, t-shirts, stainless steel shot glasses, and even Ole Smoky Moonshine mustard barbecue sauce.
b. Sugarland Cellars: If you're in the mood for a fun local winery tour, Sugarland Cellars in Gatlinburg offers a great tour and free wine tastings. Variety and delicious flavor characterize these distinctive local wines. Here you'll find free tours offered daily from noon to 5 pm. You can give them a call for more information at 1-855-228-5217 or check out their Facebook page that features event listings, humorous wine-related cartoons, and just plain fun posts, like 'What was your best year?'
The friendly staff at Sugarland Cellars really likes to meet with visitors, so this is a popular stop on the winery tour in this area. And of course no trip to Sugarland Cellars would be complete without a visit to their wine shop. Here you can get a preview of what you'll see there, with descriptions of the dry, semi-sweet and sweet wines you can purchase.
c. Smoky Mountain Brewery: The Pigeon Forge location of this brewery and restaurant makes a great stop for the whole family. See the micro-brewery in action and order up delicious snacks, appetizers, subs, sandwiches, burgers, Italian specialties and pizza, salads and much more. Enjoy some of the distinctive beers with locally-inspired names, like Mountain Light, Black Bear Ale, Appalachian Pale Ale and Windy Gap Wheat. You can even try samplers of their beers in 5 oz. glasses. Samplers come in 3, 4, 5, or 6 beer sizes. Enjoy your beer in pint glasses all the way up to 33.8 oz. Super Mugs.
You can also visit their Gatlinburg location which features great food, their famous micro-brewed beer, an enclosed deck and the gorgeous Smoky Mountains scenery surrounding this popular restaurant and gathering spot.
So there you have it; several great 'up close and personal' attractions and activities that are just waiting for you here in Gatlinburg and Pigeon Forge, TN.
The next step is getting your cabin reserved for your trip! Reserve your Gatlinburg cabin rental now with Diamond Mountain Cabin Rentals. Traveling with your pet? See our pet-friendly cabin rentals here.
Get here soon – dozens of fun experiences are waiting for you!