3 Places to Take Your Sweetheart This Winter
Love is in the air and it's almost Valentine's day in the Smoky Mountains! If you're visiting us during the winter months, we have a few suggestions as to where you should take your sweetheart. From cozy Gatlinburg cabins, to scenic tours and romantic dinners, this is your ultimate guide to a romantic getaway.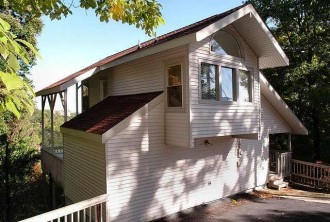 Our Gatlinburg cabins are what you picture when you think of a romantic getaway! From the privacy, to the relaxing hot tub and views, it would not surprise us if you fell in love all over again in our Gatlinburg cabins.
Our cabins are cozy enough for two! You don't even have to leave the cabin to enjoy a weekend with your sweetheart! Bring the fixin's for a romantic dinner and movie night and enjoy the peace and quiet! Your cabin will be tucked away in the Smoky Mountains! View all of our romantic cabins here.
2. Sky Lift
Imagine traveling high through the Smokies without having to hike one step! At the Gatlinburg sky lift, you can enjoy the beautiful Gatlinburg views without the physical exertion. Wear a warm coat and snuggle up next to your sweetheart. This is a Gatlinburg attraction you don't want to miss! Sit back and relax as you enjoy views that people can only dream of!
3. Romantic Dinner for Two
Whether you are going out for a romantic dinner or staying in, a romantic dinner is a must during your getaway. If you decide to cook at your Gatlinburg cabin, you're in luck. Our Gatlinburg cabins come with well-equipped kitchens for your convenience. If a weekend in is what you seek, look no further.
However, if you wish to take your sweetheart out to a nice dinner, we have a local recommendation for you! The Greenbrier Restaurant is a long time favorite for special dinners and celebrating romance. From the fresh seafood, to the mouthwatering steaks and desserts, you will love this establishment. For added romance, ask for a seat by the window!
Book your stay and take your sweetheart to our three places here in Gatlinburg, Tennessee!