3 Top Romantic, Pre-Holiday Gatlinburg Cabin Hideaways
The holidays can be a stressful time of year: dinner with the in-laws, holiday decorating, splitting time between families, and holiday shopping lists a mile long. In order to fortify yourself for all this holiday hustle and bustle, how about taking a romantic pre-holiday vacation to Gatlinburg, TN? You're sure to return relaxed, refreshed, and ready to leap into the holidays with a cheerful attitude and a smile on your face!
So where to stay when you come to Gatlinburg? That's the question. Luckily Diamond Mountain Rentals has the answer. They offer several Gatlinburg cabin rentals that are just right for a romantic pre-holiday hideaway. Take a look at these three and you'll see what we're talking about.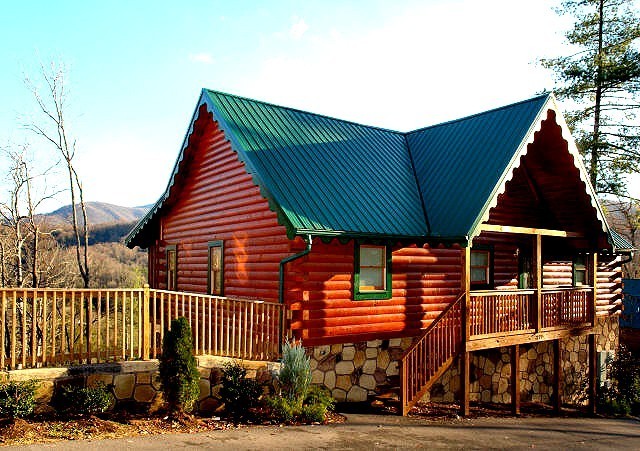 I Love You
Sugar Shack: This romantic little 1 BR, 2 BA Gatlinburg cabin is perfect for a romantic vacation with your loved one. Heart-shaped touches throughout this beautiful log cabin inspire togetherness and connection: You'll notice heart motifs on the back door, the upstairs loft entrance, and even the whirlpool tub. Beautiful wood paneling throughout creates a sense of coziness and warmth that's enhanced by the stone fireplace in the corner of the living room. Throw some logs on and curl up together to stare at the flames and listen to the crackling fire.
Sugar Shack has all the modern conveniences you need to be comfortable during your stay - fully equipped kitchen, cable TV, and king bed. But it also has some nice extras: a pool table, outdoor hot tub, and decks with amazing wooded views. There's a tiny deck off the loft that's perfect for sharing a cup of coffee together first thing in the morning. Give it a try and you'll fall in love all over again!
Just the Two of You
Tina Marie's: Here's another romantic Gatlinburg cabin worth taking a look at. The views of the Smoky Mountains from this 1 BR, 1 BA cabin are stunning! Rocking chairs and an outdoor gas fireplace beckon you to sit and enjoy it for a while. Take some pictures to share with friends back home. While you're on the deck, you might be inclined to try out the hot tub. What a perfect way to enjoy the chilly winter weather!
Indoors you'll find a beautiful leather couch situated in front of a large wood-burning fireplace. Cable TV, DVD, even a CD player are here for your enjoyment. Put on some soft music, open a bottle of wine, and enjoy a romantic evening in this delightful Gatlinburg cabin. Tina Marie's also features a loft bedroom complete with heart-shaped Jacuzzi tub. And there's a pool table here in case you're feeling competitive. All this is yours to enjoy!
Alone Time
Twilight Point is unique in that it features one of the nicest loft bedrooms in the area. The king-sized bed is warm and inviting, and romantic lighting adds to the ambience. A flat-screen TV mounted on the wall encourages snuggling up to watch a movie or a favorite TV show. With the Sonos premium wireless speaker system, you can turn on soft music, light the flameless candles, and you won't want to leave anytime soon! A heart-shaped whirlpool tub also graces the corner of this beautiful loft bedroom.
The main level of this 1 BR, 1.5 BA Gatlinburg cabin offers open living spaces, vaulted ceilings, a corner stone fireplace, fully equipped kitchen...even a pool table for evening entertainment! Out on the deck you'll not only find gorgeous mountain views, but a hot tub waiting for you. Step in and unwind after a day of exploring Gatlinburg.
Reserve Your Pre-Holiday Hideaway Today!
Any of these romantic Gatlinburg cabins can be yours for your pre-holiday hideaway. Just give Diamond Mountain Rentals a call to reserve, or ask about their other Gatlinburg cabin rentals in the area. They'll be happy to help you choose!