Experience The Magic of Gatlinburg On The Trolley of Lights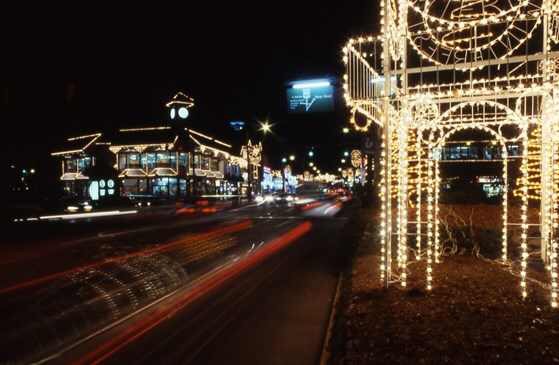 Millions of lights are on display for miles on the stretch from Sevierville to Pigeon Forge and on up into Gatlinburg during Smoky Mountain Winterfest from late fall to early March. It is one of the most notable holiday experiences in the Smokies and has been for the past 26 years. You will not be able to miss these spectacular displays while you are out exploring during your getaway to a Gatlinburg cabin with Diamond Mountain Rentals. Get out and explore all Gatlinburg has to offer and find yourself amazed by the twinkling lights illuminating the sky, but give your car a break and hop on The Trolley of Lights. Experience the magic of Gatlinburg during your Smoky Mountain vacation this winter without having to worry about driving!
The Trolley of Lights in Gatlinburg offers you affordable transportation and an opportunity to sit back and admire the beautiful displays while traveling to and from over 100 destinations stretching over 50 miles in and surrounding Gatlinburg. This unique form of transportation has become an attraction itself because of the magical experience it offers its passengers.
Established in 1980, The Trolley offers a clean, environmentally safe and convenient form of transportation for more than 800 thousand passengers a year. The Trolley has 24 trolleys that are color-coded based on their route so check out the screen on the front of the trolley and find the right route for you. Conveniently, you can check the GPS locations and arrival times for the trolleys on their website so you can plan accordingly. Gatlinburg offers two, free park and ride locations; Gatlinburg City Hall offers one location and the other is located at the Gatlinburg Welcome Center on The Spur between Pigeon Forge and Gatlinburg. Save money on gas to accommodate the many wonderful attractions found in the Smokies at Christmas, such as the Gatlinburg Mountain Coaster and the Gatlinburg Sky Lift.
Check out the full selection of Gatlinburg cabin rentals offered at Diamond Mountain Rentals on our website and map out your vacation based on the many routes offered through the Trolley of Lights. Enjoy the conformability found in your Gatlinburg Cabin and the convenience of being able to explore Gatlinburg and gaze at the incredible light displays from the Trolley of Lights. These combined with the magic of Christmas in the Smokies will delight you and yours this holiday season!
For more information on the Trolley of Lights visit gatlinburgtrolley.org.