The Village Shops: A Gatlinburg Favorite
Transport yourself in time, to a time when life was simple. These Gatlinburg shops resemble an old world with a unique, quaint, small town feel. Located in downtown Gatlinburg, the Village Shops offer various stores for visitors to enjoy. The Village Shops are a longtime Gatlinburg favorite, see for yourself!
The Village Shops are minutes away from our Gatlinburg cabin rentals. Imagine waking up on a Saturday morning in your mountain cabin, then hitting authentic Gatlinburg shops, right down the road. It's the perfect way to spend a Saturday in Gatlinburg!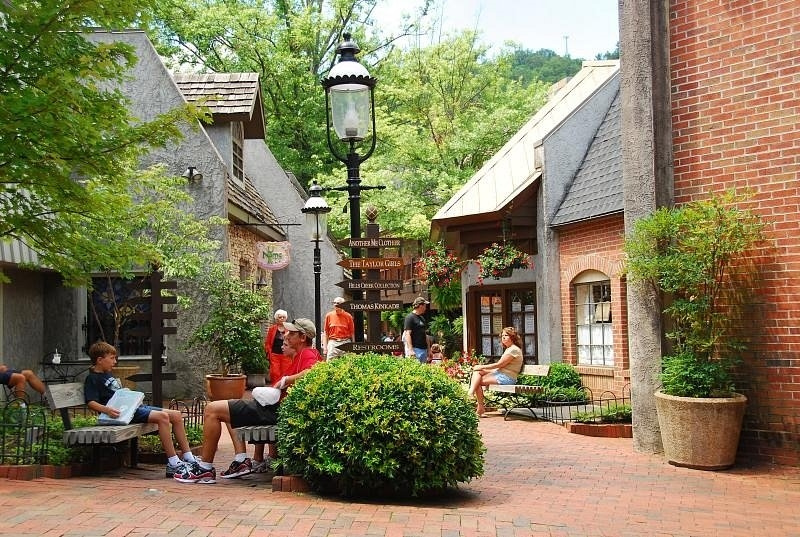 What shops do they have?
Day Hiker
Gather all your hiking essentials at the Day Hiker. They have everything you need to prepare for a day on the trails!
Tervis
Want to keep your beverage cold or hot for hours? The Tervis shop offers a wide variety of travel mugs for your beverages. Grab one with your favorite sports team or a cute logo!
Alewine Pottery
Prepare to be amazing. Alewine Pottery has some of the area's finest variety of pottery. Warning: you could spend hours in this store. Grab a coffee mug as a souvenir or for a loved one back home.
The Honey Pot
Looking for a unique gift or trinket? The Honey Pot has an array of gifts, pottery, home accessories and more.
Zi Olive
Balsamic vinegar and olive oil galore! Taste and experience the culinary heaven that is Zi Olive. Take your cooking to the next level with the various choices for olive oils.
The Lamplight Gallery
An art gallery in downtown Gatlinburg? This two-story gallery features master works of art and religious-themed artwork. Spend some time in this gallery--it is truly amazing.
Life According to Jake
"Life is Good"! Grab your favorite Life is Good products here!
Pepper Palace
For the spicy food lovers out there. Pepper Palace has sauces, peppers, rubs and more.
Candle Cottage
Your nose will love you! If you love warm scents and candles burning, this store is for you. Grab a candle with your favorite scent. You can't go wrong.
The Donut Friar
Since 1969, the Donut Friar has been serving hot, fresh donuts, pastries and coffee. Try a donut and see for yourself why they are so beloved in Gatlinburg.
Coffee and Company
Are you looking for a latte to give you an extra boost? Coffee and company has a great menu including lattes, drip brew, cappuccinos and more.
The Hayloft
This store has a little bit of everything. Ranging from leathers, to moccasins to western and outdoor apparel.
The Sock Shop
The name says it all. Who doesn't love a great pair of socks? If you do, you're in the right place! The whole store is dedicated to socks!
U Name It
A store dedicated to personalizing items. It's the perfect gift for a loved one who isn't on your trip. Stop in and see what you can have personalized.
Thomas Kinkade
This gallery has something for everybody. Look at their inventory including note cards, mousepads and other items.  
Celtic Heritage
Do you have celtic heritage? This store features celtic items that are geared towards those of heritage. Come explore the authentic celtic items in Gatlinburg!
Verbena's Body and Home
Enjoy the large selection of European fragrances and products including lotions, bath fizz, soaps, candles and more. You can even make your own scents at the store!
God's Corner
This unique Christian shop features books, music and all items dedicated to faith.
The Spice and Tea Exchange
With over 60 options to choose from, you could spend a while in here. Exotic teas and spices for cooking are offered at the exchange.
The Village Cafe and Creamery
Go back in time to this old-fashioned soda bar. Enjoy the ice cream and chicago style hot dogs. An extensive dining menu is also available.
Cartoons and Toys
Bring the kids to this fun and upbeat shop. Toys and cartoons galore. The kids will love it!
The Hofbrauhaus Restaurant & The Cheese Cupboard
This well-known Gatlinburg establishment serves the finest Reuben in town. Be sure to try it on your next visit!
Book one of our Gatlinburg cabins and explore the Village Shops this summer!
« Previous
Next »