Gatlinburg two bedroom log cabin 29' only from the water | Diamond Mountain Rentals
Classic Log Cabin - 2 Bedrooms - 1 Bath - 29' from the Water
This Gatlinburg cabin was built near the forest with careful effort to ensure the preservation of nature for future generations. Have a nice stroll or go cycling on a leafy nature path that spreads out toward the deep forest. If you are feeling ambitious, visit Great Smoky Mountains National Park, where you can hike, go cycling, enjoy horseback riding, and disover many other fun outdoor activities.

Important Note: Please don't forget to go out the back door and take the stone steps down to the mountain waterway which is just by the cabin. Why? In season, you can enjoy trout fishing and cook freshly caught trout. This cabin comes with a fully equipped kitchen with pots and pans. Take a quick stop at a nearby grocery store to pick up some potatoes to enjoy with your fresh trout. What about making a white wine sauce flavored with lemon and dill to go with your trout? You can make some trout quiche, too – all of these possibilities are open to you when you rent this unique Gatlinburg cabin. This cabin has 2 bedrooms so that you can enjoy fishing and cooking out together with your family and friends.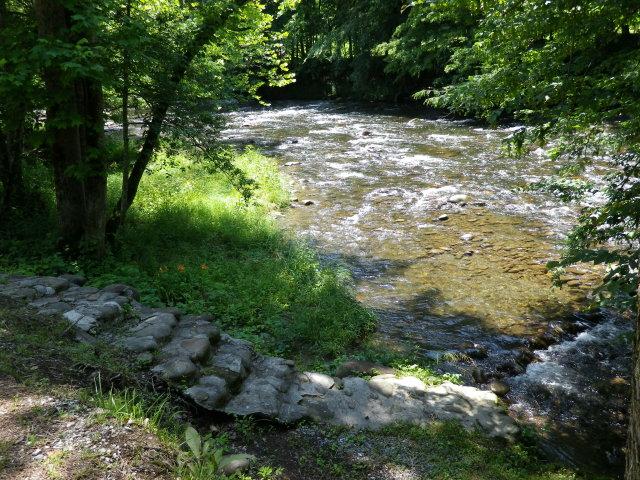 Amenities
Gas Fireplace (Inside) (1)
Washer/Dryer
Jacuzzi
Charcoal Grill
Fireplace(s) (1)
Sleeper Sofa (1)
Jacuzzi (1)
King Bed (2)
Full Bathrooms (1)
DVD Player
Internet Access Wireless
Coffee Maker
Toaster
Microwave
Central H/A
Cable/Satellite: Dish TV
Equipped kitchen w/basic pots & pans
Towels/Linens Provided
River View
Reviews
Erica - 4/8/2022

The location was great. Very close to the volleyball venue as well as a grocery store. Wish we had time to visit some of the shops. The cabin/cottage was cozy and had everything we needed.

Sharon - 3/30/2022

Very cute and spacious little A frame cabin. Loved sitting on porch after a day hiking and listening to river across from house.

Brad - 11/12/2021

Nice clean and affordable cottage. Listening to the Little Pigeon River from the porch was amazing.

William - 8/2/2021

Cute cottage away from the cities, but close enough to venture there.

Patricia - 7/24/2021

We really loved the place

RE Kennedy - 6/22/2021

We loved our cabin "The Brier patch ". And we all agree, this was the best lodging and location ever!

Todd - 6/5/2021

This was the best vacation ever thanks to you! We absolutely loved the cabin "The Brier patch". It had all the comforts of home, and was so clean. Way better than a motel, anyday! We will definitely be back!

Nicholas - 5/24/2021

Excellent property

David - 5/6/2021

Had a great time staying at this cabin.

Dargel - 12/28/2020

Wonderful!! Location is perfect.

Renaye - 9/18/2020

You can submit an owner response, which will be displayed with the review on your listing.

M. Gabielli - 7/17/2020

Very clean , quiet place, loved sitting on the porch listening to the river , so peaceful, will definitely come back to stay in near future!! Loved it !

A. Dinger - 5/21/2020

Definitely will visit this area again renting the cottage was very easy and the cottage was in a great location and a good price

Renee Epperson - 11/30/2018

Loved the river in front. House was cozy. Loved the fireplace Great time with the family. Can't wait to do it again. The kids loved staying in a cabin.