Two king bedroom Gatlinburg cabin
Two King Bedroom Gatlinburg Cabin - Minutes from Downtown
Lazy Bear Den is private and its floor plan makes it a perfect family or couples getaway. Upon entry into the its open area living room with its large flat screen TV, gas fireplace, and wireless internet, you will feel the at home atmosphere that compliments Lazy Bear Den.

The dining area and fully equipped kitchen is all encompassing with the open living area as well. There are 2 King bedrooms; one on each level complimented with their own private bath which makes it perfect for family and couples.

The large upstairs game room with its pool table, flat screen TV, table with seating for 4, and Futon will most likely be the area that everyone will gravitate to. Whether you're showing off your billiard skills or settling down to enjoy a movie, Lazy Bear Den is well suited for the perfect vacation getaway.

After a long day of shopping, hiking, or just hanging out, you will enjoy the hot tub off of the main level deck, sitting out on the patio set, or cooking out on the charcoal grill for the perfect Smoky Mountain atmosphere.

Located just 7 to 10 minutes from either downtown Gatlinburg or Pigeon Forge, makes it one of the most conveniently located in the area. Easy parking for three vehicles, and with over 1800 sq ft of living space, Lazy Bear Den is an exceptional value both family and couples.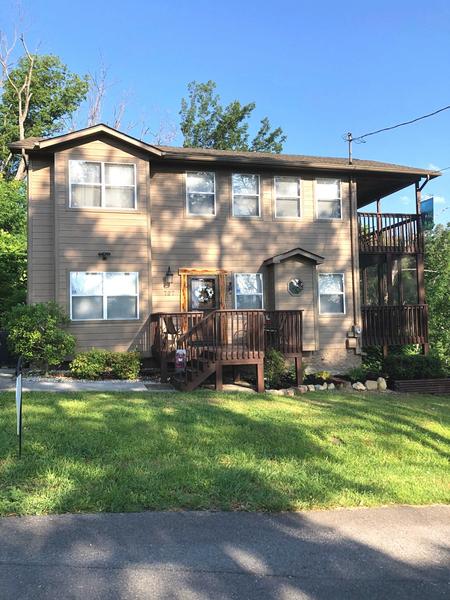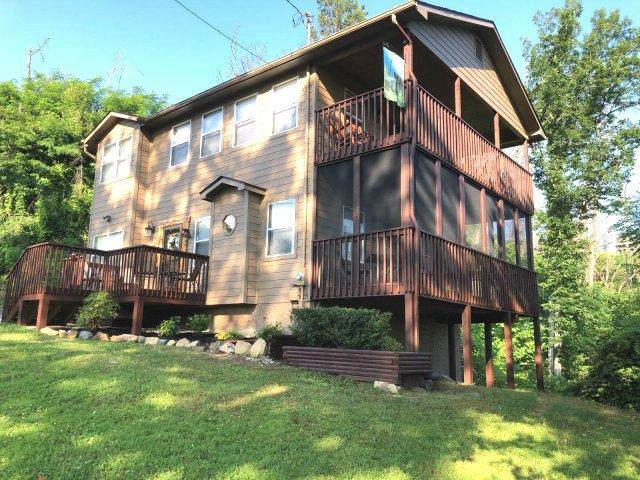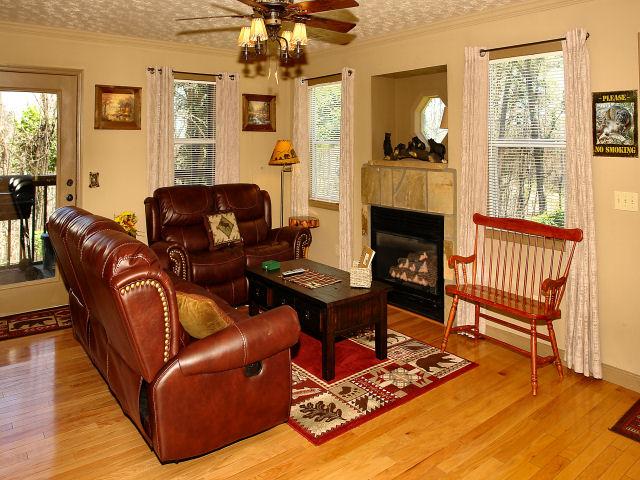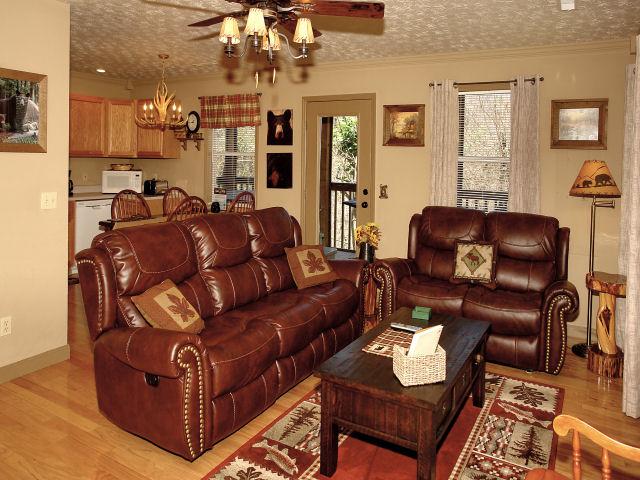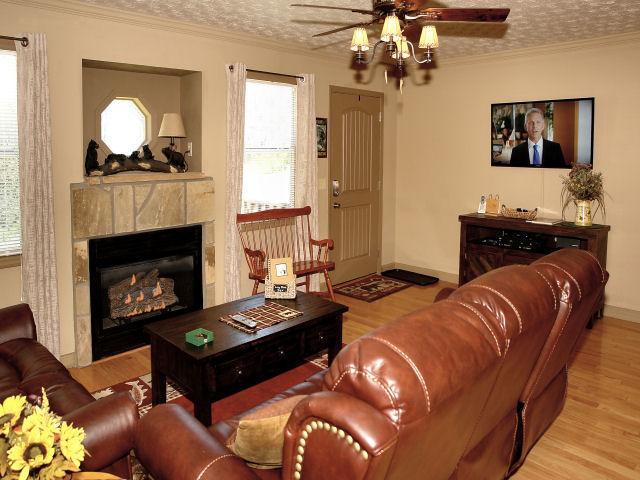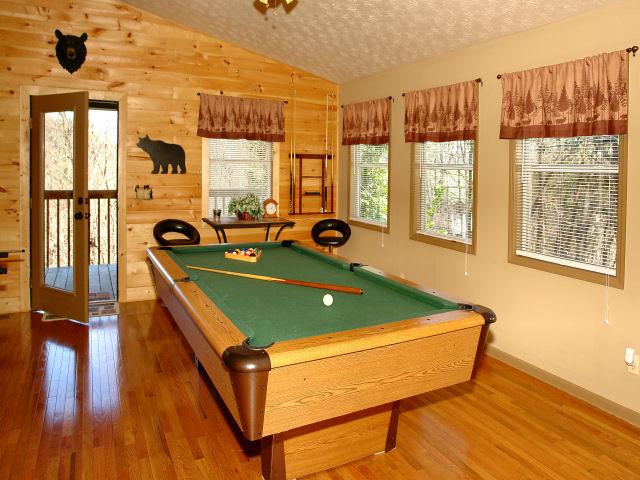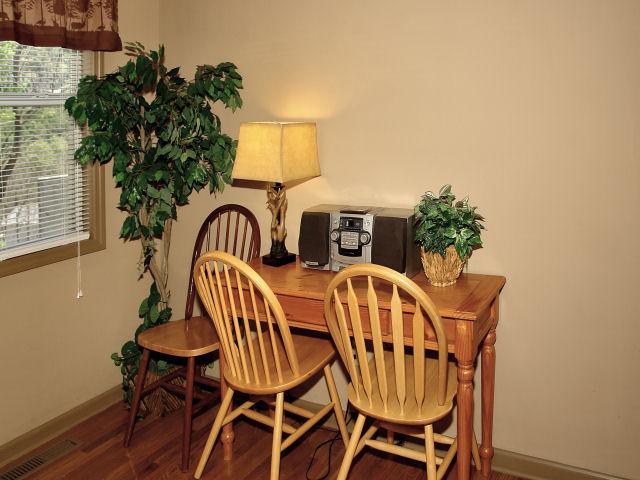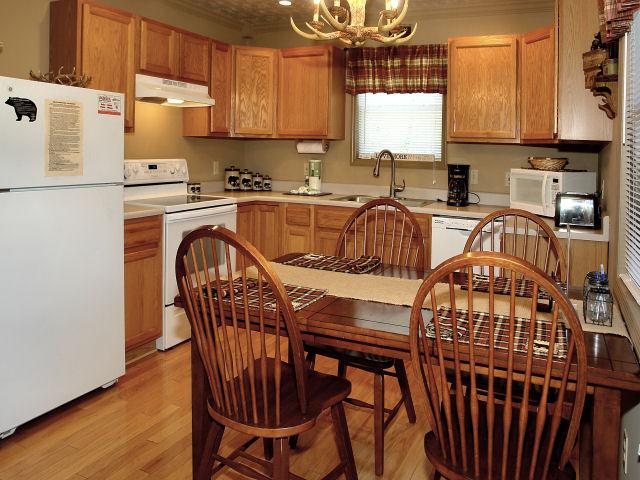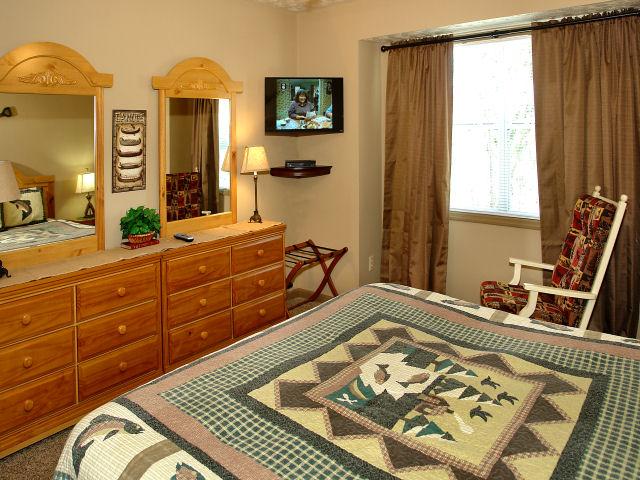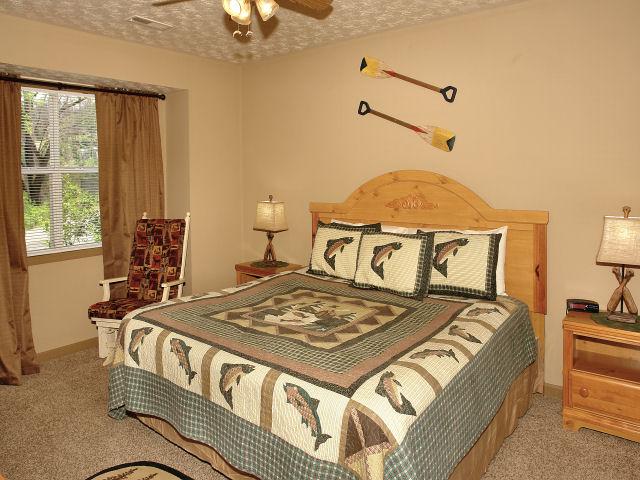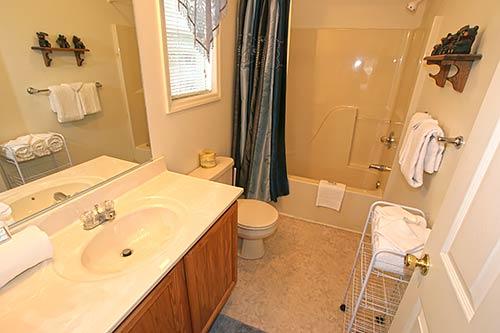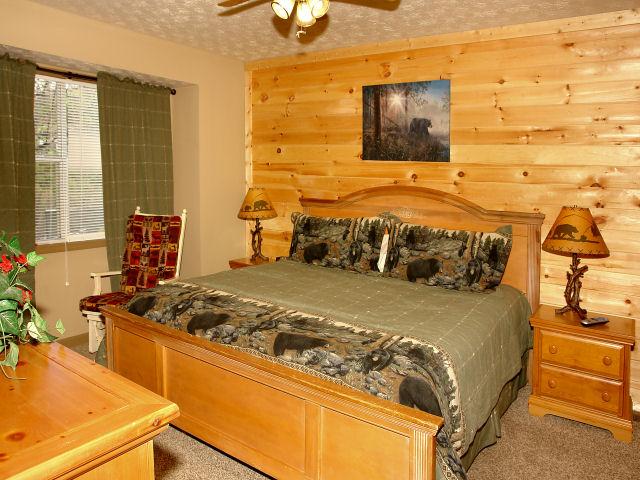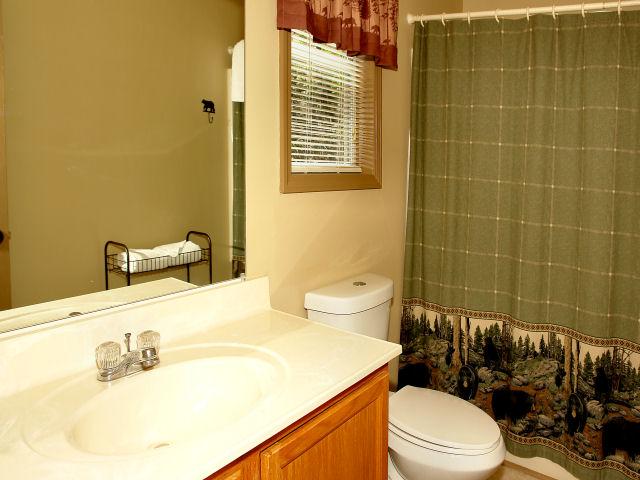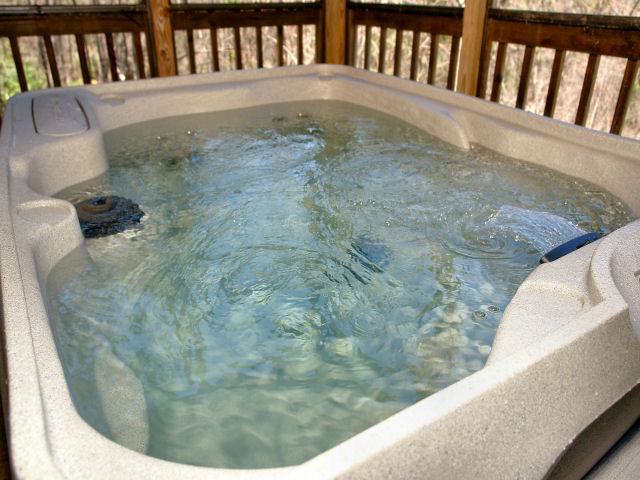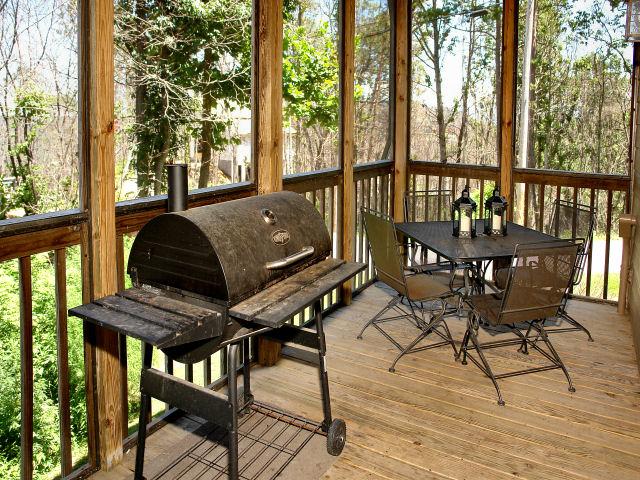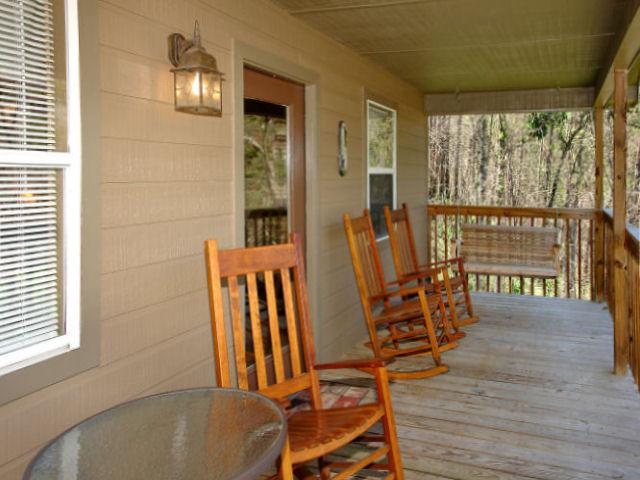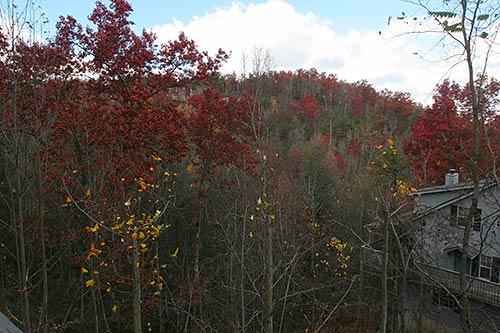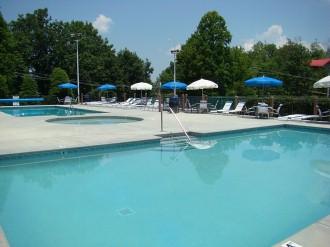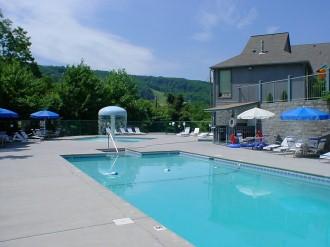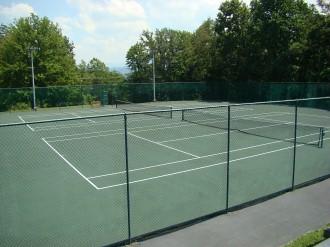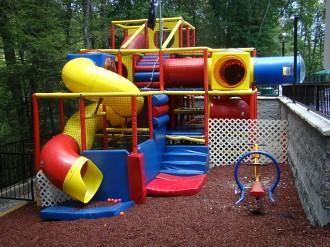 Amenities
Gas Fireplace (Inside) (1)
Washer/Dryer
Hot Tub
Charcoal Grill
Fireplace(s) (1)
Futon (1)
Pool Table
King Bed (2)
Full Bathrooms (2)
Square Foot (1850)
Internet Access Wireless
Association Swimming Pool
Coffee Maker
Toaster
Microwave
Central H/A
Cable/Satellite: Charter
Towels/Linens Provided
Dishwasher
Ice Maker
Flat Screen TV
Ironing Board/Iron
This property is no longer available. Please view our current rentals here
Reviews
T. Bowers - 6/27/2019

The home was absolutely beautiful! Looked just like the pictures. Check in/out was easy and quick. The lady at the desk when we checked in was very helpful. My two teenage boys LOVED the pool table. The area is coming back quickly from the fire. I was worried about how it might look, but it was awesome! The drive up to the chalet was very interesting - just take it slow. The kitchen was equipped with anything you would need. If I have to give any negative reviews, it is that the refrigerator is much louder than you average one. And, the bath towels and washcloths were incredibly rough. It felt like I was exfoliating my skin each time I used them. Other than that, our stay was FANTASTIC! Thank you for having us!

W. Cox - 7/19/2019

Very easy renting experience and house was just as pictured. As others have said it's in the area where the fires burned. But that just makes it quiet as the houses around have not been built back yet. With no other houses around it is very quiet. It is a bit of a drive up a windy hill to get to, but well worth it. The porch is amazing! Would stay here again without a doubt!

Lyndsay - 9/18/2020

It was very clean and tidy. Smelt clean when we walked in. It is close to town and a lot to do, very curvy to get to but a nice scenic ride. We seen a momma a 3 cubs in the morning while we were staying.

R. Hightower - 7/17/2020

The cabin was Exceptionally clean. We loved the house. There is lots to do including a hot tub, pool table, a box of lego's and other random toys, and puzzles. The best part, we seen bears every single day we were there. Mommas and cubs, and single bears. It is so so cool! We will be staying here again for sure!

J. Saunders - 8/9/2020

Lazy Bear Den is our favorite place to stay when visiting Gatlinburg. The cabin is quiet, clean, and has plenty of space with king size beds in both bedrooms and a pull out sofa upstairs by the pool table. This was our second time staying in the cabin, but the first time we saw so many bears. We saw momma bear with her three cubs and few different days, saw a big male bear. and even had an older bear take a nap on the end of the driveway. It was really cool to be able to watch all of the action from the front and side decks. Also, being so close to the National Park is a huge perk as we like to get up early and go for long hikes. We will definitely be staying here again.

C. Barr - 6/22/2020

My family had a great time on a last minute get away. Our sons had a blast using the pool table and with 4 TVs and plenty of space to spread out we were super relaxed and comfortable. The hot tub on screen in porch was nice and we appreciated the choices of kids movies. The supply of extra blankets and kitchen accessories were helpful also. Not far off the main parkway for ease of access yo Gatlinburg or pigeon forge. We would stay here again!

S. Handy - 6/13/2019

Had a amazing time can't wait to come back property was beautiful just wish we could have been by the pool for the kids or within view so that everyone could walk but it wasn't a far drive and I absolutely fell in love with the house and porches

D. Landry-Morehouse - 5/12/2019

We thoroughly enjoyed staying at the this lovely cabin, we even saw 2 cubs roaming the mountain road

Gerald - 10/16/2020

This place was amazing. Clean. Roomy. Everything the way it said it was. We got to see 2 bears. Looking forward to our return

M..Leach - 3/9/2019

The cabin is nice, clean and represented well by pics on the listing. One picture shows foosball table but that is not there. Upper loft has pool table. Located in area devastated by fires in 2016. Many cabins have not rebuilt. Some areas of burned and downed timber look rough but area is coming back. Saw mama bear and two cubs on 2 occasions. Convenient access to Gatlinburg and Pigeon Forge. Rental company is responsive to any request you may have. Close to community pool and tennis courts but were not open during our stay. Date of arrival - March 9, 2019

H. Ghantous - 3/29/2019

Would stay here again

B. Holt - 8/16/2019

We had a great stay. Our cabin had plenty of room for our family, we loved sitting out on the decks overlooking the Smoky Mountains. The location is perfect, just a short ride to Gatlinburg and Pigeon Forge and the trolly stop is just down the mountain with plenty of parking. The area around the cabin had obviously been in the path of the devastating fire a few years ago, but the trees are coming back. We would definitely stay again. Best of all, we could bring our dog with us on vacation.

I. Adkins - 10/23/2019

The house was beautifully decorated in bear, moose, and fishing motif. It was comfortable and relaxing with nice furniture both inside the house and on the decks. The house and hot tub were very clean. Check in was easy. The kitchen had all the essentials. The road up to the cabin would be challenging in snow or ice, but the house and parking were on a level lot. There were VHS and DVD movies, books, and puzzles along with the pool table for entertainment. The beautiful gas fireplace added ambience and warmth. (We loved the decorations and window above it!) The hot tub was relaxing and was a wonderful way to end our days. We had a wonderful time and would highly recommend this cabin to anyone looking for a spacious cabin with all the amenities you would need to enjoy your vacation. (Our only suggestions would be nicer towels and a hair dryer in the cabin.) Thank you for helping us have a marvelous time!