Diamond Mountain Rentals Offers the Best Cabins for Your Honeymoon Vacation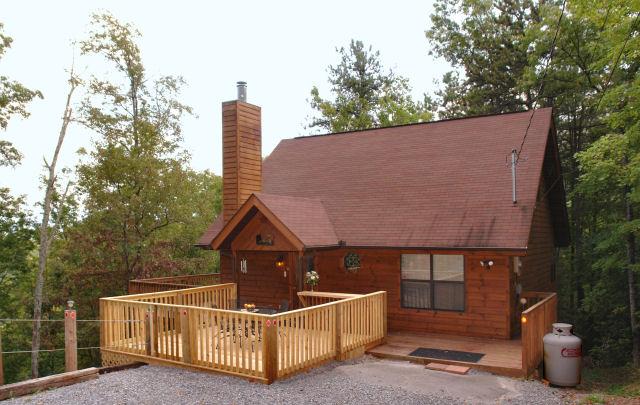 Honeymoon cabins conjure up images of tiny little retreats in some faraway location or even a tropical locale. Yet, even the most romantic couple wants to do more than spend many hours of "alone time" during a honeymoon. They travel somewhere with lots to see and do, and whether they love to go outdoors and do lots of active things like hiking and swimming, or their idea of fun is visiting parks and attractions or doing some shopping and dining, Gatlinburg cabins can meet any honeymooners' wishes.
Why Choose Honeymoon Cabins in Gatlinburg?
First and foremost is the fact that Gatlinburg cabins are, well, in Gatlinburg! This area is home to a long list of appealing attractions. For instance, it has long been known as the "gateway" to the Great Smoky Mountains National Park, and honeymoon cabins may even gaze out into the park, or be within minutes of an entrance and ideal for the avid hiking and exploring couple.
Gatlinburg is also considered one of the most romantic destinations for its long list of activities ideally suited to couples. There are amazing wine tasting opportunities along the Rocky Top Wine Trail, moonshine tastings, and a seemingly endless array of eateries with high-end to everyday options. You can ride high up into mountains in the Ober Gatlinburg Aerial Tram or the Gatlinburg Skylift, and there is the Gatlinburg Space Needle and the Gatlinburg Mountain Coaster, too.
Those who like their scenery from the comfort of a car can savor some of the romantic views and lovely little pull over areas ideal for picnicking and photos along the Gatlinburg Bypass, where the Gatlinburg Scenic Overlook is located. The Roaring Fork Motor Nature Trail and Cades Cove Loop Road are also fantastic driving trips with plenty of hiking and picnicking to enjoy, and the Newfound Gap Road is noted for its sunsets. There are options for motorcycling couples too, with the Tail of the Dragon offering some of the most satisfying curves and corners imaginable.
There are also the many attractions that range from the different Ripley's venues to the theaters, museums, and endless number of shops. You can take a lifetime of vacations to Gatlinburg and still not see or do it all, and all of that makes it a perfect spot for your honeymoon.
Then, there are the utterly romantic Gatlinburg cabins that make it the perfect spot for a romantic retreat like a honeymoon. To help you select ideal honeymoon cabins, we are going to explore the different options for one- and two-bedroom properties, as well as those that are pet-friendly. After all, you may not think of any vacation as complete unless your furry family members are welcome!
The Most Romantic Gatlinburg Cabins
You may be like us and feel that most cabins, in general, are romantic. As retreats tucked into woodlands or waterside settings, they are tough to match in terms of their dreamy and idyllic natures. Yet, the list of honeymoon cabins below go far beyond the norm; they put you in unforgettable locations and also let you reach the fun and excitement of the Gatlinburg area in a few short minutes.
Tina Marie's (Sleeps 2)
This is one of the more luxurious Gatlinburg cabins sized just for two. It has lots of space and mountain views that just won't quit. Enjoy them from your private hot tub tucked into a corner of the airy deck. Like many of our romantic honeymoon cabins, Tina Marie's features a large amount of outdoor living space (including a grill area and porch with rocking chairs). There is a spacious living room with a fireplace and entertainment system, a fully equipped kitchen and cozy dining area, and the ultimate in romantic bedrooms. You have a king bed, a heart-shaped Jacuzzi and even stunning views. There is also a game room with pool table and all of it is minutes from town! This is also a pet-friendly spot.
Black Bear Cove (Sleeps 2)
The ultimate in cozy retreats, this tidy cabin has a surprising amount of space and many high-end amenities. There is the hot tub on the back deck that lets you savor the mountain views, the barbecue area, and the spacious interior with living room, king sized master suite and dual shower in the bath. With a position halfway between Gatlinburg and Pigeon Forge, Black Bear Cove is five minutes to town but a little world all its own, making it one of the perfect Gatlinburg cabins for a romantic honeymoon.
Bearly Workin (Sleeps 2)
Don't let the name fool you, this cabin is in great working order and loaded with a long list of luxuries. It has expansive wooden decks to make the very most of its mountain location. Dine al fresco, enjoy your private hot tub gazing out over the views and even take a walk down to the lower deck for the ultimate in peace and quiet. Inside, there is the master suite with king bed, whirlpool tub and premium entertainment system. On the upper level is a game room with pool table, and downstairs is an open floor-planned living and dining room and an impressively well-equipped kitchen. You have a fireplace and premium entertainment system in the living room, but with those views, you're not likely to spend much time indoors. And all of this is less than one mile from town!
River Rhapsody (Sleeps 2)
Honeymoon cabins like River Rhapsody are ideal for the couple that loves fishing or that just wishes to wake to the sound of a gently flowing mountain stream. Sitting directly along the shore, it is a stone cottage that rates as one of the quaintest of all Gatlinburg cabins.
From your bedroom or your private living room, you can gaze out to the water. There is even a stone walkway and sheltered sitting area beneath the wooden deck and upper level of the property. There is a fully equipped kitchen, a casual dining area and a roomy living room with wood stove. Take a stroll to the water or just relax in total comfort. Set on the bank of the Little Pigeon River, River Rhapsody is close to town and yet in a romantic world of its own.
#5102 for Kids Sake Condo (Sleeps 2-3)
Kids and honeymoons don't go together, so ignore the name of this charming condo-styled retreat and simply give attention to its amazing amenities and location. This is a studio condo that offers all of the comforts of home, including use of a swimming pool and two different hot tubs in the common area, and a full-sized kitchen.
There is a fireplace to cozy up to, a private balcony off of your roomy queen-sized bedroom and entirely show-stopping views. You are moments from an entrance to the park and a short ride into town. Though smaller than most cabins, if you were hoping for something far better than a hotel room, this is the perfect option.
Roomier Honeymoon Retreats
In addition to the smaller and cozier options for honeymoon cabins, there are also larger and more spacious Gatlinburg cabins for the couple that would like even more room or a chance to entertain a few friends even though they are on a romantic escape. The following cabins can all sleep up to four guests, or are also nicely sized for the newly married couple looking to have some friends pop in for a meal, drink, or to envy the views!
Noted as one of the most luxurious Gatlinburg cabins, it is a "five star" property with one bedroom, but an impressive number of amenities. Recently renovated, it features a truly high-end entertainment system, an oversized hot tub outdoors, a Jacuzzi tub in the bathroom, and a number of systems connected to the Sonos unit. This lets you play romantic music, control the ambient lighting, and more.
There is also a large family room, spacious deck with barbecue area, a game area with a pool table and full WiFi throughout. Minutes to town, it is a wonderfully private retreat, ideal for a honeymoon.
Another five star property, this honeymoon cabin also boasts a surprisingly long list of luxury amenities. There is a wraparound deck with a romantic swing and an al fresco dining area that allows you to savor the mountain scenery. Your king sized bedroom has a whirlpool tub and an impressively modern entertainment system. The bedroom opens to the deck and you can enjoy music indoors and out thanks to the premium sound system. There is a large living room with fireplace and 55" Ultra 4G TV, and the kitchen is a dream in stainless steel and luxury appliances. The deck also includes a hot tub!
All of this and you are still just ten minutes to Gatlinburg or Pigeon Forge!
As the name implies, this one-bedroom honeymoon cabin is in close proximity to areas where there is a high level of daily bear activity. Though it is a pet-friendly property, you'll want to be sure you keep your furry family members close by and on a leash when staying at this charming and appealing property. It is a classic woodland chalet and is moments from the popular Ober Gatlinburg area (where the famous tramway is found). Though less than a mile from town, it is tucked into the woodlands and offers an amazing amount of privacy.
You'll appreciate this as you sprawl in the hammock for two on your upper level deck, soak in the large tub or enjoy time by the fireplace in the bedroom or the living room. There is a sunny and bright fully-equipped kitchen and a large living room on the lower level, and even a game room with foosball! Whether you are enjoying quiet time in your rocking chairs on the upper deck or heading into town, this is one of the best Gatlinburg cabins for your honeymoon.
Just minutes from Gatlinburg, this impressive property is actually a private home in the heart of an upscale community. During your visit, you can use the swimming pools (they have 3), the basketball courts, tennis facilities, game rooms, playgrounds, fitness centers and the two clubhouses. Of course, the 1400 square feet in your free-standing hideaway also gives you plenty to see and do. There are upper and lower level covered balconies, and a large great room with living room and dining area. There is a fireplace in the living room and this space leads into the kitchen. Fully equipped and ready to go, it is also steps from your private back deck and yard.
This home features its own game room with pool table and foosball. The oversized, king bedroom features wonderful views, an entertainment system and full-sized bathroom. There is also a private hot tub on your upper level porch and you can feel free to bring pets to this property!
It makes sense to consider these charming and private cabins as the perfect choice for a honeymoon. Other options in roomier cabins that can sleep up to four include Clearview, Mountain Mist, Scenic Ridge, and the stunning Yep! This is It! that sleeps up to six and is one of our most popular honeymoon cabins for its ultra-romantic master suite with round bed, fireplace, cathedral ceilings, and heart-shaped Jacuzzi tub. Often booked by newlyweds and honeymooners, this is one of the most scenic spots with panoramic views from the rooms and the porches.
If you have been seeking a spot that offers plenty of nearby activities to see and do, and which ensures you have many choices in a romantic hideaway for a honeymoon, this list is the perfect resource. Diamond Mountain Rentals specializes in properties in the Gatlinburg and Pigeon Forge areas and whether you have your heart set on a tiny, one-bedroom gem tucked into a woodland or a larger and luxuriously appointed cabin with lots of amenities, they are sure to have just what you desire.
Image Link: https://img.bookonthebrightside.com/diamond/large/3156.jpg