Motorcycling Is a Popular Sport. Here's an In-Depth Look at Our Biker Friendly Cabins in Gatlinburg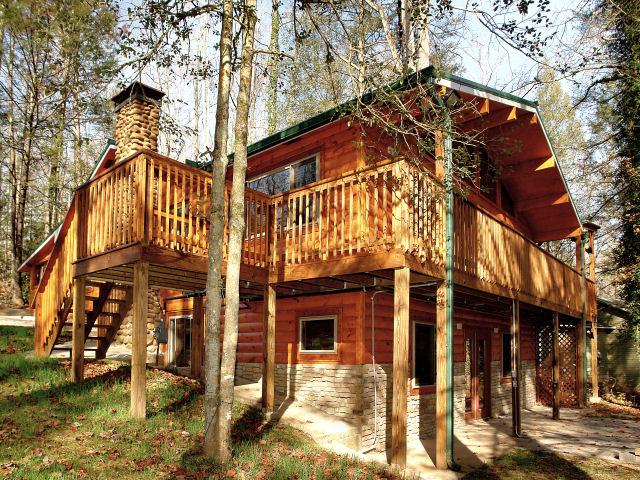 Are you headed to the Great Smoky Mountains National Park on your motorcycle and are eager to find biker friendly cabins for your stay? That makes perfect sense. After all, it is the perfect place for touring bikes, cruisers and even sports bikes, thanks to the seemingly endless miles of long and smooth turns, thrilling twists, and a landscape constantly changing from mountain forests to vast panoramas.
Whether you are traveling solo, as a couple or in a large group, you'll be happy to learn that there are many different kinds of cabins in Gatlinburg that are entirely biker friendly. However, being able to accommodate bikers (i.e. being accessible on a motorcycle and having enough space for trailers, if needed) is one thing. Then, there is the issue of location. Not all cabins described as "biker friendly cabins" are also close to the most popular rides.
Book Close to the Best Rides
If you are just now beginning to seek out cabins in Gatlinburg for you and/or your entire group, here are the most popular routes you'll want your biker friendly cabins to be either close to or within easy reach of:
Tail of the Dragon - It is not as scary as it sounds and is close to many of the best cabins in Gatlinburg. It is found on what is often described as the best biking road in the U.S. (US 129) and it travels across the Tennessee and North Carolina state lines. It features more than 300 curves along eleven miles and is a bit challenging, but well worth it.
Newfound Gap - Historic, insanely scenic, and offering some of the best sunset views imaginable, Newfound Gap is the famed loop that includes a tunnel and over 30 miles of somewhat dramatic scenery and many pull offs to help you enjoy it. Consider a side trip along Little Gorge Road as this can take you over to Cades Cove - another amazing ride.
Cades Cove Loop - It is eleven miles of non-stop scenery, history, wildlife and more. This is one of the most popular drives in the entire region, so an early morning or late afternoon trip may be the best.
Smoky Mountains Loop - You can get to Clingmans Dome, the Sugarlands Visitor Center and Gatlinburg center following this 8-hour ride. If staying in the biker friendly cabins in the Gatlinburg area, you can just enjoy the stretch that runs between Townsend and Clingmans Dome or even as far as Cherokee. Of course, many say that the Gatlinburg to Cherokee trip is one of the best 3-hour (round trip) rides you may ever enjoy.
Other options include the Cherohala Skyway, Blue Ridge Parkway, Foothills Parkway, and the lesser known but scenic TN State Route 32 from Cosby.
What this means is that you'll want to select from the many cabins in Gatlinburg that put you closer to these roads and/or park entrances. Yet, you'll also want to decide if being close to town is important. After all, many biker friendly cabins are also close to the region's impressive Gatlinburg Trolley that covers more than 50 miles and can get you to some of the best destinations in the area - without heading out on your bike.
With all of that in mind, let's start looking at the best cabins in Gatlinburg for those who want to ride or tow their bikes into town, and enjoy some of the rides outlined above.
The Top Biker Friendly Cabins in the Gatlinburg Area
Let's start with the larger cabins in Gatlinburg ideally suited to a group of bikers enjoying a visit together. These biker friendly cabins range from sleeping up to 10 to groups as large as 14. All of them are relatively private and feature some pretty impressive amenities. Our recommendations include:
Laurel Manor (Sleeps 14)
Less than 1.5 miles from Gatlinburg, this amazing log cabin has been designed as the ultimate escape. It features a large, open floor plan living and dining area. You and your group can use the fireplace, relax in front of the entertainment system and whip up any sort of meal or snack in the brand new and fully equipped kitchen.
Of course, you might prefer to head out to the wrap-around wooden deck to take in the views or step down to the stone terrace where your oversized fire pit encourages you to take in the night sky or savor a sunrise. There is a modern barbecue outdoors as well.
Amenities inside include a game room with pool table, foosball, and entertainment system. There are also full laundry facilities and loads of parking (with plenty of room for trailers).
There are four bedrooms with two king suites and two bunk rooms. The king bedrooms have private baths and one has a hot tub!
Above the Mist (Sleeps 10)
Bring your bikes and your pets to this stunning, four bedroom and four bathroom gem. A classic log cabin, it is also an amazing retreat that puts you at the tree tops and gives you amazing views. Each of the four bedrooms has been created to be a personal and private hideaway with a king bed, a bathroom with whirlpool tub, and a full entertainment system.
However, the shared living spaces are impressive, too, and include a massive deck and stone terrace, a game room with pool table, a sauna large enough for five guests at once, and an open floor plan living and dining room. The living room features a modern entertainment system, fireplace and opens to the deck. The kitchen is an eat-in style with all of the best appliances. Outdoors is the two-level deck with hot tub, a gas grill, an outdoor fireplace, and an array of rocking chairs that ensure everyone enjoys the scenery.
As part of the Mountain Shadows Resort, it is only five miles from town and situated right along the famous Highway 321 and four entrances to the park are within minutes of the property.
Point of View (Sleeps 10)
Nearly identical in terms of design and amenities to Above the Mist (above), it, too, is one of the cabins in Gatlinburg friendly to groups of bikers. It is part of the same Mountain Shadows Resort and puts you seconds from some of the best rides in the region. In this property, you have the same luxuriously appointed four bedrooms and baths, the game room, sauna, and nonstop views. You have that two-tier deck and the excellent indoor and outdoor amenities, and as one of the nicest biker friendly cabins, it is sure to please. The level lot with generous parking makes it ideal for both riding and trailering.
Honey Bear Hideaway (Sleeps 10)
The ultimate log chalet, this four-bedroom and four bath property sits only three miles outside of town and is also similar in design to Above the Mist and Point of View (above). It is positioned on a large and level lot and is ideal as one of the best cabins in Gatlinburg for bikers. It is loaded with luxury amenities like a game room with pool table, an indoor sauna and fireplaces indoors and out. The oversized deck features a hot tub and each of the four bedrooms is a retreat on its own. With king beds, private baths with spa tubs and premium entertainment systems, you might be tempted to stay in bed throughout your stay! A large living room with an open floor plan makes it fun and easy to prepare meals in the fully-equipped kitchen, too.
Your views of the Gatlinburg area are stunning and you can savor some of the amenities that belong to the community, including the use of the swimming pool and clubhouse. However, the location puts you minutes from town, the park and the best rides, making this one of the premiere biker friendly cabins available.
Scenic Ridge (Sleeps 8)
Five minutes from Gatlinburg, but living up to its name, this three bedroom property has an enormous amount of interior living space, plenty of level and spacious parking, and two floors of decks facing those views. It is a log cabin property with a great room layout that features an open floor plan for the kitchen, dining and living rooms.
The bedrooms all open to the decks and provide hot tub access. The bedrooms are king suites with private baths, entertainment systems and amazing views. The home also features a pool table and game room. If you've been seeking that perfect spot for your group, this easily rates as one of the best biker friendly cabins in the area.
Clearview (Sleeps 8)
Part of a private association, this three-bedroom cabin has some of the most stunning views imaginable, and yet is just three miles from town. It is on a level lot and has a generous amount of parking, as well as use of the clubhouse facilities and swimming pool. However, it is also so amenities-rich on its own that you have all you need on the spot.
There is a living room and dining room space with an entertainment system, a game room with a pool table, fireplaces inside and out, and a hot tub on the deck. The bedrooms are each king suites with entertainment systems and amazing views. They are divided between upper and lower floors and open to the decks. Pet-friendly, it also allows you to bring your furry friends if you'd like!
Mountain Mist (Sleeps 8)
Another of the more biker friendly cabins, thanks to its cul-de-sac location with generous amounts of parking and even a two-car garage, this three bedroom property has amazing views of the park from both its upper and lower level balconies.
The main level features the great room with fireplace, entertainment system, game room and access to the deck. There is also the modern kitchen with all of the gear needed to make any sort of meal, as well as the barbecue station outside. There is a dining area in the great room, too.
The bedrooms include a master suite with a king bed and jacuzzi in the bath. The other two bedrooms are queen suites with private baths. This is a pet-friendly property that allows those towing their bikes to also bring along a furry friend or two.
Mountain View (Sleeps 7)
Set high in the ski mountain area, and near the famous Ober Gatlinburg lift, this three-bedroom cabin has some pretty stunning views of the downtown area and surrounding mountains. It is five minutes from the center of town, and close to roads leading to the rides described above. Enjoy the scenery from your deck, where you can savor a dip in the hot tub.
The property is two-level, with lots of parking along the level lot at the main entrance. It features a living and dining room space with an entertainment system and fireplace. There are full laundry facilities on the main level as well as a game room with a pool table.
The master bedroom also has a spa tub, as does one of the queen suites. There is a full bedroom and futon on the upper level, too.
Creekside (Sleeps 7)
Among the larger cabins in Gatlinburg, this one stands out for its waterfront location and its position just minutes (by foot) from town. Surrounded by woodlands and boasting multiple decks (spread out over multiple levels), it is that rare blend of convenient and yet private. It has plenty of parking at the rear of the cabin and features lots of outdoor living spaces.
This property features a fireplace, a game room with a pool table, a hot tub on one of the decks and bedrooms equipped with spa tubs and private baths.
There are many smaller cabins in Gatlinburg ideally suited to those who ride or tow bikes along on vacation. If you are eager to explore all of your options for cabins in Gatlinburg that are welcoming and suitable to bike riders, consider booking through Diamond Mountain Rentals. They feature many bike accessible properties with parking, privacy, luxury amenities and locations that place travelers just minutes or a few miles from the rides that brought them to the Smokies.