28 Unforgettable Fall Views You Need to See in Gatlinburg and the Smoky Mountains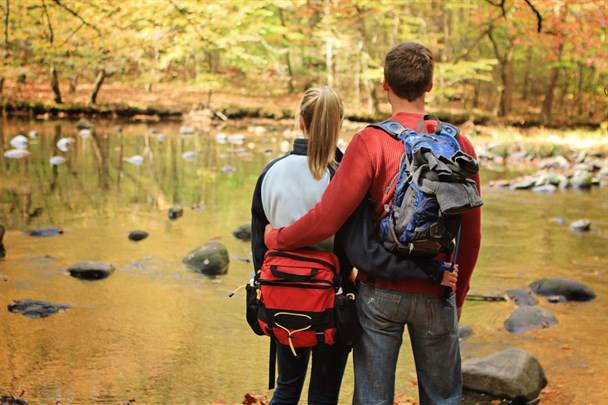 Fall is the most magical time of year, next to winter, in Gatlinburg and Great Smoky Mountains National Park. Around every corner, among every gap, and on every Diamond Mountain rental cabin's deck you will be enchanted with sensational pops of vibrant colors from the beautiful fall foliage. Come and see what life in the Smoky Mountains is all about and seek out your favorite fall view! We have created an adventurer's list comprised of 28 of the most unforgettable fall views to see in Gatlinburg and the Smoky Mountains. Book your fall stay with Diamond Mountain Rentals and be encapsulated by the golden glow of the Smokies.
Gatlinburg Cabins: Enjoy the glittering glow of gold, red, orange, yellow and burgundy fall leaves right from the comforts of the deck of a Diamond Mountain rental cabin.
Cades Cove Loop Road: Drive an 11-mile paved road through the valleys of Cades Cove for a fall adventure to remember.
Newfound Gap Road: Ride along the lowest drivable pass in Great Smoky Mountains National Park to see expansive mountain views at your leisure.
Foothills Parkway: Feel as if you are floating above the trees in Great Smoky Mountains National Park to see unforgettable panoramic views.
Roaring Fork Motor Nature Trail: Drive along a paved trail that leads you to many pull-offs for light trail hiking and waterfalls.
Upper Tremont Road: Breathe in the beauty and solitude of the Smoky Mountains as your experience Upper Tremont Road.
Grotto Falls: Enjoy the beautiful fall foliage while standing behind a Smoky Mountain waterfall.
Ober Gatlinburg Aerial Tramway: See unattainable views of the Smoky Mountains while onboard the Ober Gatlinburg Aerial Tramway.
Downtown Gatlinburg: While in downtown Gatlinburg, you are surrounded with views of Mt. LeConte and are right near the entrance to the wonderment of the National Park.
Space Needle: Travel to the top of the Space Needle by elevator to witness a 360-degree view of the Smoky Mountains.
Gatlinburg Overlook: A favorite view among travelers is the Gatlinburg Overlook which allows you to peek right into the center of downtown Gatlinburg.
Mt. LeConte: Mt. LeConte is a majestic mountain in Great Smoky Mountains National Park. Here you can hike to the top and find burst of color with panoramic views.
Clingman's Dome: The highest point in Great Smoky Mountains National Park that provides an observation deck high in the sky.
The Chimneys: A favorite place to hike to in the Smokies is The Chimneys. Here you will find outcroppings to stand on and look out towards and into the depths of the drop offs.
Here are 14 More Amazing Places to View the Fall Foliage in the Smokies:
Laurel Falls

Appalachian Trail

Greenbrier

Rich Mountain Road

Noah "Bud" Ogle Cabin

Gatlinburg Mountain Coaster

Zip Lining Through Gatlinburg

Horseback Riding

Hot Air Balloon Ride

Alum Cave

Charlie's Bunion

Middle Prong

Tremont

Elkmont

What are you waiting for? Call today and book your fall getaway with Diamond Mountain Rentals!