7 Exciting Indoor Things to Do in Gatlinburg to Enjoy a Rainy Day in the Smokies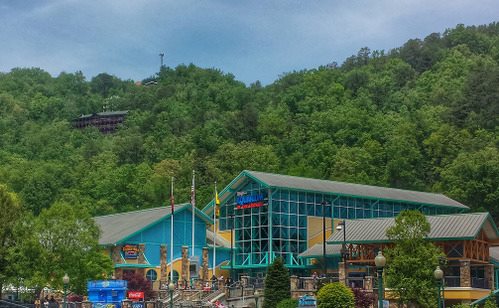 Have you ever made plans and you were so excited about them and then the rain rolled in and ruined it all for you? The brighter outlook is that nothing has to be ruined at all! There is always a rainy day backup plan to be made when vacationing in the wonderful Smoky Mountains! There are plenty exciting and interactive indoor activities to do in Gatlinburg and Pigeon Forge. Book a Gatlinburg cabin with Diamond Mountain Rentals to ensure you have all you need to beat a rainy day. Our Gatlinburg cabins are located conveniently close to downtown Gatlinburg and Pigeon Forge. Cabins in Gatlinburg are a wonderful way to make the most out of the Smoky Mountains, read on to learn about the exciting rainy day fun ahead!
Exciting Museums You Can Locate in Gatlinburg and Pigeon Forge
Titanic Museum Attraction
The Titanic Museum is located in Pigeon Forge, you can't possibly miss its replicated iceberg! Titanic is a museum that involves guest interaction. You can go along a self-guided tour with the accompaniment of a headset recording. You are given a boarding pass with the information of a real life person who was aboard the ship. As the tour comes to an end, you will learn all about your passenger's story. You can even touch the iceberg and feel how cold the waters were the night the Titanic went down.
Salt and Pepper Shaker Museum
The Salt and Pepper Shaker Museum is the world's one and only museum featured salt and pepper shakers! Here you will find everything there is to know about salt and pepper shakers. You will see a wide variety of collectible salt and pepper shakers.
WonderWorks
WonderWorks is displayed as an upside down house. The interior is one giant playground for the mind. Children and adults alike love this place as it is all science-based interactive fun!
Fun Family Shows in Pigeon Forge and Gatlinburg
Dolly Parton's Dixie Stampede
Dolly Parton's Dixie Stampede is a wonderful place for the whole family! Be sure to come with an appetite, you are served a large home cooked meal, and guess what? You eat it with your hands! Enjoy your meal all while watching a live action show filled with singing and horseback acrobats!
The Lumberjack Feud
The Lumberjack Feud is unlike anything else in the Pigeon Forge area. Here you will see lumberjacks and lumberjills competing in actual lumberjack games such as sawing, climbing and log rolling all while enjoying a fabulous southern meal.
Other Indoor Attractions in Gatlinburg and Pigeon Forge
Ripley's Aquarium of the Smokies
Ripley's Aquarium of the Smokies allows all who come here an escape under the sea where you can get up close and personal with aquatic life. You can even handle horseshoe crabs and stingrays. See Sally the sea turtle and learn about puffer fish.
Learn All About the Smoky Mountains at the Sugarlands Visitor Center
Don't let the rain keep your interest for the Smoky Mountains at bay. The Sugarlands Visitor Center allows visitors to the area to come in and learn incredible information about the Smoky Mountains and find the perfect souvenir to take back home with you. Here you can watch an informative video about Great Smoky Mountains National Park which takes about 30 minutes to complete.
Spend a Rainy Day Indoors at Your Gatlinburg Cabin in the Smoky Mountains
Quality time at your Gatlinburg cabin rental is the best way to spend a rainy day in the Smokies. When you stay in your cabin, you don't have to worry with traveling in the rain. Your cabin has everything you could possibly want or need to keep you and your family occupied and happy during a rainy day in the Smoky Mountains. Lounge around, relax in the hot tub, watch a movie, play a game of pool, and even come together and use your imaginations for a fun family game indoors. Relaxing is also very good for the body, it allows for the stress levels to reduce and allow the body to release endorphins which uplifts your mood. Being together at your cabin in Gatlinburg can open up a window of opportunities to get to know each other better and learn new things. Take this an opportunity to ask to learn something new or share a talent you have. Has your little one been asking you how to braid hair or have you been wanting to learn how to flip the perfect pancake? Utilize your time together to grow closer both together and individually.
The Smoky Mountains are a wonderful place to enjoy quality family time. Slow down in the Smokies with us.