A Bundle of Leaves & a Perfect Breeze: Why Gatlinburg is the Perfect Place to Travel in the Fall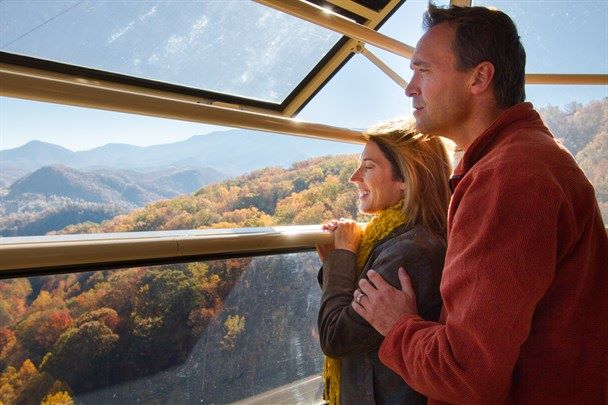 Fall is unlike any other time of year, especially in Gatlinburg. The trees of Great Smoky Mountains National Park completely change color; each tree will take on its own special hue. The colors will range from light to dark golds, bright fiery red to corals and burgundies, light browns to dark shades of chocolate, and every shade of orange ever imagined. Fall is the most enchanting time of year in the Smokies. Come and stay with Diamond Mountain Rentals and relax in one of our Gatlinburg cabins to take in all that fall has to offer you!
Watch the Wind Catch the Trees
The breezes blow gently, but hard enough to jerk the jewel-colored leaves from the branches sending the leaves out into motion. When the leaves are jutted from the trees, they will circle and twirl mimicking a gemstone colored snow. Auto touring in fall is the best way to see the whirlwinds. Hold your hand out the window and see what you can catch!
A Drive Along the Foothills Parkway
The Foothills Parkway is probably the most beautiful area in Great Smoky Mountain National Park, next to Cades Cove of course. The Foothills Parkway features panoramic views that you feel you can reach right out and touch or step onto. The mountains are so up close and personal you will feel as if you are floating in mid-air.
A Cozy Gatlinburg Cabin
Let's face it, cabins are cozy. But, Diamond Mountain Rentals' cabins in Gatlinburg are the coziest! Relax in a warm jetted hot tub on the deck while admiring the beautiful colors that surround you. Grill out with the whole family over real Tennessee Hickory charcoal or light a fire and count the stars.
Fall Festivals
Gatlinburg has several fall festivities to partake in during your stay in the Smoky Mountains. The Gatlinburg Farmers Market is up and running through October 17th and is offering local choices to aid in healthy mountain living. Get your hands on some fresh vegetables and handmade crafts. Oktoberfest is held through November 2nd at Ober Gatlinburg where visitors can celebrate the season with Bavarian-style food, song, and dance! The Gatlinburg Craftsmen's Fair is where mountain lovers can come to find arts, crafts and music with over 200 different booths of the nation's finest work.
Come and celebrate fall with Diamond Mountain Rentals. Book your fall getaway today!