Take a Walk Down Memory Lane in Pigeon Forge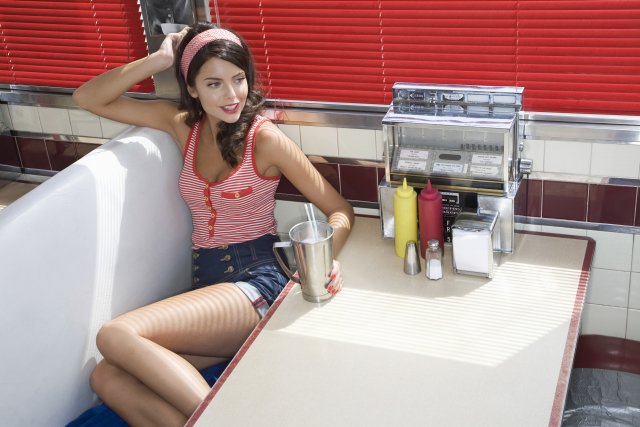 The Smoky Mountains are calling you to take a trip back in time, from shared milkshakes at the soda shop to Elvis blasting from the jukebox. Take a walk down memory lane on your mountain getaway to simpler days with these retro things to do in Pigeon Forge provided by Diamond Mountain's Pigeon Forge cabins.
If you're feeling nostalgic while visiting the Smokies, get a taste of the past at the Glades Soda Fountain old-fashioned restaurant in Pigeon Forge. They serve ice cream soda, malts, hot dogs and shakes right at the counter like the old days.
Mel's Diner

Another place to dine and enjoy a little history is Mel's Diner. Described as the "Perfect American diner" by a reviewer, Mel's even received a TripAdvisor 2013 Certificate of Excellence and was ranked as a top restaurant in the area.
Next on our list of retro things to do in Pigeon Forge are the Elvis Presley Museum and Dollywood. Visitors to the Elvis museum can see exhibits and personal possessions including jewelry and cars. There is also a live show every night at 7:30pm.
Filled with unique rides and roller coasters, Dollywood has many tributes to mountain history. From the Southern Gospel Hall of Fame to the five festivals held every year, this theme park holds a bit of history from one end to the other. There is also a museum to learn about Dolly's life and career, along with a replica of her Smoky Mountain Home and Calico Falls Schoolhouse.
After scouring the Smokies for old-fashioned fun, Diamond Mountain Rentals invites you to rest and relax in our Pigeon Forge cabins. These rustic retreats are nestled into the mountains for a peaceful stay.
If you're feeling nostalgic about the good days, book one of Diamond Mountain Rentals' Pigeon Forge cabins, and take a trip back in time. The Smokies are filled with retro and vintage museums, restaurants and attractions, so call us today at (888) 430-4060 to begin planning.