Smoky Mountain Wildflower Beauty
While the sweeping views of the Smoky Mountains are nothing short of spectacular, there is an abundance of beauty to be found a little closer to the ground. The wildflowers of the Smokies seem to cover the ground in a colorful blanket, with more than 1,500 different kinds of flowering plants found throughout the Great Smoky Mountains. Let's take a look at some of our favorite ways to see them!
Timing
Of course, there is no bad time to visit the Great Smoky Mountains, but if you're looking to catch the wildflowers in full bloom, aim for the spring! With the Great Smoky Mountains National Park's annual event, the Spring Wildlife Pilgrimage, you can spend your time taking part in over 165 different programs to explore the wide variety and beauty the park has to offer. If you choose to venture out in the summer, you'll still have plenty to see! The vibrant Wood Sorrel, Maryland Golden Aster, and the Butterfly-Weed are just a few of the summer wildflowers that are calling your name!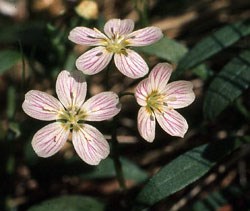 Hiking
If you like to follow your own path, so to say, the Smoky Mountains have highlighted trails that are especially suited for wildflower viewing. The Cove Hardwood, Porters Creek Trail, and the Oconaluftee River Trail all offer wonderful tours of the wildflowers, whether you're scouting the perfect picture or just there immersing yourself in the sights. You can choose a specific hiking trail to follow for best wildflower viewing, or just pick the trail that looks the most fun and enjoy the views, flowers, and even waterfalls along the way.
Your Front Porch
Not all wildflowers in the Smoky Mountains have to be seen in the heart of the mountains- you can catch some flowers from the comfort of your Diamond Mountain Cabin Rental too! Settle in at your 1 - 5 bedroom cabin and enjoy the views.