Spend A Special Valentine's Day in Gatlinburg
Are you looking for the perfect Valentine's Day gift? Book a getaway to Gatlinburg, one of the nation's most romantic destinations! With breathtaking views, local wineries, and quaint shops, a trip to Gatlinburg makes for an unforgettable romantic treat for your significant other.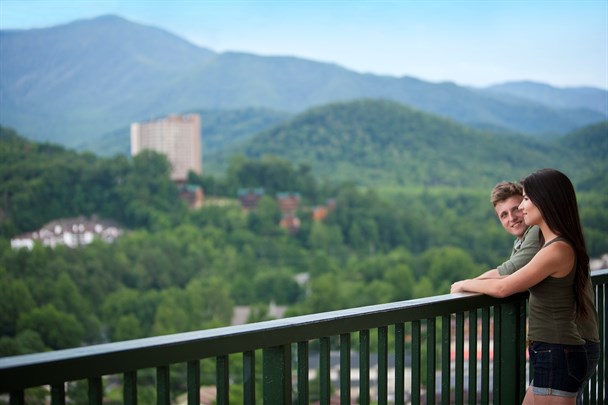 Tour Local Wineries
Begin your journey at Sugarland Cellars, which offers daily tours and complimentary tastings of their wines. Sugarland Cellars offers sweet, dry, and speciality wines made from locally-grown grapes, so there is something for every palate. They also offer daily tours where you learn the ins-and-outs of winemaking from their master winemakers, a unique experience for your valentine.
Next stop is Bootlegger's Homemade Wine, a local favorite started by two sisters who love making homemade wines. Their wines are made in small batches with fresh fruit and a southern touch. Each batch is hand-bottled, topped with a red wax seal. There are plenty of wines to choose from, and it's impossible to leave without taking a bottle of one of their delicious wines with you.
Peruse Stone Walkways in The Village
Take a romantic walk hand-in-hand along the stone walkways in The Village, a gem in the heart of Gatlinburg. It contains a collection of interesting shops and eateries in an old-fashioned square. Pick up a quick coffee at Coffee & Company or a piece of hand thrown pottery from The Honey Pot. You're sure to find a unique gift-or-two at one of Gatlinburg's most popular shopping areas.
Take in the View
Take in the terrific views of the Smoky Mountains at the Gatlinburg Space Needle. The glass elevator take you 400 feet into the air, and the observation area offers 360-degree views of Gatlinburg and the Great Smoky Mountains National Park.
To finish out the night, take a twilight ride up the mountain in the Gatlinburg Sky Lift. The chairs take you and your valentine 1,800 feet into the air, landing on Crockett Mountain. From there, the views of downtown Gatlinburg's lights are magical.
And perhaps the most important element of your perfect Valentine's Day begins with the perfect cabin. Diamond Mountain Rentals offers a host of one-bedroom cabins only minutes away from downtown Gatlinburg. Browse our list of cabins today, and give your valentine a gift they will never forget!