Wildflower Season Begins In The Smoky Mountains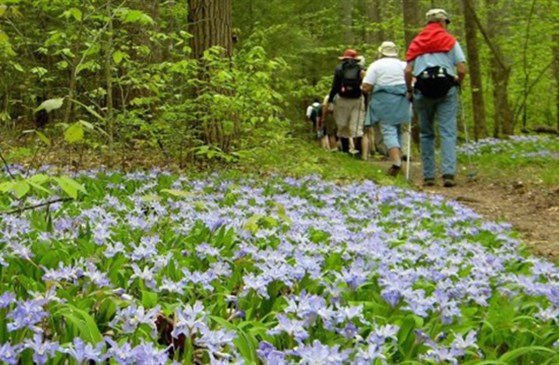 The Smoky Mountains is home to a diverse selection of wildflowers, and, due to its vast old-growth forest, creates the perfect ecosystem for them to thrive.  Wildflowers bloom in the spring, coating the Smoky Mountain landscape with their various colors and unique shapes; often, one runs across a patch of wildflowers along one of the many trail in the Smokies.  Find out more below about the wildflowers in our area and how to see them.
Join The Wildflower Pilgrimage

To spread awareness of the wildflower diversity in the Smoky Mountains, an annual Wildflower Pilgrimage is held during the month of April. In its 64th season, this five-day event features experts who lead visitors on guided hikes through the Smokies, exploring wildflower hotspots in the mountains. The event also provides indoor classes and presentations on the area's history and ecology. Visit the Spring Wildflower Pilgrimage website for more information on how to register for classes and for a schedule of events.
Best Wildflower Hikes
Many hikes offer a closer look at the diverse wildflowers in the Smoky Mountains. Among them are Gregory Bald, with its famous azaleas; Schoolhouse Gap, with a vast array of flowers including trillium; and Little RIver Trail, with violets, yellow trillium, and mountain mint.
March through June is the best time to see the wildflowers, and different species flower and bloom throughout this time period. Plan accordingly, so you don't miss out on one of the Smoky Mountains' best natural wonders!
The first step, though, to experiencing the wildflowers in the Smoky Mountains is to book a place to stay during your visit. Diamond Mountain Rentals offers affordable lodging, with cabins ranging from one-bedrooms to five-bedrooms. Browse our list of cabins today, and book your spring wildflower retreat!
Follow us on Facebook and Twitter for more articles on wildflowers, wildlife, and more in the Smoky Mountains.