Why Choose Diamond Mountain Rentals? We're Glad You Asked!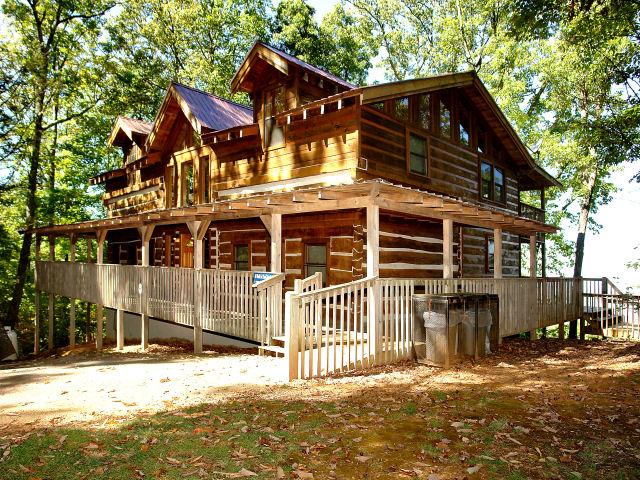 Not long ago, we offered our readers some very helpful tips in just how to go about finding the right provider of cabin rentals in Gatlinburg. In that guide, we explained how overwhelming the internet has become, and how you need to do a lot of thinking and research to locate both reputable and ideal Gatlinburg cabin rentals for your needs.
As an example, we told you to figure out what you wanted from the rental, such as a specific location or setting. We told you to consider the amenities that most of the cabin rentals in Gatlinburg offered. We then went into great detail about the more specific issues ranging from deposits and cancellation fees for Gatlinburg cabin rentals to the type of upkeep done on spas.
In the end, we said that there were many questions to be asked and that it might feel like it is too much work to find the best cabin rentals in Gatlinburg for your needs. However, Diamond Mountain Rentals has done a lot of this work already to help renters enjoy a more streamlined approach to Gatlinburg cabin rentals.
How? If you looked at the tips, warnings and all the questions we encouraged renters to ask in that guide, you'll notice that, on our website, we have taken steps to ensure every "question" has the right answer. As the title above said, "Why choose Diamond Mountain Rentals for your Gatlinburg cabin rentals?" Well, we are sincerely glad to explain it all to you! Let's look at it from a point by point perspective.
Reason #1 - Location, Location, Location
Our cabin rentals in Gatlinburg are authentically that - in Gatlinburg. The bulk of the Gatlinburg cabin rentals we make available are within a few miles to less than a mile from town. If a property is better described as being in the Pigeon Forge area, our descriptions very clearly indicate that.
You might read this and think, "Well, don't most listings for cabin rentals in Gatlinburg explain this, too?" Actually, we hear from many customers that they were delighted with the honesty and clarity of our descriptions because many cabin rental sites say Gatlinburg when they really mean "Gatlinburg adjacent." Though such lovely destinations as Pigeon Forge, Townsend, Cosby, Sevierville and others may be on your "must see" list during a visit, if you want to be in Gatlinburg, you should have the chance to authentically choose a cabin in that town.
We don't mislead or hint otherwise, and ensure that the bulk of our Gatlinburg cabin rentals are actually within the Gatlinburg limits.
Our website's cabin descriptions also help those seeking Gatlinburg cabin rentals close to other, specific sites to find them easily. For example, if something is situated near Ober Gatlinburg, we state that plainly. If it is less than a mile from the "strip", that's in there, too. Looking to be within minutes of a national park entrance? We'll mention it, if that is part of the experience you'll enjoy in one of our Gatlinburg cabin rentals.
My Valentine is a good example of this. Described as a Gatlinburg Log Cabin, it is also described as sitting directly on the Little Pigeon stream. You are less than 30 feet from the water and surrounded by a park-like setting, just a short drive from the delights of town!
Reason #2 - Major Amenities
Though many people hear the phrase cabin rentals in Gatlinburg and think of words like "rustic" and even "Spartan," the properties we offer are anything but. Many are relatively new or recently renovated, and almost all of them have an amazing range of high-end amenities…some are even luxurious.
We try to streamline searches using icons for the amenities most commonly available in our Gatlinburg cabin rentals, and many renters are surprised to see that the key in our main search page features WiFi, Pool Table, Pool Access, Hot Tub and Fireplace icons. These are such common amenities our the cabin rentals in Gatlinburg that we skipped itemizing them in the listings and ensured renters could narrow down their choices by creating this visual key.
We also have so many cabins with pet-friendly policies that this, too, is part of the visual key for each property's description page.
For example, a look at the truly impressive Yep! This is It! tells you that this one has it all: a pool, hot tub, pet friendliness, a game room with pool table, WiFi and so much more. Ideal for a group, this is one of the more luxurious properties, and is also a frequent choice of honeymooners!
Reason #3 - Multiple Sizes
When you search for cabins, it is often challenging to find larger properties. This is unfortunate because so many people who come to Gatlinburg travel in a large group, like for family reunions or church retreats. For example, groups that want to ride motorcycles along the stunning roads of the area typically like to stay together. However, if all of the cabins have two bedrooms or sleep only eight at most, this can put a damper on the groups' enthusiasm.
We have cabins ranging from one to five bedrooms and which can sleep even very large groups in total comfort and luxury. From the single bedroom condo or the quaint honeymoon cottage to the enormous property with an endless list of amenities, there are cabins for groups of all sizes.
Additionally, we try to make it clear if there is plenty of parking. We understand that a cabin may end up as the meeting point for a family reunion or a larger gathering, and that can mean half a dozen cars. We explain if a lot is level and whether or not you have adequate parking or options nearby.
Laurel Manor is a good illustration of this. It can sleep up to 14, and is less than 1.5 miles from Gatlinburg. It can be rented by groups as the ideal retreat, and is a flexible choice for those who may want to spend a great deal of time in their luxurious cabin while also remaining close to major attractions, great scenic drives and more!
Reason #4 - Comprehensiveness
We don't only have lots of different cabins from which to choose, but every single one of them is a complete home away from home. We never want our visitors to experience a nasty shock, such as no linens or towels, or too few pots or pans. One of the reasons we know our visitors choose cabins in Gatlinburg is because they can actually save a bit of time or money by doing some home cooking. That means you need the right appliances, pots, pans and utensils. Unfortunately, many travelers discover too late that they were supposed to supply their own. We never leave our visitors in such a pickle!
Instead, you'll find that your kitchen is fully equipped with more than enough of the many things you need for a satisfying experience.
Reason #5 - Clarity
We are dedicated to our customers and want to ensure that everything about a cabin rental is clear and that there are no questions left unanswered. That is why we encourage anyone interested in booking a stay to call us or use our online contact form. We are happy to answer questions about fees and policies, explain if a property has difficult roads or enough parking, whether or not it is accessible for people with disabilities, and more.
For instance, we highly recommend that larger groups consider a stay at the truly stunning A Walk in the Clouds, with its position high above Pigeon Forge and Sevierville. Offering non-stop views and a long list of luxurious amenities, it is also a location tough to reach in winter conditions without 4WD as a backup, and our listing clearly delineates this one caveat.
We will strive to give answers about issues as varied as floor plans, maintenance issues, proximity to nearby properties, details about the views, what the exterior facilities are like and more. In the end, our goal is for you to have absolutely no questions and to be excited to head to your cabin and enjoy your stay.
Reason #6 - We Have the Answers about What to Do and How to Do It
With our Gatlinburg cabin rentals, you don't just get a nice spot to stay and good customer service. From our website to our person-to-person communication, we aim to help you make the most of your visit. As an example, we supply you with extensive lists of things to do, places to eat and even trip planning tools.
Because many of our renters are new to the area, they may only have some general ideas about main attractions or hot spots. However, we want you to enjoy your stay based on your specific interests. This is why we have offered guides for romantic retreats, honeymoons, and even specialized visits such as those done by motorcycle enthusiasts or those who want to spend most of their time exploring the national park or the local attractions. Perhaps you are eager to do a lot of shopping? We have guides for that, too!
In addition to helpful online guides and staff that strives to supply you with answers and solutions, we also have a Free Fun Pass option that helps visitors to enjoy discounted access to some of the hottest tickets in the Gatlinburg area!
Reason #7 - It's Just Too Easy!
Though we love to help our customers and are glad to walk you through a booking process, we know that lots of modern folks prefer the DIY route using online tools. After all, nowadays we can book a flight, hotel, car rental and other travel services through a website and even using a smartphone to make it all happen.
Because of that, we ensure that our cabin rentals in Gatlinburg can be booked online easily and quickly. While we cannot always guarantee that the dates you need are available, we can help you see when the cabins of greatest interest to you are free and, with a few clicks of the mouse or taps of the screen, book it.
Every listing is also going to have potential "incentives" or deals available on the reservation page. This can show you if there are specials on certain dates or discounts on attractions or other options.
There are even some budget options or cabins with special deals, meaning we have something that can fit any need or any budgetary limitations.
Reason #8 - We Do the Thinking, So You Don't Have To!
One of the reasons that our customers make many return visits is that we've done all of the thinking for them. We understand that the modern world of the internet can make it very easy and yet entirely overwhelming to search for a vacation rental. Even if you know where you want to stay and what you want to do, with our Gatlinburg cabin rentals, there is nothing left to chance.
We have curated a fantastic assortment of properties that enable everyone from solo travelers to massive groups to find exactly what they need. Every property is stocked with the kinds of amenities that are required (such as outdoor cooking facilities, laundry, and fully equipped kitchens) and the amenities that are not so essential but still nice to have (such as WiFi, premium entertainment systems, hot tubs and Jacuzzis, game rooms, multiple decks and patios, fire pits, and pet-friendly options). You never have to worry about linens or household essentials, and clear descriptions mean nothing is left to chance.
Whether it is a first visit to Gatlinburg or a 100th visit, the cabins available through Diamond Mountain Rentals are some of the finest, most comfortable and most reliable on the market. We take pride in offering excellent service and wonderful experiences to our visitors. When you are getting ready to head to Gatlinburg, be sure to book through our site and enjoy a truly unforgettable vacation experience.