Condos vs. Cabins in Gatlinburg - Which is Right for You?
Have you ever wondered how you could ditch the hotel and make your next vacation much more luxurious – without breaking your budget? At Diamond Mountain Rentals, we have two options that can make your next vacation the most relaxing getaway you've ever taken. Choose to stay in one of our secluded cabins in Gatlinburg, and you'll be living it up in your own private space, with amazing views and amenities that make it hard to leave. Or choose the convenience of our condo rentals, without sacrificing any of the luxury. Which of these two is right for you?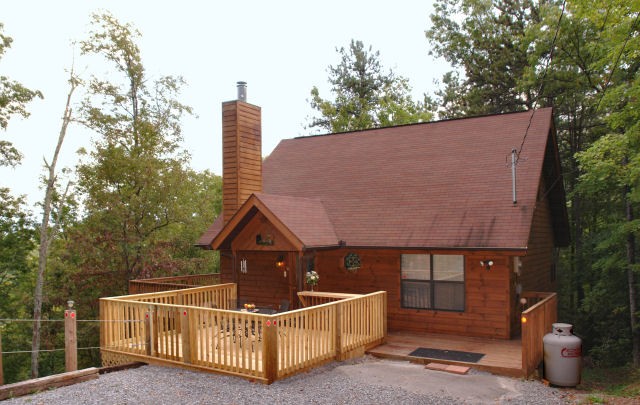 Gatlinburg Cabins Offer Luxury and Privacy
Take a peek at Bearly Workin', one of our family-sized cabins in Gatlinburg. Like many of our other Gatlinburg cabins, this private getaway is located within walking distance of Gatlinburg, and just a five-minute drive from downtown. Inside the cabin, you'll find a cozy living space with a fireplace, a huge flat screen, and plenty of ways to entertain yourself. Internet and cable are included, but the views are worth skipping movie night for. Take in a sunset over the mountains from your private hot tub, and then play a game of pool in the game room!
Gatlinburg Condo Rentals: Convenient Pampering
If you want to be within walking distance of downtown, a Diamond Mountain Rentals condo may be perfect for you. Check out the Ski View Condo, located just off Ski Mountain Road. This condo offers the same number of beds as the Bearly Workin' cabin, and also includes a full kitchen, a fireplace, cable, and Internet. You do have access to the association pool and hot tub in the same building, perfect for the kids! Condos are typically more affordable and offer just a little less privacy in order to get you closer to all the Gatlinburg fun. A condo is a great choice for a typical hotel dweller who wants the advantages of a full kitchen but doesn't need the extra amenities. 
How to Choose the Right Gatlinburg Cabins or Condos
Do you think you'll spend part of your vacation relaxing in your private getaway? Are the views of the mountains the best part of waking up in Gatlinburg? Then you may want to choose our cabins in Gatlinburg. If you prefer to stay close to all the fun of the city and save money, but still have lots of space to spread out and enjoy your stay, then a condo may be a better choice. Don't forget to look for our pet-friendly condos and cabins in Gatlinburg, so you can bring your furry family members along as well! 
Book Your Stay in Our Condos or Cabins in Gatlinburg
Booking your stay at our Gatlinburg cabins and condos is easy. Simply find the location you love, and scroll down to the calendar. Choose the dates of your visit and reserve them as soon as possible. Spaces fill up fast, especially during the warmer months. Once you have found the perfect condo or cabin, you can turn this vacation into an annual getaway that delights everyone in your crew!