Best Romantic Getaway Cabins in Gatlinburg & Pigeon Forge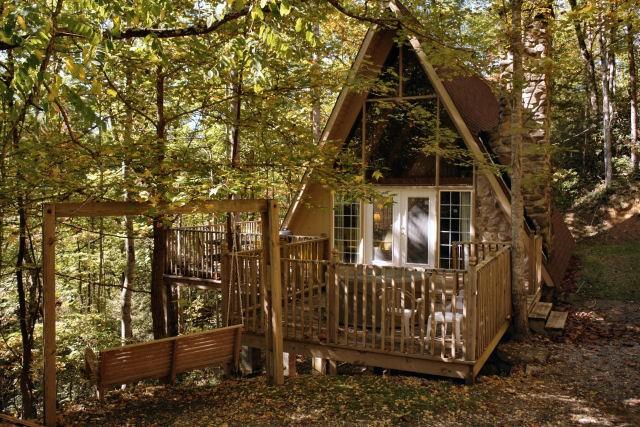 Whether you're searching for the perfect weekend getaway or the best place to spend a week or more in an inspiring setting, let Diamond Mountain Rentals be your guide to the best romantic cabin rentals in Gatlinburg and Pigeon Forge.
We can promise you a fantastic departure from the everyday. Discover the Smokies together in one of our cozy or expansive cabins that offer the perfect combination of rustic beauty and modern amenities. It's easy to fall in love and share moments together when you have exceptional accommodations that help set the mood.
Diamond Mountain Rentals offers dozens of romantic cabins, each of which can help you create the perfect ambiance for your getaway. In this blog we'll introduce you to two of our most popular cabins and all of their outstanding features. With Diamond Mountain Rentals you'll find that you'll never have to compromise; our cabins are designed to accentuate your comfort, so you'll get the most out of your visit to the Smokies. Let's take a look at these two extraordinary cabins now:
The first is Fairview, an enchanting 1484 sq. ft. A-Frame design tucked in the woods. It's easy to fall in love in this secluded cabin that's only a mile from downtown Gatlinburg. You'll have the best of both worlds; a love nest tucked away in the forest while still enjoying proximity to all that Gatlinburg has to offer. This incredible cabin  is made for cozy moments by the fireplace and quiet times out on the deck that overlooks a wooded wonderland.
As you step inside Fairview you'll immediately notice the charming design with its beautiful open concept and rustic wood construction. The kitchen and living room flow together in an open style. While you are located within easy driving, or even walking distance to Gatlinburg, you needn't leave your cabin if you don't want to, as everything is here to make your stay perfect in every way. Starting with the fully equipped kitchen you'll be pleased to find that range, refrigerator, microwave and coffee maker are ready for you to prepare an intimate meal for two. Serve that meal in the adjacent dining area which is convenient to the living room. The living room offers a comfortable place to cuddle and sit back and relax after an exciting day visiting all of the Gatlinburg attractions.
Sweet dreams await in the master bedroom with its queen-sized bed. If you've decided to bring the kids along on your vacation, they'll sleep well in the loft bedroom's bunk beds. Before you turn in don't forget to soak in your very own hot tub located on the cabin's deck.
Some couples like to include their pets on their vacations, and Diamond Mountain Rentals encourages you to do so. In addition to having room for kids upstairs, Fairview is a pet-friendly cabin. Bring your dog (Pet fees are $50.00 per pet with no more than two (2) pets allowed.  All pets must be crated when guests are not in unit.) along and make your vacation memorable for your entire family.
The Fairview fulfills every expectation, right down to its wireless Internet and cable television. All the details are covered in this amazing hideaway; plus you'll be comfortable any time of year with central heat and air.
Reserve your love nest now as you can't beat the affordable price on Fairview, one of the many gems in Diamond Mountain Rental's collection of Gatlinburg cabins.
--------
A love nest is always special, but sometimes couples desire an expansive cabin that allows room to roam. If that's your preference, Diamond Mountain Rentals can show you dozens of three, four and five bedroom cabins. We have a particular cabin in mind for you here and we're sure you'll be amazed at what it has to offer. Let's discover Diamond Mountain Rentals' Serenity.
This cabin offers tremendous value for the money as the exterior delights you with its rustic appearance. Inside you'll find a charming yet modern decor that's full of light and warmth.
Starting in the living room you'll immediately notice the up-to-date decor that blends perfectly with the fireplace and hardwood floor. This room offers convenient deck access so romantic views of the Smokies are never more than a few steps away. You can immerse yourself in the serene atmosphere in a comfortable deck chair or slip into the hot tub and sit back and let your cares melt away.
Our Serenity cabin is definitely made for couples who want to include the kids or ensure extra room for guests on their getaway. With three bedrooms and 1700 sq. ft. of living space, there's plenty of room for everyone.
Located a quick 10 minute drive to downtown Gatlinburg or Pigeon Forge, you're always near the amazing restaurants this area is known for. If you'd rather stay in, this cabin's kitchen makes it easy to prepare a tasty meal for two and a few guests, too. You'll find the kitchen is fully-equipped and large enough to eat in, as the table seats four. 
You'd better eat well to keep up your strength, as only steps from the kitchen is your very own pool table. Get up a friendly game with your significant other or invite some friends in to gather for a pool tournament. Some of your guests can play pool and others can walk down to the association swimming pool and enjoy the wooded splendor on the way.
When it's time to turn down the lights and say good night to kids and guests, our Serenity cabin shines as a couples' paradise. Stroll out onto the deck and sit side by side for a quiet moment. Gaze out over the landscape and let the sights and sounds of twilight in the Smokies bring you closer. If there's a chill in the air, don't worry, you can always step back inside and cozy up to the fire in your gas fireplace.
Without a doubt Diamond Mountain Rentals' Serenity cabin offers everything a couple could want: Solitude for romantic moments, room for entertaining, spare bedrooms for kids or guests and of course a perfect location that provides you with incredible views of the Smoky Mountains.
Don't wait to reserve this special cabin. Get your reservation booked now to ensure availability.