Celebrate an Autumn Anniversary in These Gatlinburg Cabin Rentals
What could be more romantic than an anniversary spent in a place of natural beauty, privacy and stunning scenery? The answer is simple - an anniversary spent in one of the more romantic Gatlinburg cabin rentals! Diamond Mountain Rentals features an impressive inventory of gorgeous Gatlinburg cabins ideally suited to romance. As the autumn approaches, it is not too late to search through the Gatlinburg cabin rentals options and find the perfect retreat for your upcoming celebration.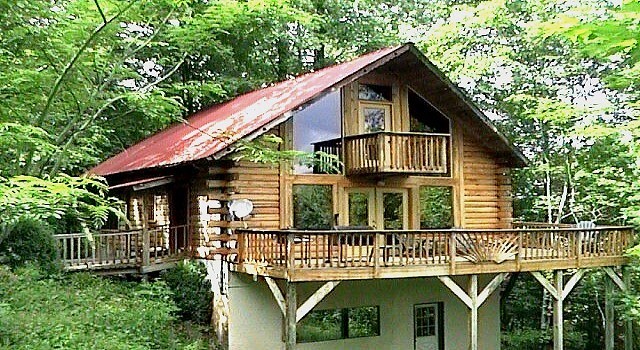 Let's take a look at some of the one and two-bedroom Gatlinburg cabins available for the ultimate autumn getaway and romantic anniversary.
Among the many Gatlinburg cabin rentals designed for the ultimate in romance is Sugar Shack. Living up to its name, it is a sweet and charming spot sized just for two. With a deck that gazes out to gorgeous scenery, it is a one-bedroom cabin full of romantic flourishes throughout. There is a fireplace, a second-floor deck, a supremely cozy living room gazing out to the views and yet it is all moments from town.
Another of the one-bedroom Gatlinburg cabins that is perfectly designed for autumn romantic holidays is Tina Marie's. Sitting high above Gatlinburg, it offers panoramic views from its lovely front deck. The interiors are pure mountain retreat and feature generously sized spaces in the living room (with fireplace), dining room and kitchen. Outside is the hot tub and a grill area, ensuring that your entire visit is relaxed and spent savoring the setting. Pet friendly means your furry family members can join in the fun.
If your dream anniversary getaway involves an authentic and cozy hideaway, then Black Bear Cove will be tough to beat. This is a truly charming spot and easily rates as one of the most appealing Gatlinburg cabin rentals for couples. Tucked into the woodland, it offers wonderful mountain views from the spacious front deck. Savor hours in your outdoor hot tub or head inside to the roomy and yet cozy surroundings. A Jacuzzi and fireplace in the bedroom make this one of the perfect Gatlinburg cabins for an autumn anniversary.
Perhaps you are eager to find one of the roomier Gatlinburg cabin rentals to celebrate your autumn anniversary? If so, My Valentine is a gem. This cabin is situated right along a riverfront property and is surrounded by gorgeous scenery. Ideal for those who wish to spend a lot of time away from it all, My Valentine features two bedrooms with a Jacuzzi and fireplace in the master suite.  Large decks let you savor the setting, and spacious interiors include the living room with fireplace, modern kitchen and dining area.
These Gatlinburg cabins are but a few of the options available to you this fall, and whether you celebrate your anniversary on your own or with some family and friends, it is sure to be a memorable experience. Don't wait too long to book these stunning spots as they do fill up quickly once the leaves begin to change.