Fall in Love with Your Very Own Gatlinburg Cabin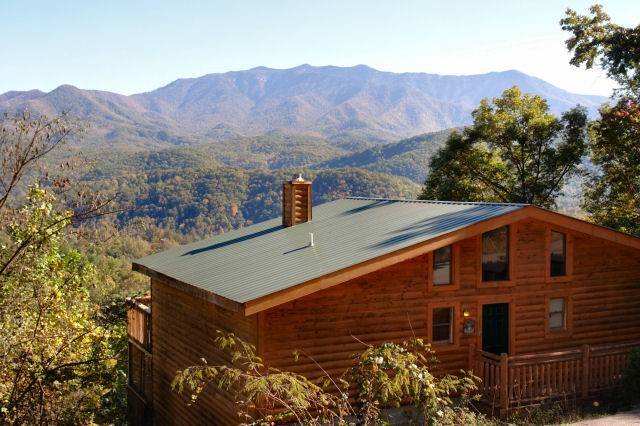 Fall in Gatlinburg is right around the corner, and we are all anxious for the Smokies to transform into something otherworldly. Get up close and personal with the change of the leaves and stay in a Gatlinburg cabin this fall. Diamond Mountain Rentals has cabins in Gatlinburg that are perfectly perched on the mountainside and in the valleys giving guests a front row seat to the beauty of the fall leaves. Come stay in a cabin in Gatlinburg and experience the magic in the mountains with the entire family!
A Golden Glow
As the sun begins to crest the top of the peaks and begins to shine down through the leaves, something amazing happens. The sunlight filters through the leaves creating a symbolic glow of awakening. The leaves will shine like gold and your surroundings will be like that out of a movie. Your Gatlinburg cabin will also be filled with a luscious golden hue bringing cheer into each and every room.
Enjoy a Whirlwind of Leaves From the Hot Tub
Hot tubs were made for fall in mind! The air is crisp and breezes slightly while the sun is still warm on your shoulders. As the afternoon begins to fade with the sun, the breezes blow about making a relaxing melody. With every blow of the Smoky Mountain breeze, you will see drifting leaves cascading from the rustling trees above you. Sit back, relax and enjoy the show!
Morning Coffee on a Fall Morning
Coffee just seems to taste better in an oversized mug while sipped on the deck during a crisp morning while the world wakes up around you. Kick your heels up and listen to the songbirds greet you good morning and listen to the deer and rabbits begin their morning shuffle. Bonus tip: enjoy your refreshing cup of coffee from the hot tub for a superior morning pick-me-up! You are relaxing after all, no need to get too wired- you've got the pleasure of doing nothing after all!
Life is better in the mountains! Come and take a break from your reality and drop in on ours for a while. Find peace and quiet in a cabin in Gatlinburg. Diamond Mountain Rentals boastfully provides outstanding customer service and beautiful cabins with breathtaking views of the Smoky Mountains. Escape for a while, you deserve it- don't you?