Gatlinburg Cabins in the Fall - What More Could You Ask for?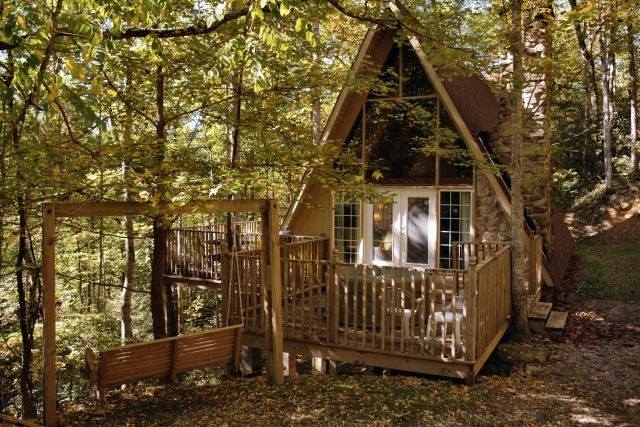 As you are getting ready to begin planning your fall vacation in the Smoky Mountains with Diamond Mountain Rentals, you are probably wondering which cabins in Gatlinburg offer the best amenities. The answer is, all of them! We provide our Gatlinburg cabins with everything you could ask for, right down to the perfect view of the fall colors. Find the perfect cabin in Gatlinburg to embrace all of the things you love about fall in the Smokies! Our cabins in Gatlinburg are convenient to all the fun activities of downtown Gatlinburg as well as close to all of the exciting outdoor adventures that await you in Great Smoky Mountains National Park. Book your stay with Diamond Mountain Rentals today!
Picturesque Views From the Cabin Deck of Starrgaze
The views from the decks of our Gatlinburg cabins are unique and widely desired. Morning noon and night, the views from our beautiful cabins provide guests to kick back and take a load off. Pull up a chair and enjoy the quiet surroundings while you count as many colors as you can. On a chilly night, grab a blanket and wrap up together as you watch the night lights of downtown Gatlinburg glitter amongst the stars!
Enchanted Moments by the Roaring Fireplace
Get closer. Lose yourselves in delightful conversation in front of a brightly flickering fireplace in a rustic Gatlinburg cabin. What better way to reconnect with each other than to disconnect from the distractions of daily life. Rekindle old flames and get to know each other again. Kick your cell phones to the curb, play some tunes, share a dance and enjoy a romantic fall night in.
An  Early Afternoon Soak to Stay in Relaxation Mode
Some days you just feel like relaxing. There's plenty of time for hiking, tram rides, auto touring and exploring. Take a little time for yourself and enjoy an early afternoon soak so you can stay in the mode of relaxation. There is no harm in napping all day, especially when you are napping in a beautiful cabin in Gatlinburg.
Call Diamond Mountain Rentals today to schedule your fall reservations for the Smoky Mountain getaway of a lifetime. There is so much to enjoy during the season of fall. Sleep high in the colorful trees, catch a cool breeze and simply relax in a Gatlinburg cabin.