Have More Fun in Gatlinburg With Our Fun Pass!
Vacations can be expensive when you factor lodging, meals, attractions and more. Lodging can be one of the most expensive costs when planning a family vacation. If you're planning to bring multiple family members, you will need to rent multiple hotel rooms and plan to dine out for almost every meal. Unfortunately, most hotels do not offer fully equipped kitchens or large living accommodations. Luckily our Gatlinburg cabins offer all that and more at an affordable price.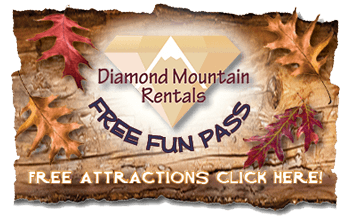 At Diamond Mountain Rentals, we offer luxurious cabins for the whole family at an affordable price. Imagine having an entire cabin to yourself with a full equipped kitchen, multiple bedrooms, a hot tub and more! Our cabins not only help you save money on lodging but other costs as well. Our fully equipped kitchens make it easy to save money with meals and snacks. Make a trip to the grocery store when you arrive for vacation and save money on food expenses.
Now to the fun part... Our fun pass! Our Fun Pass is offered to guests who book a stay with us! This fun pass includes admission to local attractions including zip lines, dinner shows, entertainment, etc. What a savings! You will save on lodging, dining and attractions costs when you book a stay with us. Learn more about the fun pass!
Visit our website to view all of our mountain cabins! Our cabins are luxurious with breathtaking views of the Smoky Mountains! You will feel right at home; you may not want to leave! Book your cabin today and enjoy summertime in the Smoky Mountains.