Plan the Perfect Couples Getaway in this One Bedroom Romantic Pigeon Forge Cabin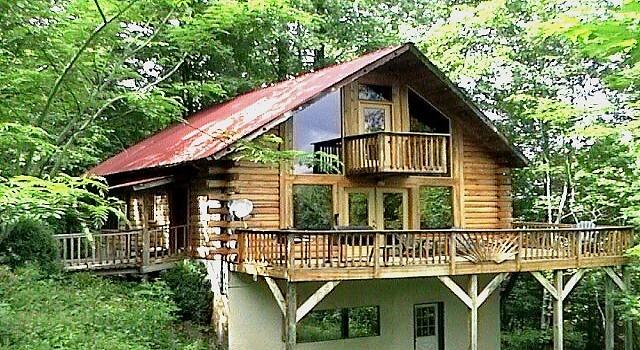 Small and cozy offers the perfect setting if you're planning a romantic getaway near Gatlinburg. Diamond Mountain Rentals offers several one bedroom cabins that are great for a quick weekend trip or an even longer vacation. Sugar Shack offers 1272 sq. ft. of living space so you'll enjoy a cozy atmosphere while still having enough room to spread out, if you choose. The back deck and balcony off the bedroom allow you to luxuriate in the natural views of the Smokies. The main living area looks out to the deck through several big windows that bathe the inside of this rustic cabin with lots of natural light.
One of the best features about this cabin is its flexibility. With the equipped kitchen and charcoal grill you have the option to prepare your own meals and eat either in the dining area inside or out in the fresh air.
Another great advantage you'll love about this cabin is that it's pet friendly. Are you concerned about leaving your dog with neighbors or in a kennel while you are away? With our Sugar Shack chalet, you can bring him along! In fact we allow up to two dogs, as long as they are leashed while they are outside and crated when you are away from the cabin. You'll find our pet policies here (scroll down the page for pet policies) for your reference, including pet fees. Vacationing with your dog can help you relax so you'll have a better time as you explore everything Gatlinburg has to offer. Speaking of enjoying Gatlinburg, be sure to try some of the attractions featured on our Free Fun Pass. This Fun Pass offers discounts and some free admissions so you won't want to miss it!
Now back to Sugar Shack's amazing features! This rustic chalet's living room is perfect. It offers a wood burning fireplace, large screen TV, plush furnishings and those large windows we spoke about before -- the whole atmosphere of this room will surely put you at ease the minute you step inside.
Snuggling quietly in the living room is a great way to pass some time, but if you feel a competitive urge, you won't have to leave your cabin for entertainment. This chalet offers its own pool table in the game room that looks out to the back deck where your private hot tub awaits. After you relax in the hot tub, you may wish to turn in for the night. The king size bed beckons and its convenient back balcony is perfectly situated if you want to gaze at the stars before you go to sleep.
We didn't forget all the little extras you expect and deserve. This chalet includes a jacuzzi and two full bathrooms. There's also a dishwasher, washer and dryer, microwave, ice maker, coffee maker and toaster. Plus you'll love the DVD player, DirecTV and central heat and air.
What more could you want for a perfect getaway? Sugar Shack is also a very budget-friendly cabin. Reserve it now and look forward to romance and relaxation in one of Diamond Mountain Rentals' best Pigeon Forge chalets.