Gatlinburg Personal Chef Services
Personal chef services provided by The Fruitful Vintage Chef.
FruitfulVintageChef.com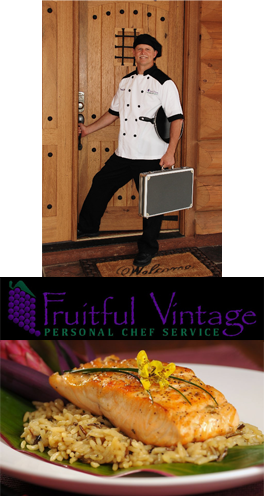 Welcome! Sit back, relax, and let Chef Ray come to you. Fruitful Vintage offers unique in-home or in-cabin, on-site, personal chef services tailored to fit your specific needs, taste, and budget. Each service is customized and prepared just for you and your guests. Let Chef Ray design the perfect meal for your next special event.
Whether its your anniversary, birthday, family vacation, family reunion, wedding, rehearsal dinner, bridal/baby shower, holiday celebration, corporate event, private party, or any other event that calls for superior food and a personal chef, Fruitful Vintage is your solution. We add a personal touch to every dining experience and aim to pamper you so you can enjoy your event.
On-Site Personal Chef Services:
• Formal Dinner Parties
• Romantic Dinners for Two
• Small Catering Events
• Buffet Style Meals
• Appetizer Parties
• Fondue Parties (New Service!)
• Vacation Meal Packages