Don't Miss Wildlife Viewing in Cades Cove
Time to plan the annual family vacation? This year, consider something different from the usual overcrowded water park. A trip to Cades Cove in Gatlinburg, TN, can become a new family tradition, where you have the opportunity to see some amazing natural wildlife and explore acres of protected forest area. At night, relax in one of our beautiful Gatlinburg, TN cabins at Diamond Mountain Rentals.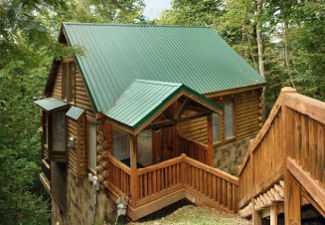 Set Out for Adventure After a Night in Our Gatlinburg, TN Cabins
When you check in to your Gatlinburg cabin rental, you'll find all the amenities that you need to feel pampered on your vacation. Is it just you and your significant other? Check out the gorgeous views from Splendor Pines, a one-bedroom cabin that is just a few minutes away from downtown. The large whirlpool tub, flat screen TVs, gas fireplace, and covered hot tub are all perfect for luxurious evenings.
Are you vacationing with your whole family? Black Beary Lodge has six bedrooms to host the whole crew, with a pool table, air hockey, a hot tub, and plenty of other fun to keep them busy. This cabin is also just a few moments from Dollywood and Splash Country.
Head Straight to Cades Cove from Your Gatlinburg Cabin Rental
The Cades Cove Loop is an 11-mile drive through the Great Smoky Mountains National Park that allows visitors the chance to glimpse wildlife up close and personal. The area is home to whitetail deer, black bears, wild turkeys, elk, woodchucks, raccoons, and plenty of other creatures.
The drive can take a couple of hours, especially if you bring your binoculars and plan to take your time. Park officials say that it's best to come in the late evening or early morning to see the most wildlife. Chill out in your cabin rental during the hot noon hours and then head out for a leisurely drive.
Wildlife Lovers Will Be Entranced
Visitors to Cades Cove can also enjoy a biking loop, plenty of hiking trails, and lots of places that are perfect for picnics. The area of Cades Cove used to be a Cherokee hunting ground, as well as a homestead for early European settlers. As you hike, bike, or drive through the area, you're likely to come across some of the widest varieties of historic buildings that the park has to offer.
While you're watching for elk, bear, deer, and turkey, be sure to keep an eye out for historic churches, the still-working grist mill, log houses and other buildings. There's a self-guided tour book that can help you find the way.
Plan Your Wildlife Adventure in Gatlinburg, TN Today!
Thanks to the amenities in Diamond Mountain Rentals' cabins, it'll be easy to convince the whole family to try something different this year. Soak in the relaxing views of the Smoky Mountains and spend some time together away from the hustle and bustle this year.