Slow Down in September with a Gatlinburg Cabin Getaway
The summer season can easily become a rush of events, getaways or vacations, and planning for a return to the regular "school season" routine. Yet, this makes the month of September the ideal time to regroup and recharge. In other words, September is the perfect time for a getaway. At Diamond Mountain Rentals, you find an array of cabins ideally suited for that sort of "slow down" escape that is so perfect for the month of September. With many vacationers back to work and yet many of the top attractions still going strong, it is a great way to experience the area or just savor the scenery from your Gatlinburg cabin.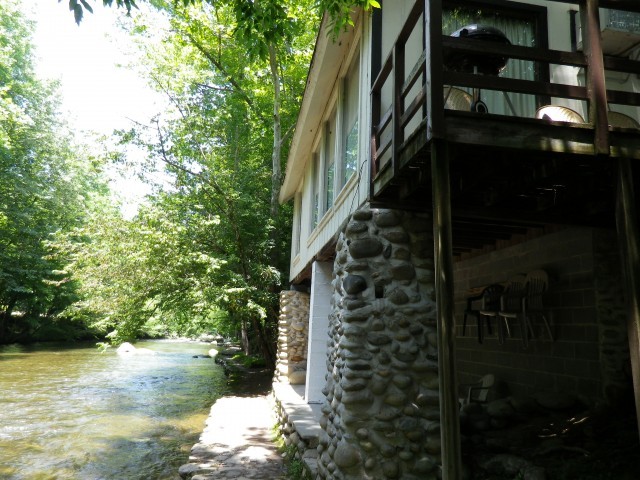 Let's take some time to look at a few cabins in Gatlinburg ideally suited for the slow life that can only happen at the end of the regular summer season.
What could be more likely to slow you down than to be just steps from a gently babbling stream? When you book a visit in River Rhapsody, you are situated right along the banks of a gentle mountain river and can hear it from your living room and bedroom. This one-bedroom property uses rustic style to set the stage for optimal relaxation. It is a unique Gatlinburg cabin for its waterfront location, but it is also packed with premium comforts. There is the modern kitchen, large decks at the water level and above, the stone fireplace and spacious living room and bedroom.
Another of the cabins in Gatlinburg close to the water is The Briar Patch. This two-bedroom log cabin is set in a park like area with direct access to cycling trails, walking trails and a river less than 30 feet from your spacious front porch. The interiors also encourage you to slow down and savor the scenery thanks to lots of oversized windows, generous proportions, cozy furniture and amenities like a fireplace, large eat in kitchen, and Jacuzzi tub.
If your ideal Gatlinburg cabin is one with loads of privacy, then Bearly Workin' is a good one to consider. It is one of the few cabins in Gatlinburg just moments from Ober Gatlinburg and minutes to downtown. Yet, it is a Gatlinburg cabin set in a woodland setting with amazing views. The patio and porch areas just beg to be enjoyed at a leisurely pace, and the views are sure to keep you in your seat. The interiors use modern but rustic style and include a great room with fireplace and porch access, a mezzanine game room with pool table and entertainment system, and Jacuzzi in the bedroom.
If you want to slow down with a pet along for the fun, there are Diamond Mountain Rentals cabins in Gatlinburg that welcome even furry customers. Lazy Bear, for example, is tucked within the Arts and Crafts community and features two bedrooms (each with a Jacuzzi bath), enormous porch, woodland setting, gorgeous décor and access to the community center with its pool and activities.
Whether you want to be somewhat leisurely or completely lazy, Diamond Mountain Rentals offers the ideal Gatlinburg cabin for you. When you are ready to savor a slowdown in September, these cabins in Gatlinburg can give you exactly what you need.