Smoky Mountain Dining Guide
No vacation is complete without sampling some of the best food that a region has to offer. When you visit the Smoky Mountains, you're in for down-home cooking that you'll never forget. From world-famous barbeque to homemade apple jam, you'll get the comfort food you crave. You can also find tons of fine dining and unique dining experiences that you can't get anywhere else. In addition to all the other things to do in Gatlinburg, be sure you spend some time exploring the delicious food all around the region!
Usually when you read a dining guide you expect to see reviews or recommendations for sit down restaurants, or out of the way places that few people know about. While we will include a few items like that, we also want to point out some great spots in Pigeon Forge and Gatlinburg to find tasty treats! Donuts, fudge, cake, pie...is your mouth watering yet?! You may need to add a day or two to your vacation so you'll have time to feast on all the local specialties! Let's do dessert first, then launch into the entrees later: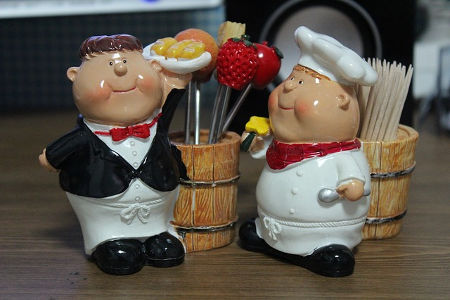 PIGEON FORGE
Cakes by Bakin' Bishop
862 Wears Valley Rd, Pigeon Forge, TN 37863
(865) 774-1117
If you are looking for cupcake heaven, this is the place! Iced to order, these are the moist cupcakes everyone's raving about! Rated the #1 restaurant in Pigeon Forge by reviewers on TripAdvisor, you have to see the menu, because then you'll understand the variety and quality they offer:
https://locu.com/places/cakes-by-bakin-bishop-pigeon-forge-us/#menu
Mini and jumbo cupcakes, brownies, cinnamon rolls, and cookies to die for! In addition to their 7 kinds of cake and 5 types of icing, you can add sprinkles, drizzle, sugar candies or pecans to your cupcake. Wedding cakes are another specialty that these bakers will create and set up at your venue for you. If you're planning a Smokies wedding, you may wish to inquire here as many couples report an excellent experience! Mark this place down on your 'must do' list. 
---
Sweet Frog Premium Frozen Yogurt
2726 Parkway, Pigeon Forge, TN 37863
(865) 365-1745
While you explore local favorites, Pigeon Forge also offers the chain stores you know and love. Indulge at Sweet Frog Premium Frozen Yogurt and try a tasty and lite treat.
If you come in winter, try their new hot chocolate! The big draw is of course their awesome frozen yogurt, and wow they have so many flavor combinations, you'll have to come back a few times to try them all! They were voted Best Frozen Yogurt by The Mountain Press, two years running! Can you resist this Caramel Green Apple with nuts frozen yogurt?
Winter, spring, summer or fall, frozen yogurt makes the perfect treat anytime! Can't wait to visit Sweet Frog in Pigeon Forge? Check them out on Facebook! They announce discounts on this page too!
https://www.facebook.com/SweetFrogPigeonForge
There are lots of other sweet shops in Pigeon Forge, and we'll review more of those in future guides. Now on to some top meal recommendations; here are a few restaurants you'll return to again and again. 
---
The Old Mill
3344 Butler Street, Pigeon Forge, TN 37863
(865) 429-3463
Widely known for serving the best Southern food in the area, people drive from miles around to dine at The Old Mill. You know if you get apple fritters to munch on while you wait to be seated, that this has to be a really great restaurant!
Sit by the windows and watch the stream as you dine on down home cooking for lunch like country fried steak, fried chicken, catfish, meatloaf, and chicken and dumplings. Stop in and try their burgers and BBQ pork sandwiches, plus other sandwich favorites like hot roast beef or grilled Reuben. They offer great vegetable entrees, too, including stir-fried vegetables with chicken or shrimp, vegetable plate or vegetable quiche. Team your vegetable entree with one of their homemade soups!
The Old Mill's dinner menu tempts with several of their lunch favorites like country fried steak and fried chicken. You can also try Pot Roast And Gravy, BBQ Country Ribs, Spare Ribs & Sauerkraut, Sugar Cured "City" Ham and many more. Do-it-yourselfers will love The Old Mill's take home mixes. Try corn chowder mix, fritter mix, banana nut muffin mix and more! You will have to take home some of their amazing pecan pies, they're truly famous! Follow their blog and learn to cook great Southern food yourself, inspired by The Old Mill!
Mama's Farmhouse
208 Pickel St
Pigeon Forge, TN 37863
(865) 908-4646
Mama's Farmhouse is an all-you-can-eat, family-style restaurant that serves up massive portions of Appalachian cuisine. Gather around the big tables and pass the bowls around to sample it all when you dine here. The food includes local favorites like double-breaded fried chicken, fried okra, sweet corn pie, and more. The menu is filled with recipes passed down from the Johnson family's great-grandmother, who the restaurant is named after. You'll be able to grab a few jars of Mama's famous sauces and jams on your way out after enjoying a meal of homemade goodies that you'll never forget.
Don't forget to leave room for dessert when you come to Mama's Farmhouse! The menu includes homemade banana pudding and peach cobbler, two favorites that never go out of style. The restaurant also serves up breakfast. Come in for sweet potato pancakes, sausage gravy with biscuits, and homemade peach butter!
Dolly Parton's Dixie Stampede
3849 Parkway
Pigeon Forge, TN 37863
(877) 782-6733
No trip to the Pigeon Forge area is complete without a meal at the Dixie Stampede! This dinner theater puts on a fantastic show, and serves up a delicious meal to boot. The feast always includes rotisserie chicken, smoked pork loin, homemade biscuits, herb-based potatoes, and a specialty dessert every night – and that's just the start. You'll also have corn on the cob, delicious soup, vegetable pasta, and much more.
The show itself is tons of fun, featuring riders on horseback reenacting historical scenes in a way that is accessible to viewers of all ages. You'll be asked to pick a side and cheer on your team during the show, which makes everyone feel like they are part of the performance. You do need to reserve a spot for this dinner experience, but it's worth it!
GATLINBURG
The Log Cabin Pancake House
(865) 436-7894
327 Historic Nature Trail, Gatlinburg, TN 37738
http://www.logcabinpancakehouse.com/gatlinburg.html
This restaurant gets super high marks for its breakfasts, but it's a great choice for lunch with its hot buffet and its country style dinners are tempting, too.
A big country breakfast is a great Southern tradition, so why not start the day out right with a plate of country-fresh eggs and some of this restaurant's famous pancakes? A little ham on the side sound good, or sausage! You can get that too! They also offer 'hold the pancakes' breakfasts, if that's what you prefer.
If you always wanted to try biscuits and gravy, this restaurant cooks them up just right!
For those who prefer waffles, there's likely not a better spot to dine on these as you can order 13 different kinds! Go with blueberry waffles, pecan waffles, chocolate chip waffles or even bacon waffles! Now that's choices!
Lunch is just as special. Their hot lunch buffet is served after 11:00 am and offers a variety of meats, vegetables, salad bar and desserts. The lunch buffet is served daily in season (mid-March through January 1). It may be a good idea to call ahead ((865) 436-7894) to find out more about their daily selections.
If you wish to stop in for dinner, you can try their chopped sirloin steak, golden fried shrimp or chicken fingers, and enjoy the salad bar with your meal. Each meal comes with two vegetables plus hot bread. You can substitute fries or a baked potato for one of the vegetables, if you wish. Leave some room for the great fruit cobbler for dessert. 
---
Buckhorn Inn
2140 Tudor Mountain Rd, Gatlinburg, TN 37738
(865) 436-4668
Perhaps fine dining is what you're after. The Buckhorn Inn is the place to be when you want a romantic inn atmosphere and excellent, gourmet fine dining. Diners report that this is the restaurant you want to visit when you want a quiet and upscale night out. It's a great choice for family gatherings and corporate dinners, too.
The Buckhorn Inn doesn't have a set menu; they offer an ever-changing menu, so it pays to check ahead on their website to see what they are offering on particular nights. Also reservations are definitely recommended, as this is a popular spot. You don't have to stay at the inn to dine there, but they have lodging information on their website if you choose to book your accommodations with them.
---
Bennett's Pit Bar-B-Que
714 River Rd, Gatlinburg, TN 37738
Phone:(865) 436-2400
With over 900 positive reviews on TripAdvisor, you'll want to discover the amazing barbeque specialties for yourself. The generously sized racks of ribs are legendary, and the brisket is also highly rated. Service is exemplary, too. While the entrees are the stars of the show, the sides offer awesome Southern flavor, too. Complement your BBQ with potato salad, coleslaw, deep fried corn on the cob, chicken with mac and cheese...yum!
Bennett's secret, per their website: They smoke their ribs for 14 hours over smoldering hickory wood. Leave room for the peach cobbler! If you happen to stop by in the morning, try their breakfast buffet. It's famous, too!
Smoky Mountain Trout House
410 Parkway
Gatlinburg, TN 37738
(865) 436-5416
Want to enjoy the freshest seafood in the region? Gatlinburg's Smoky Mountain Trout House is the perfect place to try out perfectly-prepared local delicacies. All of the rainbow trout served here are caught locally, so you're experiencing the mountains in a whole new way. The menu includes plenty of other local favorites as well, but you can't miss a chance to enjoy the fish! 
---
Dining out is one of the most fun things to do in Gatlinburg when you are staying in our Gatlinburg cabin rentals. Be sure to check out these restaurants and others to get the full experience of our local cuisine. Check back on this page as we will update it every quarter to highlight additional dining options for your Smokies vacation!