These 1 BR Cabins with Fireplaces are Perfect for a Romantic Winter Vacation
The seasons are turning and winter is knocking.  With dipping temperatures, dreary colors and shorter days, many people find themselves feeling a little sluggish and possibly slacking when it comes to the romance department.  If you and your honey are starting to feel the effects of the "winter blues," it may be the perfect time to rekindle the flame and plan a romantic winter escape!
The Smoky Mountain region offers a plethora of romantic bungalows and vacationing couples are prone to enjoy cabins in Gatlinburg with fireplaces. The cozy fireplace element adds to the overall experience and ups the ante when it comes to romance.  Here are some of Gatlinburg's most popular one-bedrooms with a fireplace feature.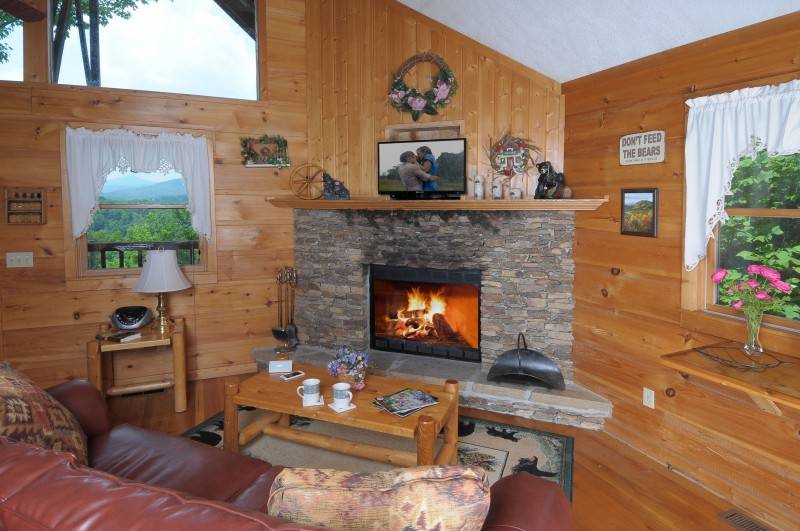 If You're Seeking Privacy
A romantic getaway should include a semi-escape from the hustle and bustle of everyday life. For couples looking to fully unwind, a secluded homebase is the perfect way to uncoil. Most Gatlinburg cabin rentals are nestled deep within the romantic Smoky Mountain range, offering scenic mountain views and a relaxing station for a weekend visit.  Vacationing couples can enjoy a full weekend of undisturbed privacy with unmatched amenities right at their fingertips.
Cabins like the  Sugar Shack offer a scenic cabin deck, hot tub, and a wood burning fireplace, as well as standard kitchen and dining amenities. Couples can enjoy a cup of coffee on the deck, a relaxing dip in the tub, or a peaceful evening in front of a warm fire.  River Rhapsody is another great option for couples interested in a more secluded space. The cabin is literally located on a mountain stream and is a popular pick for newlyweds and honeymooners. Couples can enjoy a stroll along the river bend, a variety of local hikes, and fishing from the stream. Both properties offer a peaceful reprieve with the cozy, comforting ambience of an indoor fireplace. You simply won't want to leave!
A Little Closer to the Night Life
If you and your honey prefer a mix of nature and nightlife, one-bedroom cabins like Tina Marie's or Lazy Bear Den offer the perfect balance. These Gatlinburg cabin rentals come equipped with all the amenities you'll need to enjoy a night-in, including: an indoor fireplace, game room and hot tub. Couples can spend the day soaking up the mountain air and enjoying the scenic views while later venturing to Gatlinburg's bustling downtown center. Both bungalows are located just minutes from the city which offers a large variety of restaurants, shopping, museums, and local bars perfectly designed for a sociable night out. The area's most popular attractions include Ripley's Believe It or Not museums, the Village Shops, and wine tasting at Sugarland Cellars. Regardless of your tastes, these cabins in Gatlinburg with fireplaces offer the best of both worlds!
Overall,  Gatlinburg cabin rentals offer the perfect "home base" for couples looking to escape this winter. Cabins in Gatlinburg with fireplaces sell quickly this time of year, so make sure you check out the selection offered by Diamond Mountain Rentals. You're guaranteed to find a cabin that works for you and your sweetheart!